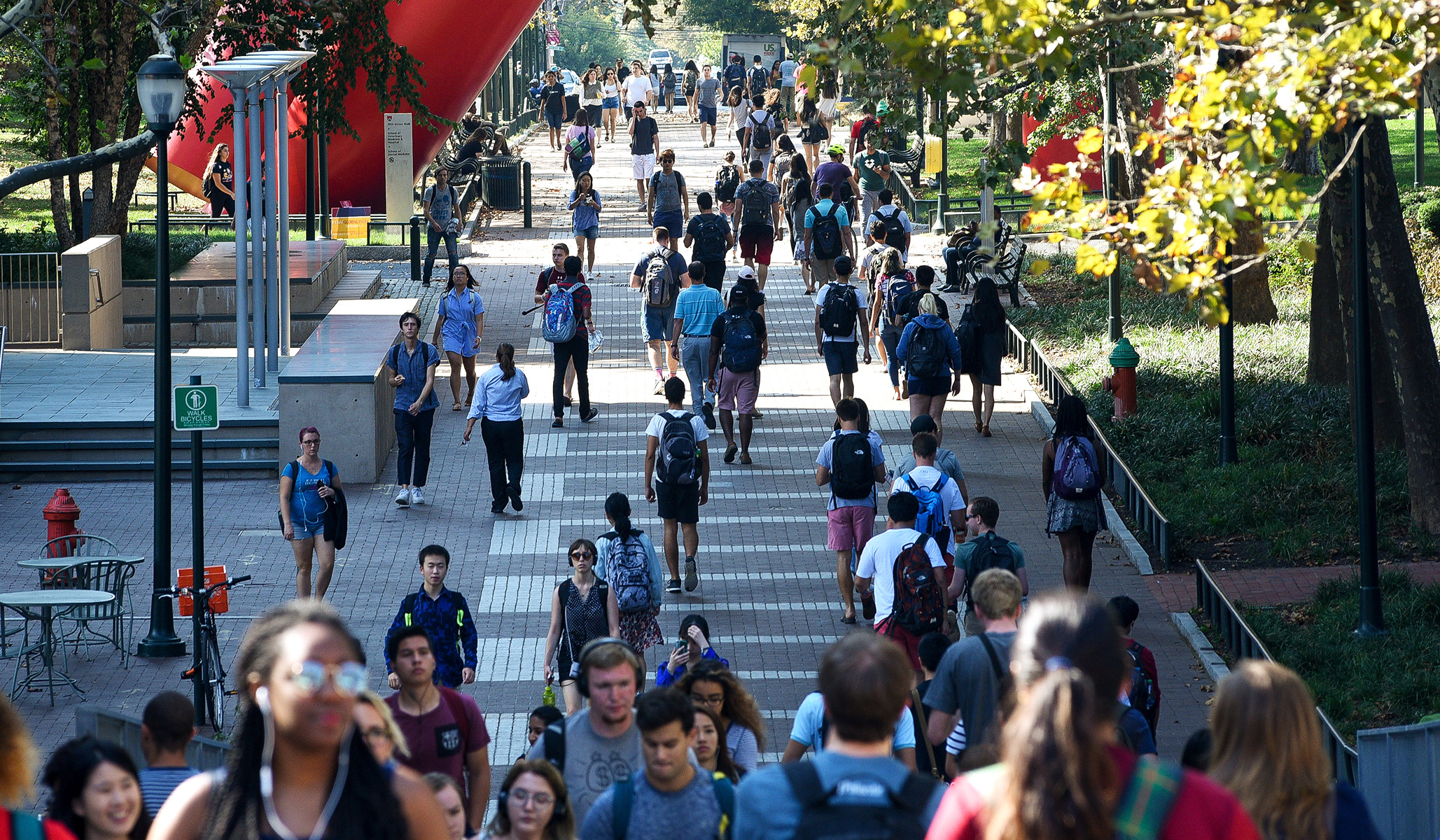 It is disturbingly common for American colleges, public and private, to offer segregated dorms, graduation ceremonies, and events.
Like Doc Brown's Delorean in Back to the Future, many college campuses are racing back to the year 1955. On April 17, a student newspaper at Williams College endorsed "affinity housing" for black students and other minorities — which is to say, it endorsed segregation. The students claim segregation will make Williams a "more welcoming, supportive and safe community for minoritized students."
The newspaper's endorsement received a lot of media coverage, but it was not really news. We at the National Association of Scholars (NAS) recently launched Separate but Equal, Again: Neo-Segregation in American Higher Education, a project examining racial segregation on college campuses such as Columbia University, Yale University, MIT, and others. Surveying 173 schools, we found that 42 percent offer segregated residences, 46 percent offer segregated orientation programs, and 72 percent host segregated graduation ceremonies. We call this "neo-segregation": the voluntary and institutionally sanctioned segregation of minority students in the post–Brown v. Board era.
We've been tracking Williams College's plan to segregate minority students since November 2018, when the Black Student Union held a forum discussing the proposal. The meeting conforms to a pernicious trend that goes back to the 1960s, not long after Jim Crow segregation was banned under federal law.
The first neo-segregated residence our research identified was the "Malcolm X House" at Wesleyan University. It was founded in 1969 after black students broke into and occupied Fisk Hall. Wesleyan also has five other racially segregated residences: Women of Color House, La Casa Cultural House, Asian/Asian-American House, South Asian House, and Ubuntu, a residence for students of African descent. Black students at Brown University have the Harambee House, and Latino students the Latinx House. Brown recently announced an Asian/Asian-American House will open in the fall. Other segregated residences in our study include MIT's "Chocolate City," Columbia's "Pan African House," Cornell's "Ujamaa," and Oberlin College's "Asia House."
These arrangements aren't exclusive to private colleges. The American taxpayer subsidizes neo-segregation at Rutgers University in New Jersey, where Asian-American students can live in the "Asian American Identities and Images Living Learning Community." The University of California campuses in Los Angeles and Berkeley both offer segregated dorms to black students.
We also surveyed segregated orientation programs, finding 80 colleges that host them. In "Neo-Segregation at Yale," Peter Wood and I discuss Yale University's Cultural Connections, a five-day orientation for "non-white" students that introduces them to "cultural resources" — a euphemism Yale uses to describe its segregated system of racially exclusive cultural centers (African American Cultural Center; La Casa Cultural Center), peer mentors, and "ethnic deans."
In 2002, Yale alumnus Jacob Blecher '03 wrote that minority students attend Cultural Connections for "distinctly political" purposes. It creates, he said, "solidarity among disparate minority groups." Fostering solidarity among minorities, however, made integrating the program an elusive goal. Sherman Jones '06 insisted that allowing "non-minority" students to attend Cultural Connections would "defeat the purpose of the program." At Cultural Connections, whites are kept out.
Yale's Afro-American Cultural Center is a "safe space" in which black Yalies have gathered for events such as the "Welcome Back Cookout" and "Jubilee," originally known as "Black Convocation." It also sponsors Yale's yearly "Black Women's Retreat." Yale's Afro-American Cultural Center has hosted figures like Amiri Baraka, who came to Yale in 2003 alleging that the Israeli government conspired to commit 9/11. Said one witness, black students nodded their heads in agreement. Baraka's appearance at the center was defended by Pamela George, director of the African American Cultural Center, under the banner of academic freedom. The center will be the site of Yale's "Black Graduates' Celebration" this May.
Segregated graduation ceremonies represent the penultimate form of neo-segregation, the last stage before minority students join segregated alumni groups of which they will remain members for the rest of their lives. In May 2017, I attended Brown University's Onyx Rites of Passage Ceremony, also known as the "Blackalaureate." A hundred twenty-five colleges in our survey have segregated graduation ceremonies (72 percent of the total). Examples include Columbia University's "Raza Graduation Ceremony" and "Black Graduation."
The pervasiveness of neo-segregation marks a troubling era of racial politics on college campuses. Career diversicrats such as Yale University president Peter Salovey say that neo-segregated programs foster diversity and inclusion, but they don't. Rather, neo-segregation erodes students' sense of unity, reduces the quality of intellectual life on campus, and perpetuates discredited racialist thinking.
This isn't what college is for. Americans must demand better from the colleges and universities charged with making citizens out of students. The empire of diversicrats — ethnic deans, race counselors, speech police, and the whole self-serving industry of grievance-mongers and racial divisionists generating headlines today — are a direct product of neo-segregation. The diversity regime would not exist were it not for neo-segregation's cultivation of racial interest groups ready to fight tooth and nail to preserve it. The battle against it will be hard. Campus diversicrats are people who derive their livelihoods from neo-segregation, and who wield a political base and a well-developed ideology. But without a battle, neo-segregation will be carried by this generation of Americans from campus to career, furthering the entrenchment of identity politics that stokes division and tears us apart.