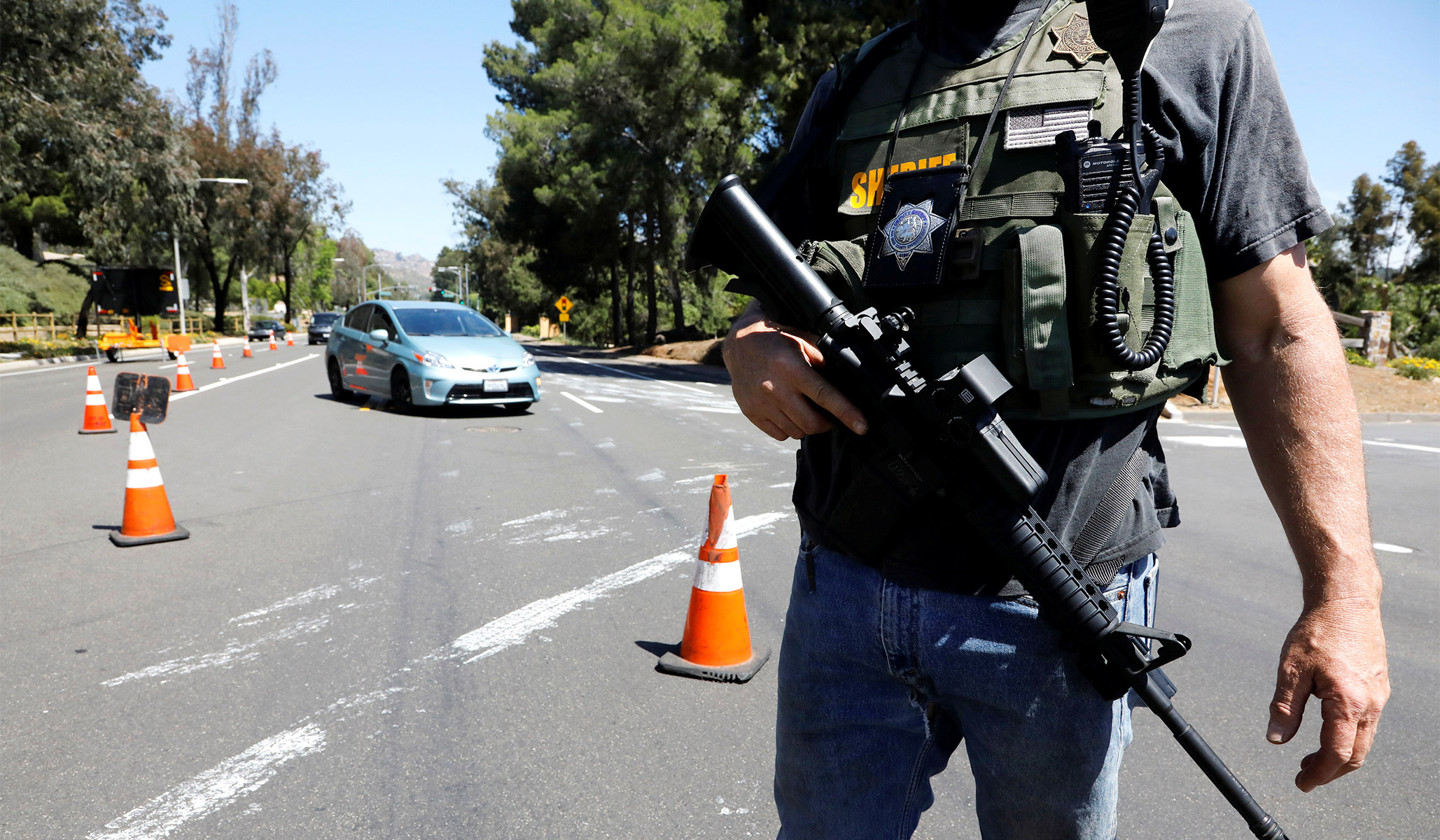 As governments try to solve a crisis, heroes take matters into their own hands
Between April 27 and May 7, there were three prominent attempted massacres in the United States. The first was at a synagogue in Poway, Calif. The shooter used an AR-type rifle and killed one person and wounded three. Three days later, a shooter walked into a classroom at the University of North Carolina at Charlotte and opened fire, killing two people and wounding four. Finally, on May 7, another shooter opened fire at a school, this time in Highland Ranch, Colo. He killed one student and injured eight.
These deaths are horrifying. The incidents are terrifying. But notice something important. We are blessed that the numbers of fatalities are far lower than they were at places such as Tree of Life synagogue in Pittsburgh, Stoneman Douglas High School in Florida, or Santa Fe High School in Texas. And a big part of that lower death toll can be summed up in one word: heroes. In fact, of the four total fatalities in the three incidents, three of the dead were people who took heroic action. Two of the dead were young men who directly charged their attackers.
What's more, we're now remembering the heroes' names more than the shooters. The shooters failed in two of their core missions — to kill large numbers of victims and achieve enduring fame. And if they keep failing, I wonder . . . could the mass-shooting contagion finally start to break?
But first, let's remember and honor the names that truly matter. In Poway, the lone fatality — a brave woman named Lori Gilbert-Kaye — died shielding her rabbi. At the same time, an Iraq vet named Oscar Stewart charged straight at the shooter, yelling that he was going to kill him. The shooter fled the scene with Stewart at his heels, until Jonathan Morales, an off-duty Border Patrol agent, engaged the shooter with a firearm.
At UNC-Charlotte, a young man named Riley Howell was shot three times as he charged the shooter, yet he still managed to tackle him "so forcefully that the suspect complained to first responders after his arrest of internal injuries." Howell gave his life to stop the attack.
Finally, in Colorado, a young man named Kendrick Castillo immediately lunged for the gunman when the shooting started. He gave his life, but his charge gave his classmates time to hide or flee, and then three other students also charged and subdued the shooter.
These brave Americans are joining an increasing honor roll of heroes, men like James Shaw, Jr., who disarmed a mass killer at a Waffle House in Nashville. Or Juan Carlos Nazario and Bryan Whittle, two armed citizens who gunned down a shooter outside an Oklahoma City restaurant. These men rightly have far more fame than the killers they faced. Their names are the names we remember.
Make no mistake, the success of any of these heroes depends not just on incredible personal courage but also on no small amount of luck. A man charged the Christchurch killer and came so very close to stopping him, but he could not. Stephen Willeford, the man who shot the Sutherland Springs, Texas, church killer, wasn't able to engage the gunman until after the gunman had killed more than two dozen people.
But I do wonder if the sheer number of mass killings has caused a psychological change in a segment of the American people. I do wonder if "fight" is replacing "flight" in enough American hearts that immediate and courageous resistance becomes the norm – and that killers will start to understand that they'll have to instantly battle one or more raging, charging men before they can complete their terrible, deadly work.
And if we can continue to honor and elevate the heroes at the same time that we ignore the killer, so that they don't enjoy the infamy of their predecessors, perhaps we can start to change the psychology of a dreadful national moment.
I'm reminded of the immediate and irrevocable change in American attitudes that occurred on September 11. By the time the news of the day's hijackings and attacks on the World Trade Center and Pentagon reached Flight 93, the passengers knew that everything they'd known about hijackings had to change. Compliance was no longer an option. Now it's inconceivable that passengers would stand by and simply allow a hijacker to seize control of an airplane. Some portion of the passengers would resist, fiercely.
Governments are grasping for solutions to mass shootings (Arizona governor Doug Ducey's proposals remain the best policy blueprint I've seen), and honest gun controllers should acknowledge the limits of their own ideas. Let's not forget the Washington Post's Glenn Kessler's seminal 2015 fact-check noting that popular gun-control proposals would not have had any effect on recent mass shootings. But while governments flounder, killers are now on notice. When they enter a room, sitting in that space are one or more heroes, ready to fight.
The killer? He should either die or rot away in anonymity. Take away his fame, take away his victims, and you just might take away his purpose. If so, we'll have men like Riley Howell and Kendrick Castillo to thank. They didn't just save lives; they're inspiring a change in American hearts.