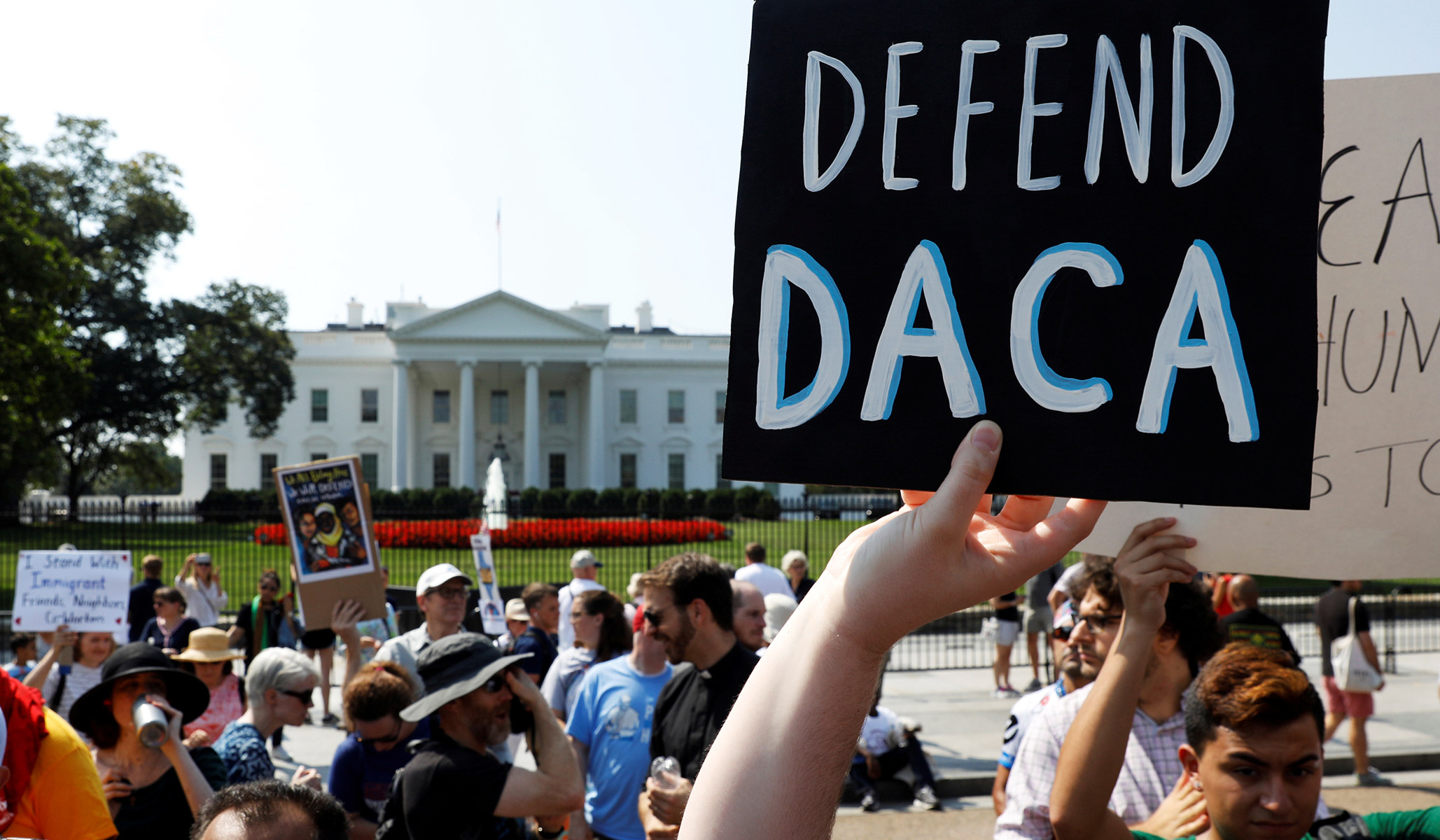 Lawless Obama and Clinton appointees have blocked Trump's lawful acts.
The judicial resistance has struck again, this time at the Fourth Circuit Court of Appeals, where two judges on a three-judge panel just rode to the rescue of DACA, President Obama's (in)famous Deferred Action for Childhood Arrivals program. The two judges, one an Obama appointee and the other a Bill Clinton appointee, held today that President Trump's decision to rescind DACA was "arbitrary and capricious," and therefore unlawful. This is now the second federal circuit court — after, of course, the Ninth Circuit — to hold that Trump could not rescind DACA.
The court's reasoning is flawed on its face. It ruled that a discretionary Obama policy implemented without regard to the Administrative Procedure Act (APA) could not be repealed without applying APA scrutiny. In other words, the APA didn't apply to Obama's action, but it does apply to Trump's. Moreover, it ruled that the Trump administration's stated concerns about the legality of the DACA program were "arbitrary and capricious" and therefore couldn't justify the rescission decision.
Put simply, this means that progressive judges are retroactively granting Obama the discretion to implement DACA, but imposing unilateral limits on Trump's ability to end DACA. In essence, these judges are making the nonsensical determination that Obama had the prosecutorial discretion to begin the DACA program, but Trump does not have the prosecutorial discretion to end it.
By contrast, this is how Judge Julius Richardson, a Trump appointee, accurately described the law in a polite but pointed dissent:
Enforcement discretion lies at the heart of executive power. The Executive may decide to prosecute, or not prosecute, an individual or a group so long as the reasons for that decision are constitutionally sound and the decision does not violate or abdicate the Executive's statutory duties.
As a consequence, Richardson argued, Trump's decision to rescind DACA is "judicially unreviewable under the Administrative Procedure Act." "To hold otherwise," he wrote, "permits the Judicial Branch to invade the province of the Executive and impair the carefully constructed separation of powers laid out in our Constitution."
This is exactly right, and it's almost certainly a concise summary of what the Supreme Court will hold when it finally does review the DACA cases. But it's important to consider the timing.
The Department of Homeland Security rescinded DACA in a memorandum dated September 5, 2017. On January 9, 2018, a California federal district court issued the first nationwide injunction against the rescission. A Brooklyn judge issued the second injunction in February, and a district judge in Washington, D.C., issued a third in April. The Supreme Court rejected the Trump administration's efforts to bypass the Ninth Circuit and skip straight to a SCOTUS hearing. Last November the Ninth Circuit affirmed the California court. Today, the Fourth Circuit followed suit.
What does this mean? Given the Supreme Court's calendar, it is entirely possible that the Court won't weigh in decisively until next year, the final year of Trump's first term (and, perhaps, his presidency). Judicial resistance may well block a lawful Trump policy for so long that it could permit a Democratic president to reverse the policy before it has a chance to take effect.
While there are those who will cheer this outcome as an example of a successful check on a presidential policy they don't like, judicial resistance represents a perversion of the separation of powers. And those cheers will turn to jeers the instant the shoe is on the other foot. Get ready for the pattern to repeat itself in the face of a Biden or Harris administration. Conservative dissenters from presidential policy will find a hospitable district court, seek a nationwide injunction, and then desperately seek to run out the clock until the next presidential election.
It's important to understand the ripple effects of judicial activism. By lawlessly preserving DACA, judges may well be inhibiting legislative compromise. How so? There is a great deal of (appropriate) sympathy for child immigrants who illegally entered this nation through no fault of their own, and who've lived here as otherwise law-abiding, productive members of American society. Dealing justly with these "Dreamers" is a necessary part of any legislative compromise.
But when courts — on their own initiative — make that compromise less urgent, they inherently disrupt the give and take of the lawmaking process. Simply put, they're removing a key incentive to make a deal without providing any permanent answer to one of the most important questions in the American immigration debate.
While there is no good way to speed up the judicial calendar — and each case should be carefully considered on its merits — there is a way to disrupt judicial resistance, no matter which side of the aisle it comes from. It's time to rein in the practice of individual federal district court judges granting nationwide injunctions that reach far beyond their geographic jurisdiction and far beyond the actual parties to the case in front of them. Nationwide injunctions grant individual trial judges an immense amount of power — power that is entirely disproportionate to the constitutional importance of their office.
In the meantime, the judicial resistance persists, and when one looks at its continuing influence at this late date in Trump's first term, it's hard to avoid the conclusion that it is succeeding. Lawless Obama and Clinton appointees have effectively blocked Trump's lawful acts.
Something to Consider
If you enjoyed this article, we have a proposition for you: Join NRPLUS. Members get all of our content on the site including the digital magazine and archives, no paywalls or content meters, an advertising-minimal experience, and unique access to our writers and editors (through conference calls, social media groups, and more). And importantly, NRPLUS members help keep NR going.
If you enjoyed this article and want to see more premium content like this, we have a proposition for you:
Join 

NRPLUS

.