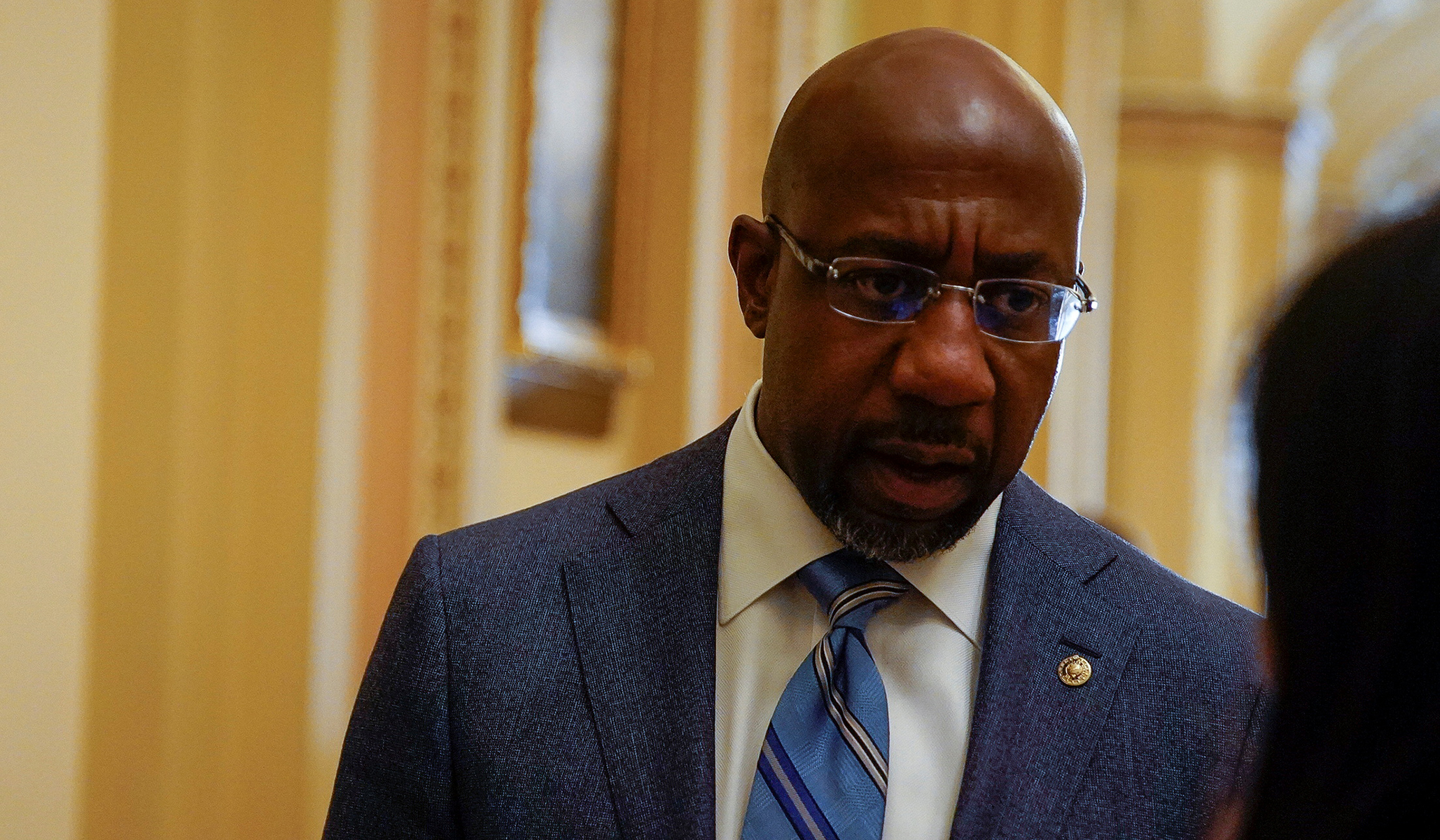 Will pro-life Senator Joe Manchin insist on an alternative that doesn't fund abortion as part of the reconciliation bill?
Democratic senators are pushing to expand Medicaid via the upcoming $3.5 trillion reconciliation bill, which they can pass on a party-line vote — and one plan getting a lot of attention would fund elective abortions.
A bill sponsored by Democratic senator Raphael Warnock of Georgia would create a new "Medicaid-like" program that would provide health care without any premiums to low-income residents in the twelve states that declined to participate in Obamacare's expansion of the existing Medicaid program.
"The Medicaid Saves Lives Act was introduced this week, and I hope to get it included in the reconciliation bill," Warnock told National Review in the Capitol on Thursday.
President Biden's budget request called for something just like the bill that Warnock (along with Senators Jon Ossoff of Georgia and Tammy Baldwin of Wisconsin) introduced this week: "In States that have not expanded Medicaid, the President has proposed extending coverage to millions of people by providing premium-free, Medicaid-like coverage through a Federal public option, paired with financial incentives to ensure States maintain their existing expansions."
If Democrats move forward with Warnock's proposal, however, they could be in trouble because that bill lacks the Hyde amendment and, as a result, would directly fund elective abortions with taxpayer money.
To pass a reconciliation bill this year, all 50 Democratic senators would have to vote in favor of it, including pro-life Democrat Joe Manchin of West Virginia. "I'm going to support Hyde in every way possible," Manchin said in an interview with Bloomberg News in June.
Taxpayer funding of abortion is a deeply unpopular policy — something made clear both by public-opinion polling and Warnock's refusal to even say whether or not his new Medicaid-like program would fund abortions.
When Warnock was asked on Thursday if his bill funds abortion, he told National Review: "The bill addresses health care. Next question." Does Warnock think health care includes abortion? "Next question," he replied, refusing to answer a second time.
But Warnock's bill speaks for itself. It directs the secretary of Health and Human Services to create a new program that is fully funded by the federal government outside of the annual appropriations bill that funds the Medicaid program and has for many years included the Hyde amendment. According to judicial precedents, any federal health-care program that does not explicitly prohibit federal funding of elective abortion must fund all legal abortions. And Warnock's bill does not include the Hyde amendment.
Senator Bernie Sanders, chairman of the Budget Committee, said Thursday in the Capitol that "there's money for Medicaid expansion" in budget reconciliation, and he expressed hostility to the Hyde amendment. "I am not sympathetic to the Hyde amendment," he told National Review. But Sanders wouldn't say if the Medicaid expansion Democrats want in the reconciliation bill would fund abortion or not: "I don't know the answer. You're asking me questions I can't answer."
If Joe Manchin wants to expand Medicaid in the twelve states in question without funding abortion-on-demand, there appears to be an obvious alternative that Democrats are already considering.
Politico reports that another option under consideration is "allowing low-income adults to get free private coverage through Obamacare's insurance marketplaces."
When Obamacare passed in 2010, it subsidized insurance plans that cover elective abortions (and still does), but it also gave states the ability to pass laws applying the Hyde amendment to all of the health-insurance plans offered on respective Obamacare exchanges. None of the twelve states that declined to expand Medicaid offers elective-abortion coverage in their taxpayer-subsidized Obamacare exchanges. So expanding Obamacare coverage in only those states would not result in taxpayer funding of elective abortion.
Yet it remains unclear if Manchin will draw a redline on this issue in the new reconciliation bill. Despite his pledge in June "to support Hyde in every way possible," he didn't do that in March of this year.
When Democrats passed their $1.9 trillion "COVID relief" bill in March, three Democratic senators — Manchin, Bob Casey of Pennsylvania, and Tim Kaine of Virginia — joined all Senate Republicans to add the Hyde amendment to that legislation. But the Senate parliamentarian ruled that under budget-reconciliation rules, the Hyde amendment could not be added with a simple majority and was subject to a 60-vote threshold. Rather than insist that various slush funds that could potentially be used to fund abortion be stripped and dealt with in the appropriations bills (which need Republican votes to pass), Manchin, Casey, and Kaine all voted for final passage of the $1.9 trillion bill as it was written.
Republican senator James Lankford of Oklahoma, who sponsored the measure to prohibit abortion funding in the $1.9 trillion bill in March, tells National Review that more than one Democratic senator privately regretted not voting for the Hyde amendment back in March. "I had several [Democratic] senators who came up to me later and said, 'I regret making that vote, we should maintain Hyde,'" Lankford said on Thursday. "I'm not going to say who."
From a pro-life perspective, Warnock's bill — which creates a new permanent federal health-care program that would certainly provide direct taxpayer funding of elective abortions — is worse than the COVID-relief bill. That's why Manchin might be more inclined to draw a redline on this issue, but his office has not yet replied to a request for comment on Warnock's bill.
Lankford says that Republicans will adamantly oppose any effort to fund abortions with taxpayer money, but he acknowledged that it will ultimately fall to the few Democrats who say they oppose taxpayer funding of abortion to hold the line on the reconciliation bill. "That's going to have to be a decision they make between God and their conscience and their constituents," he said.
It's "ironic that a pastor is leading towards doing more federal funding of abortions," Lankford said of Warnock. Several studies have found that taxpayer funding of abortion increases the number of abortions performed. By one estimate, the Hyde amendment has saved more than 50,000 lives a year since it was first applied to the Medicaid program in the late 1970s.
On Thursday, for the first time in decades, the House Appropriations Committee passed a bill to get rid of the Hyde amendment for the traditional Medicaid program, but appropriations bills are subject to a 60-vote threshold in the Senate. "These [pro-life] protections need to be reinstated for this bill to move forward," Republican congressman Tom Cole of Oklahoma said this week of the Hyde amendment and another pro-life budget measure. "Quite frankly, everyone in this room knows this bill will never pass the United States Senate without their inclusion."
If Democrats are going to provide more funding for abortion in 2021, they're going to do it in a reconciliation bill they can pass without any Republican votes.