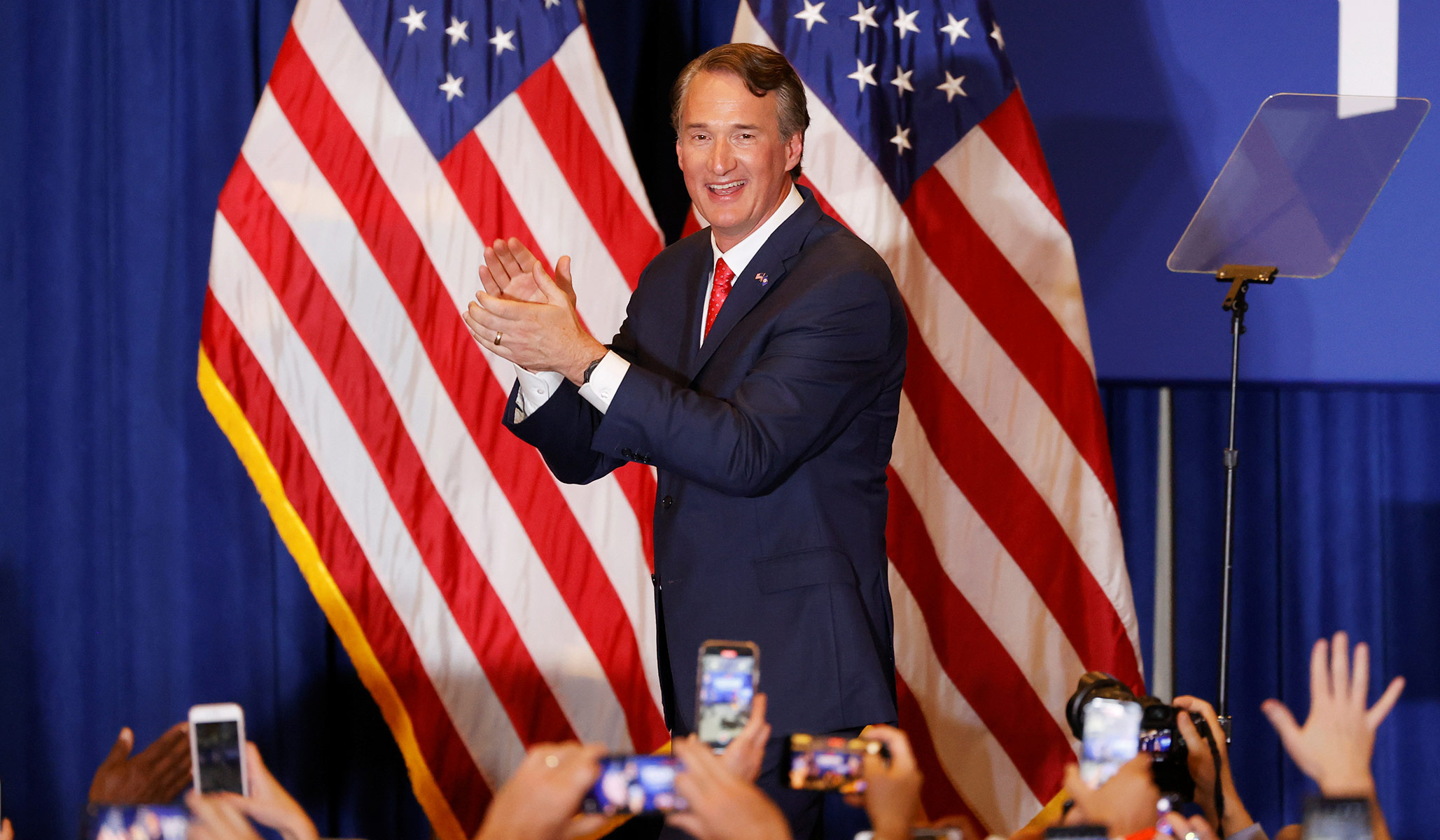 Glenn Youngkin unlocked the key to electoral success in a Virginia that hadn't elected a Republican statewide in twelve years and didn't seem likely to do so again, given the state's blue turn in the Trump years.
What Youngkin needed to do was obvious if not necessarily easy — unite Trump and anti-Trump voters, and maintain big Republican margins in rural areas while eroding Democratic margins in the suburbs. He succeeded brilliantly.
There's a danger in overinterpreting one election outcome on a night when there was clearly an anti-Democratic wave around the country, in evidence from New Jersey, where the Republican Jack Ciattarelli is still locked in a too-close-to-call race against Democratic governor Phil Murphy, to Pennsylvania, where Republicans swept judicial races, to Long Island, where the GOP stormed back to power.
But the Virginia gubernatorial race has been a national focus for months, and there are clearly lessons in how Youngkin prevailed in a state that Biden carried by ten points and where, until recently, the GOP seemed bent on self-immolation.
Youngkin realized his coalition had to consist of voters firmly attached to Trump and those turned off by him. He welded them together by avoiding criticisms of Trump while maintaining an arm's length from him personally, taking care to brand himself as a relatable and inoffensive suburban dad, and — importantly — emphasizing the cultural issues around education that resonated with and motivated both pools of voters.
Youngkin rightly and unapologetically hit "critical race theory," the rubric for racialist indoctrination and 1619-style critiques of America, hard. But his message on education was much broader. He defended high standards and advanced learning, inveighed against school closures, talked about the need for greater school safety, and pushed back against explicit content in education, all the while advocating higher pay for teachers.
This suite of issues found a powerful common theme when Terry McAuliffe said in a debate that parents shouldn't be involved in what schools teach to their kids. Given the moral high ground on parental involvement, Youngkin pounded the advantage home, as McAuliffe — partaking of his party's high-handedness on the issue — didn't realize his mistake until too late.
He also focused on pocketbook economic issues, while the mood music of his campaign, literally from beginning to end, was upbeat and unifying.
Incredibly enough, Youngkin improved on Trump's margins in rural areas, and the exit polls showed him besting Trump among white women without a college education. On top of this, he made gains in all geographic areas of the state. The result suggests that the party's grip on rural areas and small towns may be enduring even without Trump on the ballot, whereas the scale of the losses in the suburbs was a reaction to Trump himself.
Youngkin's win, and the other wreckage around the map for Democrats, presumably makes passing Joe Biden's reconciliation bill even harder and signals a bleak midterm election cycle ahead for Democrats. But his victory could be most significant in showing a path ahead for the GOP, if it can take it.
Something to Consider
If you enjoyed this article, we have a proposition for you: Join NRPLUS. Members get all of our content on the site including the digital magazine and archives, no paywalls or content meters, an advertising-minimal experience, and unique access to our writers and editors (through conference calls, social media groups, and more). And importantly, NRPLUS members help keep NR going.
If you enjoyed this article and want to see more premium content like this, we have a proposition for you:
Join 

NRPLUS

.