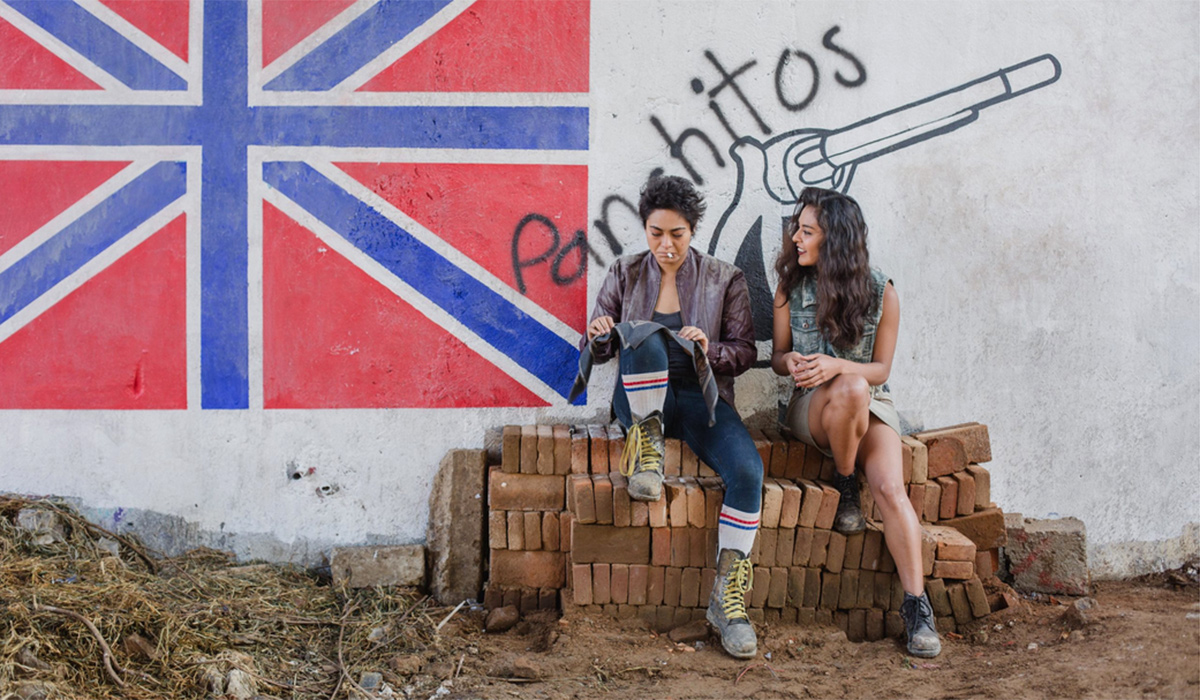 Julián Hernández's impassioned girl-gang movie bests Hollywood sanctimony.
Amazing coincidences: Asphalt Goddess preempts Steven Spielberg's upcoming West Side Story remake while answering my secret wish that director Julián Hernández would someday do his own version of it, perhaps featuring the profound rapport with Mexican love songs evident in his debut A Thousand Clouds of Peace. Well, here it is: not exactly the film I imagined, but spectacular.
The girl gang strutting through Mexico City's landfill ghetto in Asphalt Goddess (La Diosa del Asfalto) is poor and angry. Their swagger emulates the generational rebellion of American punk-music culture. Calling themselves "bad bitches" and "fierce pussies," they boast a hip-hop credo: "Represent!" These chicks don't just claim agency, they have Julián Hernández and Alejandro Cantú — Mexico's greatest filmmaking team — telling their story.
Only their language is vulgar. Asphalt Goddess is a dazzling, visually sophisticated indulgence of outsider fantasy and dread that matches the mythologizing gay male anomie in Hernández's previous films. Working with two female screenwriters, Inés Morales and Susana Quiroz, he extends his sympathy to the other sex: Guitar-carrying Max (Ximena Romo) seeks rock-and-roll stardom; Sonia (Samantha Orozco) dreams of fashion design; bruja Jaina (Fernanda Huerta) hangs out; Carcacha (Nelly González) just wants to be Quintero's lady; and butch Ramira (Mabel Cadena) desires Max, which causes tension among the "sisters." Hernández defines the gang by romantic angst rather than their slum-dwelling, glue-sniffing deprivation. Toughness hides their neediness.
Introduced as "based on actual events," this is actually a film in which nose-thumbing effrontery rejects the traditional pieties of movies about the underclass and outsiders. Hernández's sensitivity to these girls' desperation immediately echoes Luis Buñuel's 1950 masterpiece Los Olvidados ("The Forgotten Ones," the classic surrealist vision of Mexico City's impoverished youth). Hernández's awesome technique elevates the sociological subject into a stirring visual experience. Imagine remaking Buñuel's Los Olvidados to look like Walter Hill's rock-'n'-roll fable Streets of Fire.
Hernández's talent converts realism into emotional urgency. Asphalt Goddess features punk's studded leather jackets and shag hairdo subculture — rarely seen since Alex Cox's Sid and Nancy — as the atmosphere in which personal self-discovery transpires. The first view of Sonia's rapacious stepfather is between her legs. This erotic conflict recalls Hernández's previous film, Tattoo of Revenge, which wildly mixed a detective-movie plot with a feminist-revenge thriller. Here, youth romance is continuously fraught, in assault scenes depicting men's physical terror and in the girls' personal anxieties: Ramira gets cast out by her brutal siblings and unfeeling mother, and Max's song lyrics confess "laziness, violence, love, and friendship / Something infected my soul / A crazy boy who makes me sin."
Max eventually fronts a punk band called Goddess of the Asphalt and the Wasted Ones. Her insecurity is never patronized as it was for Latina rebels in the American indie film Mi vida loca. ("This is real!" I remember a public-radio reviewer reprimanding my derisive laughter.) Hernández confronts Max's weakness for drugs and her hookups with an "all promises" heartthrob. Pretty petty thief Pancho (Axel Arenas) calls Max his queen and tells her, "Think about it, you live on the edge of reality."
Asphalt Goddess's impassioned imagery is perched on the edge of reality. Cantú, Hernández's director of photography, moves his camera like no one since the late Gianni Di Venanzo (8½, Salvatore Giuliano, L'Eclisse). He positions Max and Pancho, Mexico City's dispossessed, against the glittering distant metropolis. A rhyming image shows lonely Ramira silhouetted before a similar night vista. A daytime contrast features darling Sonia picking clothes from a trash heap dotted with colored rags like a garden of flowers. Cantú's first close-up of Max contemplates her grief, then the intimate, disorienting angle is matched to a titled, universalizing wide shot.
In scenes of the girls carousing, the outside world passes by in kaleidoscopic delirium. Adolescent feelings are hyperbolized — when the gang romps amid a darkened playground's slide-and-swing set, or the girls, in pairs, console each other. These emotional duets have palpable visual drama. We see each girl as an agent for her own choices and mistakes, the gang's tragic end being as proverbial as Shakespeare.
***
Hernández's egalitarian view of sexual identity probably explains why film-culture gatekeepers have not embraced his art. Why did this remarkable filmmaker's latest work have to debut on Netflix? Asphalt Goddess dares to sensationalize rebellion but then reconciles it with our common humanity.
Instead of a hoary, sentimental West Side Story sermon on tolerance, Asphalt Goddess connects gay and female struggle to Nicholas Ray's Rebel Without a Cause and Nagisa Oshima's Cruel Story of Youth by contemplating emotional obstacles that Millennial-culture politicians pretend to legislate out of existence. When ex-con Ramira hears the public-service announcement "Do you know where your children are?" it implicates her own childhood, her damaged innocence and lost romance. This flashback tragedy outclasses West Side Story's rip-off of Romeo and Juliet. Can Spielberg live up to it?