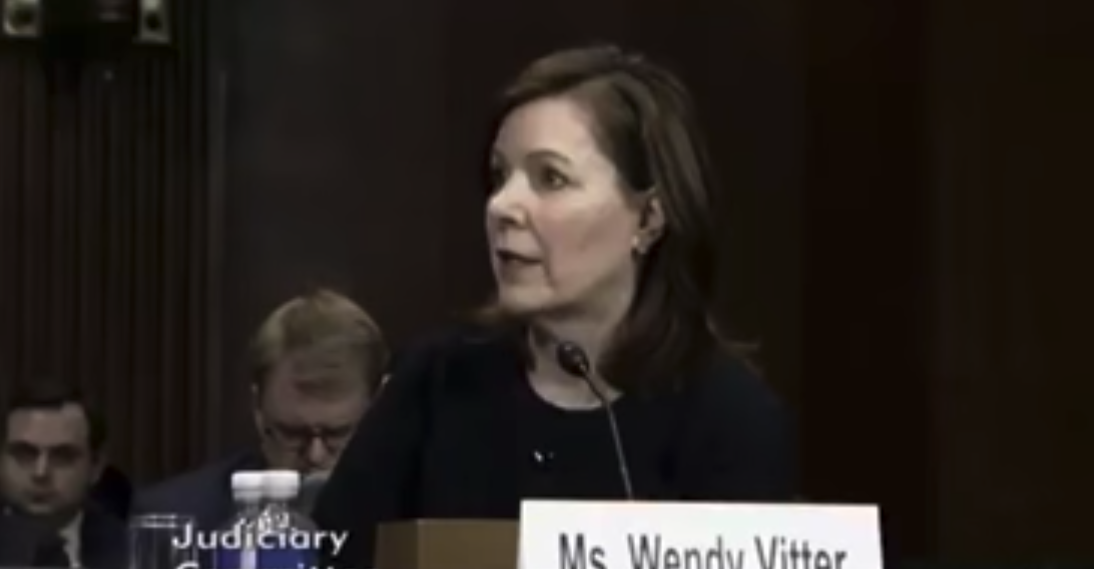 Last week the Senate Judiciary Committee held a hearing on Wendy Vitter's nomination to a federal district judgeship in Louisiana. Like many judicial nominees before her, Vitter took the position that it was improper for her to comment on the rightness or wrongness of any particular Supreme Court precedent, and she committed to apply all existing precedents.
Consistently adhering to her position, Vitter declined to answer Senator Blumenthal's question whether she believed that Brown v. Board of Education "was correctly decided":
Senator, I do not mean to be coy, but I think I get into a difficult area when I start commenting on Supreme Court decisions, which are correctly decided and which I may disagree with. Again, my personal, political, or religious views I would set aside. That is Supreme Court precedent. It is binding. If I were honored to be confirmed, I would be bound by it, and, of course, I would uphold it.
When Blumenthal repeated his question, Vitter again responded:
Again, I will respectfully not comment on what could be my bosses' ruling, the Supreme Court. I would be bound by it, and if I start commenting on, I agree with this case or do not agree with this case, I think we get into a slippery slope. I would be — if I am honored to be confirmed, I would be bound by Supreme Court precedent, and that is what I would follow, and Fifth Circuit precedent.
In context, Vitter's responses on Brown are clearly a straightforward application of her general position that she shouldn't comment on the rightness or wrongness of any Supreme Court precedents. But nonetheless (as this CNN article puts it) "the Twitterverse lit up with progressive fury," maliciously charging that Vitter's responses suggested that she might support racial segregation.
Never mind that Vitter specifically testified that racial segregation is immoral — a piece of testimony that I somehow never saw reported anywhere. Never mind that no one has identified anything in her life or career that would suggest that she is racially biased. Never mind that she has earned the support of Democrats like New Orleans mayor Mitch Landrieu (who, among other things, called for the removal of city monuments honoring leaders of the Confederacy).
Some have suggested that the "slippery slope" Vitter identified is imaginary. But Blumenthal himself raced down that slope, as he quickly followed up by asking Vitter whether she believes that Roe v. Wade was correctly decided. Indeed, nearly all the other questions that Senate Democrats asked Vitter were about her views on abortion.
It seems clear that what the Left really objects to is that Vitter, who is general counsel to the Archdiocese of New Orleans, is openly pro-life. So even though she has committed as a judge to be bound by existing precedent on abortion, the Left is smearing her as a possible segregationist in order to punish her for her pro-life views.