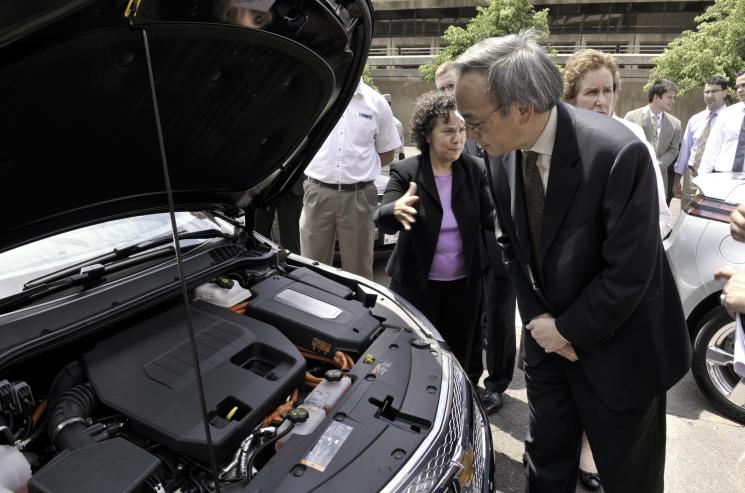 Like Charlie Sheen, Stephen Chu was one of 2011′s Losers of the Year. Obama's Energy Secretary presided over the Solyndra debacle. His prediction that America demanded electric cars went up in flames with the Chevy Volt. His declaration of a post-carbon economy made him a laughingstock as America struck — make that fracked — gold with another century's supply of oil and natural gas.
But in the Obama White House — like the Sheen camp — failure is winning. So the president is sending his EnergySec to take a victory lap at the Detroit Auto Show next week.
After all, cluelessness runs in the administration family. Asked by oil mogul Harold Hamm if he were aware of the oil and gas revolution marching from the Dakotas across Pennsylvania, Obama reportedly replied: "Oil and gas will be important for the next few years. But we need to go on to green and alternative energy. Energy Secretary Chu has assured me that within five years, we can have a battery . . . with the equivalent of 130 MPG."
The Ego-in-Chief long ago declared fuel-efficient cars the future in his presidential campaign — then bought Chrysler and forced its Fiat management team to build a 40-mpg Fiat 500 tin can to prove his point. The 500 failed in 2011 as miserably as Mr. Chu.
Chrysler rebounded in spite of its presidential savior as the company sold 419,000 Jeeps at $5,000 profit per sale. Obama's Fiat? Just 20,000 units.
Save the planet? SUV the Planet is Fiat's motto.
Yet the One will hail Detroit's 2011 resurgence as an affirmation of his vision. "The Obama administration will be in full force at next week's North American International Auto Show in Detroit — with at least two cabinet secretaries and several other key officials in attendance," reports the Detroit News as Chu, Commerce Sec John Bryson, EPA Chief Lisa Jackon, and NHTSA Chief David Strickland will all descend on Detroit. .
For his keen insight into post-carbon America, Chu is the headliner. He will discuss "how innovation can help keep the industry . . . competitive," continues the News.
This just a week after Chu's latest blunder was exposed. Fisker, the recipient of $529 million in Energy Department loans, recalled its luxury Karma plug-in due to fire concerns. The Finnish-built $100,000 vehicle is a toy for the super rich. This is reviving the American auto industry how? Chu is also under fire for throwing $730 million at Russian billionaire Alexei Mordashov, arguing that the lightweight steel produced by his Detroit Rouge Steel property is essential to greener autos. And so on.
In taking federal loans, this is the kind of clown that Detroit's Big Three have let in the door. And like the proverbial dinner guest, he doesn't know when to leave.