Good morning.
Here are several links from the past week that will make your Monday a bit more bearable:
Via Matt Snyder of CBSSports.com Eye on Baseball, if you are able to click on only one link today, let it be this one, a TV reporter's awsome recollection of an impromptu home-run derby in 1996, featuring Alex Rodriguez, Ken Griffey, Jr., and a young slugger for the Mariners' Single-A affiliate.
Should errors count toward a hitter's batting average and on-base percentage? On his blog, Joe Posnanski explains why he's in favor of that approach, using the debate over Miguel Cabrera vs. Mike Trout to illustrate his point:
Batting average and on-base percentage count reach-on-error as OUTS. Everything I think about this, it drives me crazy. It's one of the dumbest statistical tricks in all of sports, maybe the dumbest, it is not unlike not giving a shooter credit for a three-point shot because he made it off the backboard or taking away not giving a receiver credit for a catch and yardage because the defender slipped and fell down. If you hit the ball and reach base it should absolutely NOT be counted as an out. It's not an out. No out was recorded. IT IS NOT AN OUT. Sorry, I am going off on a rant here.
Your browser does not support iframes.
Was it an additional act of retaliation or suddenly losing control of his pitches? Stephen Strasburg's pitches went every which way in the fourth inning of Saturday evening's game in Atlanta and was promptly ejected by the home-plate umpire.
Starlin Castro reminds us that not all misplays are physical.
The staff of the Hardball Times weighs in on MLB's decision to implement an expanded replay system for close calls beginning in 2014. The new arrangement whereby managers, not league officials, will continue to be held responsible for challenging calls that don't look kosher? It did not please Steve Treder: "It should be the league's responsibility to ensure that the calls are as correct as practically possible, not the team's."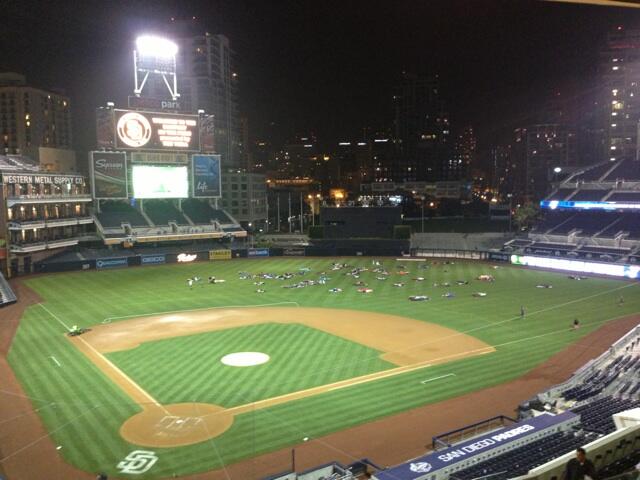 According to ESPN.com's Adam Rubin, Petco Park hosted a slumber party after the Mets–Padres game on Saturday evening.
That's it. Have a walk-off week!