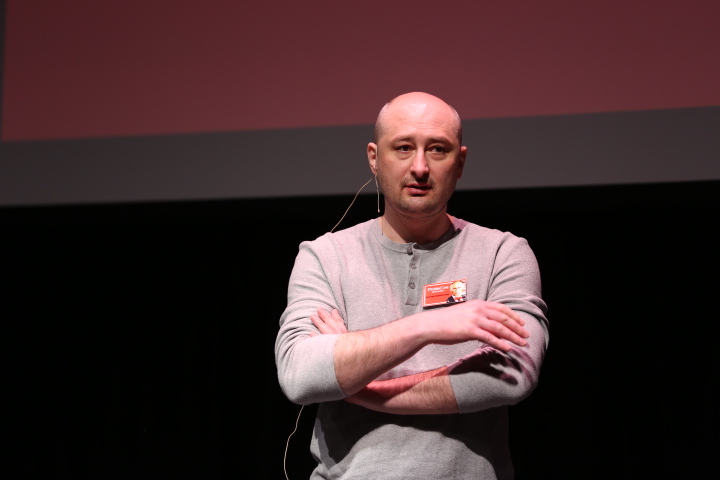 The news for the last day has been that Arkady Babchenko was shot dead. He is a Russian journalist who fled his country last year (in fear of his life, of course). I had a blogpost earlier today, relating the news and noting some reaction from the Oslo Freedom Forum. Babchenko has been a speaker at OFF.
But there has been a twist — a big one:
MOSCOW (AP) — Russian journalist Arkady Babchenko turned up at a news conference in the Ukrainian capital Wednesday less than 24 hours after police reported he had been shot and killed at his Kiev apartment building. The country's security services said Babchenko's death was faked to foil a plot to take his life. . . .

Vasyl Gritsak, head of the Ukrainian Security Service, announced at a news conference Wednesday that the security agency and the police had solved Babchenko's slaying. He then startled everyone there by inviting the 41-year-old reporter into the room.

To the applause and gasps of the press, Babchenko took the floor and apologized to the friends and family who mourned for him and were unaware of the plan.

"I'm still alive," he said.

Before ushering Babchenko into the room, Gritsak said investigators had identified a Ukrainian citizen who had been recruited and paid $40,000 by the Russian security service to organize and carry out the killing. The unidentified Ukrainian man in turn hired an acquaintance who had fought in the separatist war in eastern Ukraine as the gunman.
And so on. To read the full report, go here.
Arkady Babchenko joins the ranks of people — that handful — who have read their own obituaries. Tributes to Babchenko poured in for hours. But, of course, his pursuers will not rest. No one knows this better than Babchenko, who has criss-crossed the world.
His statement "I'm still alive" reminds me of something. A special guest at the Freedom Forum today was Anwar Ibrahim, the Malaysian politician, appearing by video hook-up. He has just been released from his latest stint in jail (on trumped-up charges). The authoritarians in his country have been jailing him for years. Most of the time, he has been kept in solitary confinement.
Ibrahim said, "I'm happy to be alive — and not just alive, but kicking." That statement put a smile on my face, almost as big as the one on his.
Anyway, as regards Arkady Babchenko, that incredibly brave man — never has fake news been more welcome.