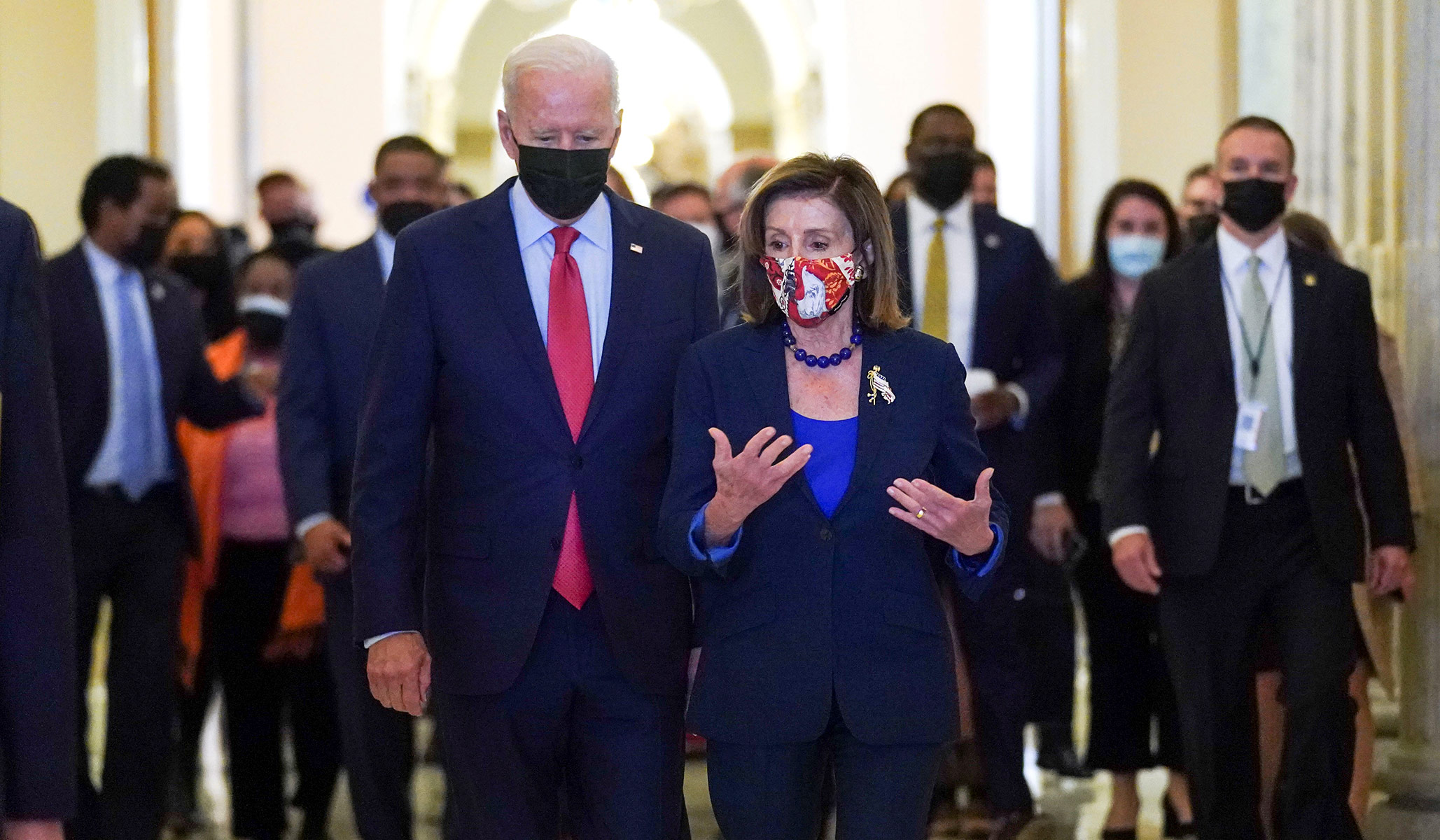 On Thursday morning, the White House released a "framework" for a budget-reconciliation bill that would spend nearly $2 trillion on social programs and the environment.
Pelosi and Biden used the announcement of the framework to demand that the House pass — by the end of the day — the separate $550 billion bipartisan infrastructure bill that was passed by the Senate in August.
A crucial bloc of House progressives have been holding the infrastructure bill hostage, saying they won't vote for infrastructure until there's a final deal on the social-spending budget-reconciliation bill.
On Wednesday, House progressives demanded actual legislative text for the nearly $2 trillion bill — not merely the sketch of a "framework" — something that has not been delivered.* A small number of Republicans are expected to support the infrastructure, but even with their support Pelosi can only afford to lose anywhere from eight to 20 progressive Democrats.
Rep. Jayapal, on whether the progressives are on board (via CNN): "Let me have our caucus meeting and I'll let you know."

— Josh Kraushaar (@HotlineJosh) October 28, 2021
Source in the room for House Caucus meeting says Biden endorsed Pelosi's push for a vote on bipartisan infra bill today and got a standing ovation and cheers of "vote"

— Burgess Everett (@burgessev) October 28, 2021
New — Pelosi told her members: "Don't embarrass" the president by voting down the infrastructure bill as he flies overseas, I'm told

She also said she would put the infrastructure bill on the floor today and hold the vote open to get the bill through.

— Manu Raju (@mkraju) October 28, 2021
*Update: I reported earlier that House Democrats would not be able to produce legislative text, but they have just released an updated version of the reconciliation bill. It's 1,684 pages:
House Rules Committee will be meeting at 3pm, after posting the legislative text of the updated Build Back Better Act – it's 1684 pages.https://t.co/00hkcutcm1

— Grace Segers (@Grace_Segers) October 28, 2021