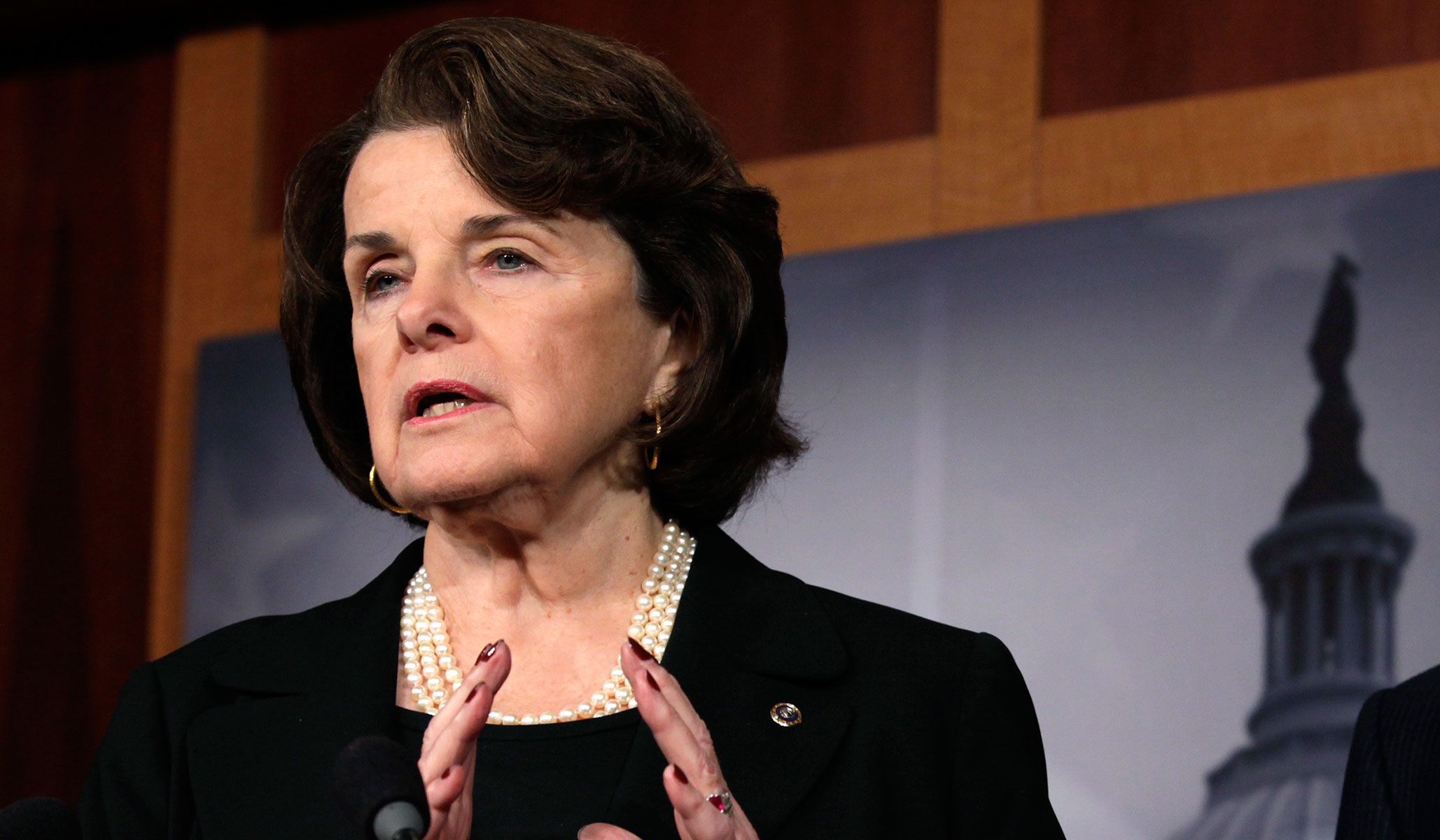 We have reached a very strange and deeply disturbing point in the battle over Brett Kavanaugh. To make a long story short, news emerged today that Dianne Feinstein has reportedly possessed for months a mysterious letter that (according to the New York Times) alleges possible sexual misconduct between Judge Kavanaugh and a woman when they were both in high school. For those curious, Kavanaugh graduated from Georgetown Preparatory school in 1983. We don't know the nature of the misconduct, the identity of the woman involved, or any other important fact about the claim. BuzzFeed claims that it contacted the woman, and she declined to comment.
The existence of the letter came to light after an Intercept report claiming that Senate Democrats had requested to review its contents, and Feinstein had refused. Here's the key part of the Intercept's account:
The specific content of the document, which is a letter from a California constituent, is unclear, but Feinstein's refusal to share the letter has created tension on the committee, particularly after Feinstein largely took a back seat to her more junior colleagues last week, as they took over Kavanaugh's confirmation hearings with protests around access to documents.

The letter took a circuitous route to Feinstein, the top-ranking Democrat on the Judiciary Committee. It purportedly describes an incident that was relayed to someone affiliated with Stanford University, who authored the letter and sent it to Rep. Anna Eshoo, a Democrat who represents the area.

Different sources provided different accounts of the contents of the letter, and some of the sources said they themselves had heard different versions, but the one consistent theme was that it describes an incident involving Kavanaugh and a woman while they were in high school.  Kept hidden, the letter is beginning to take on a life of its own.
So, what does Feinstein do in response? Release this statement:
— Seung Min Kim (@seungminkim) September 13, 2018
The statement appears deliberately crafted to create the impression that Kavanaugh violated federal law without providing any evidence at all to support the suspicion. And now each and every news report about this mysterious letter raises questions about Kavanaugh that he can't possibly rebut.
Feinstein's conduct raises multiple questions. If the allegations are serious, why sit on them since July? Also, if the allegations are serious, why refer them to law enforcement just now? And why not ask Kavanaugh about the claims, even in a closed session? While we don't know the contents of the letter, Feinstein has not behaved like a person in possession of blockbuster revelations. Instead, she's behaving like a person engaged in a vicious smear.
This is a dreadful way to handle the situation. Already Twitter is lighting up with speculation about sexual misconduct that could violate federal law. Without knowing any single material fact, hundreds of thousands of Americans are wondering if a Supreme Court nominee is a sex offender. If there is a serious, credible claim against Kavanaugh, let's hear it. And — let's be clear — for his high-school conduct to be relevant 35 years later, the misconduct would have to be serious indeed. But if there is no serious claim, then Allahpundit is right — we're witnessing "one of the dirtiest dirty tricks to damage a nominee in recent history."
Update: It looks like the dirty trick theory just got a lot more plausible:
New — FBI does not now plan to launch a criminal investigation of the Kavanaugh matter; instead the bureau passed the material to the White House as an update to Kavanaugh's background check, via @mattzaphttps://t.co/Q1EJQiJLkT

— Seung Min Kim (@seungminkim) September 13, 2018
If the FBI rejected a criminal inquiry that quickly, it makes you question whether Feinstein had a good faith basis for believing it was an FBI matter in the first place. I strongly suspect she did not.