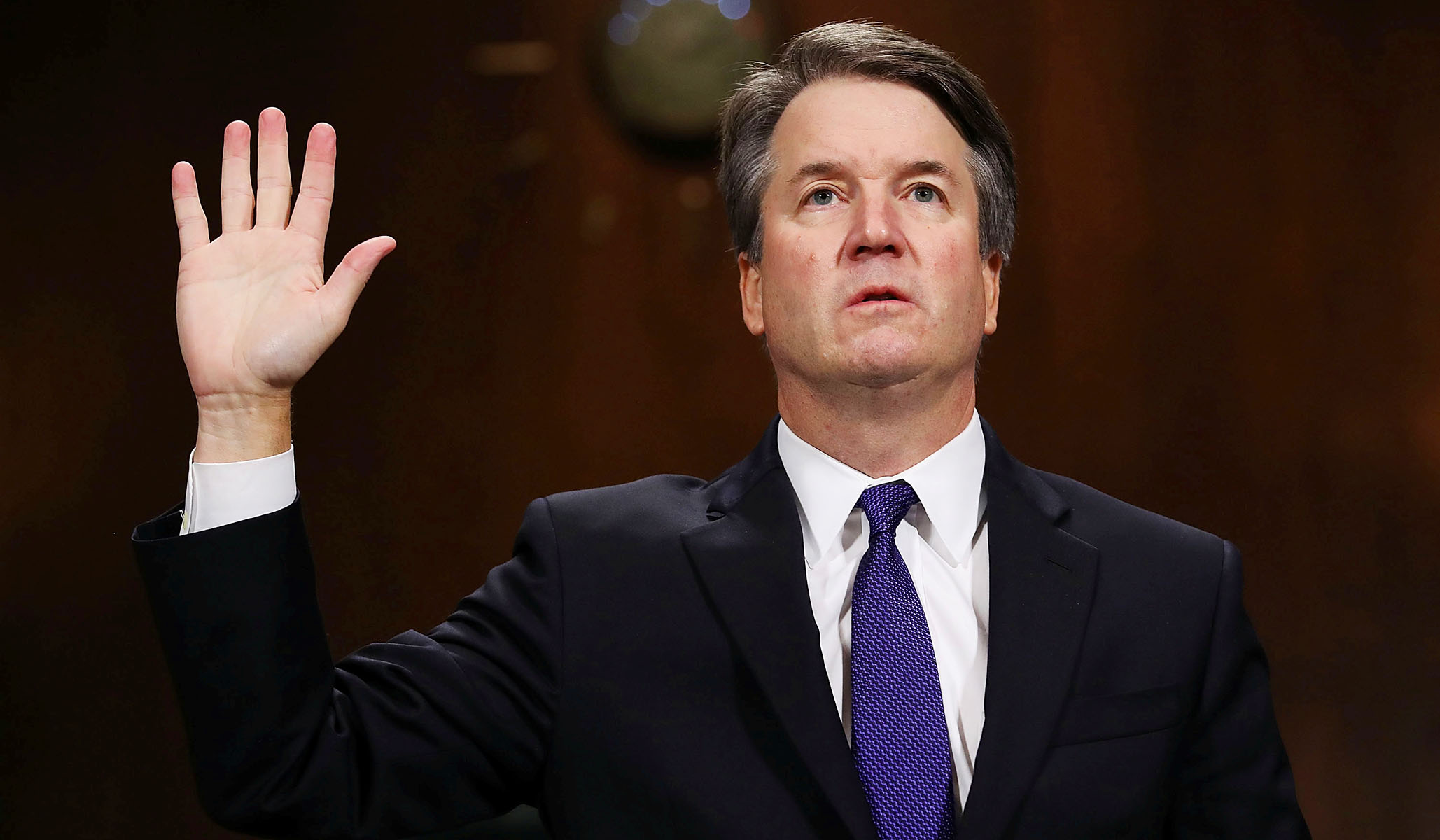 When it comes to sexual-misconduct claims against public officials, the same standard should be applied to everyone. We must reject slogans like #believewomen and instead grant the accused a presumption of innocence. However, that's not the same thing as saying that accusers have to prove their claims beyond a reasonable doubt. Because we should hold public officials to a high standard of behavior — and because their liberty isn't at risk — I've argued that we should ask a different question: "Is it more likely than not that the allegation is true?"
Applying that standard (and weighing the relevant evidence), I think it's more likely than not that Bill Clinton is a rapist, Donald Trump is a sexual harasser, and Roy Moore engaged in sexual misconduct with underage teens. I do not believe, however, that Brett Kavanaugh is guilty of the allegations against him. Indeed, Christine Blasey Ford's allegations are so far from "more likely than not" that competent litigators wouldn't dream of taking the claims against him to civil court. To this day, those allegations are wholly uncorroborated and riddled with inconsistencies. Ford's witnesses can't even place Kavanaugh and Ford together at the party in question — much less in the same bedroom — and Ford's testimony has been inconsistent on such matters as her age at the time of the attack, the number of witnesses, and even the number of attackers. Moreover, Ford deliberately withheld from the public evidence that was relevant to her claims, including her therapists' notes and complete polygraph records.
But that hasn't stopped a host of men and women on the Left from firmly believing that Kavanaugh is guilty, guilty, guilty. I wonder . . . How will these same individuals will view the sexual-misconduct allegations against Virginia's Democratic lieutenant governor, Justin Fairfax? So far, they seem more solid than the claims against Kavanaugh.
In the Washington Post article linked above, we learn that the Post investigated the accuser's claims against Fairfax "for several months." (The Post also knew of Ford's claims before they leaked). Fairfax and his accuser allegedly had a sexual encounter at the 2004 Democratic National Convention. Here's how the Post describes the claims:
During a conversation, the two realized they had a mutual friend. It was that commonality, she recalled, that put her at ease enough that on the afternoon Fairfax asked her to walk with him to his hotel room to pick up some papers, she thought nothing of joining him.

Fairfax and the woman told different versions of what happened in the hotel room with no one else present. The Washington Post could not find anyone who could corroborate either version. The Post did not find "significant red flags and inconsistencies within the allegations," as the Fairfax statement incorrectly said.
More:
The woman described a sexual encounter that began with consensual kissing and ended with a forced act that left her crying and shaken. She said Fairfax guided her to the bed, where they continued kissing, and then at one point she realized she could not move her neck. She said Fairfax used his strength to force her to perform oral sex.

The Washington Post, in phone calls to people who knew Fairfax from college, law school and through political circles, found no similar complaints of sexual misconduct against him. Without that, or the ability to corroborate the woman's account — in part because she had not told anyone what happened — The Washington Post did not run a story.
While some folks are dunking on the Post for running with the Kavanaugh claims, the indictment isn't entirely fair. The Post ran both claims only after their existence was widely known. It then provided the details it had. I'm much more interested in the coming response to those claims. Yes, a Supreme Court justice is more prominent and powerful than the Virginia lieutenant governor (so there would be more interest in the claims against Kavanaugh), but prominence is irrelevant to veracity, and on that score the claims against Fairfax are already more solid than any claim against Kavanaugh.
The Fairfax accuser came forward far sooner than Ford, she identified the specific time and place of the attack, the accused agreed that he was with the accuser at that time and place, there was an admitted sexual encounter, and — according to the Post — the paper "did not find significant red flags and inconsistencies" in her claims. Indeed, by making that statement, the Washington Post already contested a key Fairfax defense:
— Justin Fairfax (@LGJustinFairfax) February 4, 2019
Based on the obvious problems and inconsistencies with even the first version of Ford's claims, I expressed skepticism from the outset. But given that there was reportedly an admitted sexual encounter between the accuser and Fairfax, aren't there at the very least grounds for serious concern? Based on the available evidence (and without seeing any person tested by cross-examination), it's far too premature to say that it's more likely than not that Fairfax is guilty or to demand his resignation. It's not too premature to wonder, however, whether "believe women" or "believe survivors" will apply with equal ferocity to more credible claims against a promising young Democrat.
Something to Consider
If you enjoyed this article, we have a proposition for you: Join NRPLUS. Members get all of our content on the site including the digital magazine and archives, no paywalls or content meters, an advertising-minimal experience, and unique access to our writers and editors (through conference calls, social media groups, and more). And importantly, NRPLUS members help keep NR going.
If you enjoyed this article and want to see more premium content like this, we have a proposition for you:
Join 

NRPLUS

.