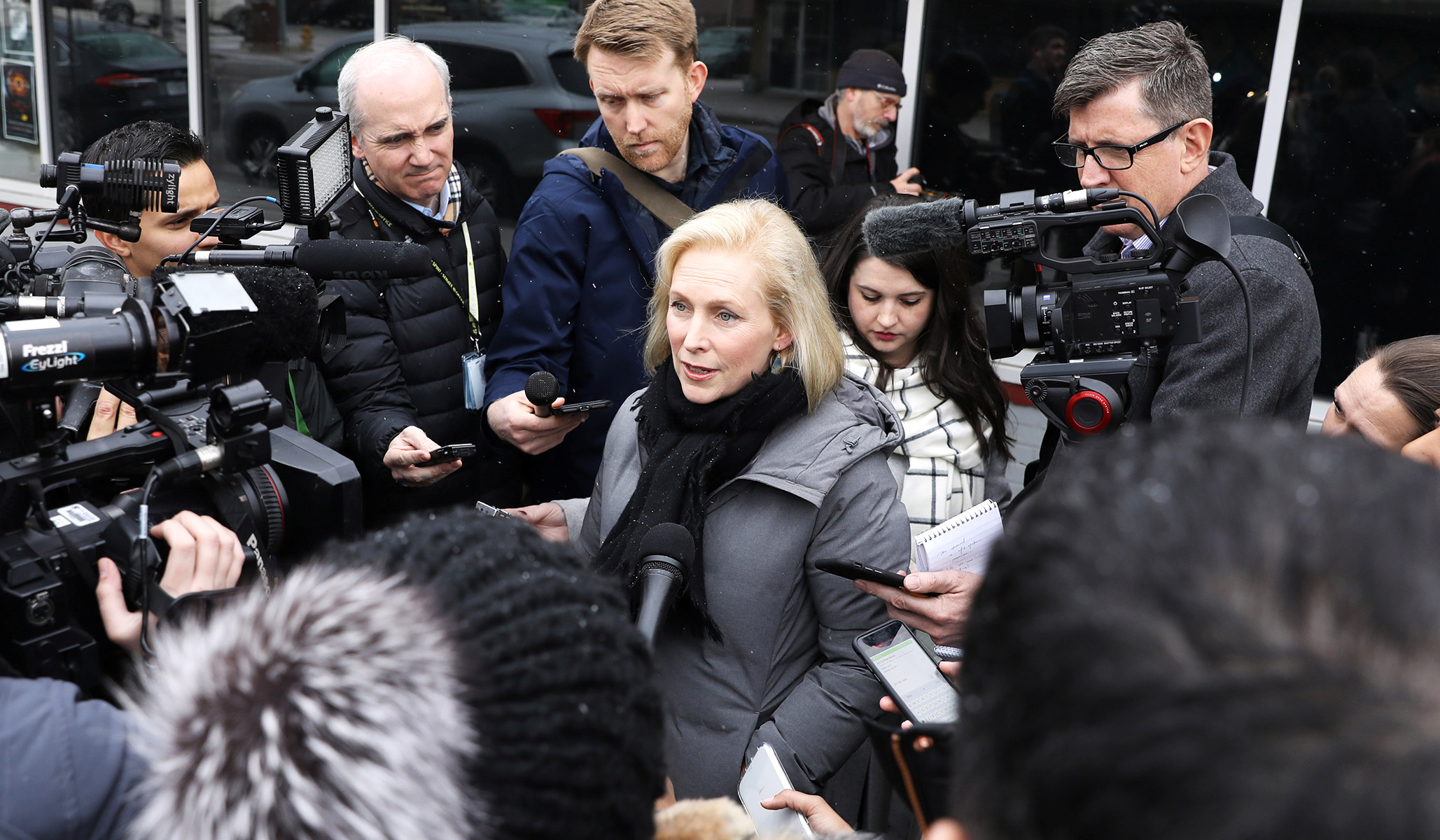 Right now, the Democratic presidential field includes nine declared candidates: New Jersey Senator Cory Booker, South Bend mayor Pete Buttigieg, former HUD secretary Julian Castro, Maryland Representative John Delaney, Hawaii Representative Tulsi Gabbard, New York Senator Kirsten Gillibrand, California Senator Kamala Harris, Minnesota Senator Amy Klobuchar, and Massachusetts Senator Elizabeth Warren.
In the coming weeks and months, the field may grow to include former vice president Joe Biden, former New York City mayor Mike Bloomberg, Ohio senator Sherrod Brown, former Colorado governor John Hickenlooper, Washington governor Jay Inslee, former Virginia governor Terry McAuliffe, former attorney general Eric Holder, Massachusetts representative Seth Moulton, former Texas representative Beto O'Rourke, Ohio representative Tim Ryan, and Vermont senator Bernie Sanders.
That would be another eleven, and there may be other lesser known — even lesser known? — figures in the party contemplating a campaign.
Today the Democratic National Committee set out the rules for participation in the first two primary debates, which will be held in June and July. (MSNBC will air the first one, CNN the second one.) The party expects to hold each debate over two nights, splitting the candidates into two groups — no earlier-in-the-evening "undercard" debate like the Republicans had in 2016.
To qualify for the debate, a presidential candidate must reach one percent in three separate polls of either the national or one of the early nominating states of Iowa, New Hampshire, South Carolina, or Nevada. Even if a candidate can't reach that low polling threshold, they can still qualify by having 65,000 donors, with at least 200 donors in 20 states. They set out a system of tiebreakers if more than 20 candidates meet this criteria.
There aren't many good options when you have 20 or so candidates, but Democrats have put together a formula for chaos. Assuming each night has ten candidates, a two-hour debate will leave each candidate with twelve minutes, and that's not accounting for time for introductions, questions, and audience responses such as laughter or applause. (Candidates' inability to resist the temptation to go for slogans or hackneyed applause lines is one reason debate organizers should contemplate not having audience.) If you limit each candidate to three minutes to answer a question, one quarter of the debate will pass before you move on to the second question.
There is an option to give candidates more time, which is to (groan) let the debates go longer than two hours, maybe running three hours. The September 16, 2015 Republican presidential-primary debate ran more than three hours. Right now, each debate would be at least four hours spread over two nights; by July, we will have eight hours of Democrats debating each other. If the debates are three hours long, by July we will have twelve hours of debates.
Debates very much suffer from the tragedy of the commons — what's best for each individual candidate is not best for the group as a whole. Candidates will desperately want a memorable "YouTube moment," and they'll know one of the ways to generate one is through confrontation or interrupting another candidate's answer. Putting ten people on a stage only increases the pressure to stand out from a sizable crowd of candidates. (When the moderator says, "Senator," half the people on stage will respond, "Yes?")
Something to Consider
If you enjoyed this article, we have a proposition for you: Join NRPLUS. Members get all of our content (including the magazine), no paywalls or content meters, an advertising-minimal experience, and unique access to our writers and editors (through conference calls, social media groups, and more). And importantly, NRPLUS members help keep NR going.
If you enjoyed this article and want to see more content like this, we have a proposition for you: 
Join NRPLUS.