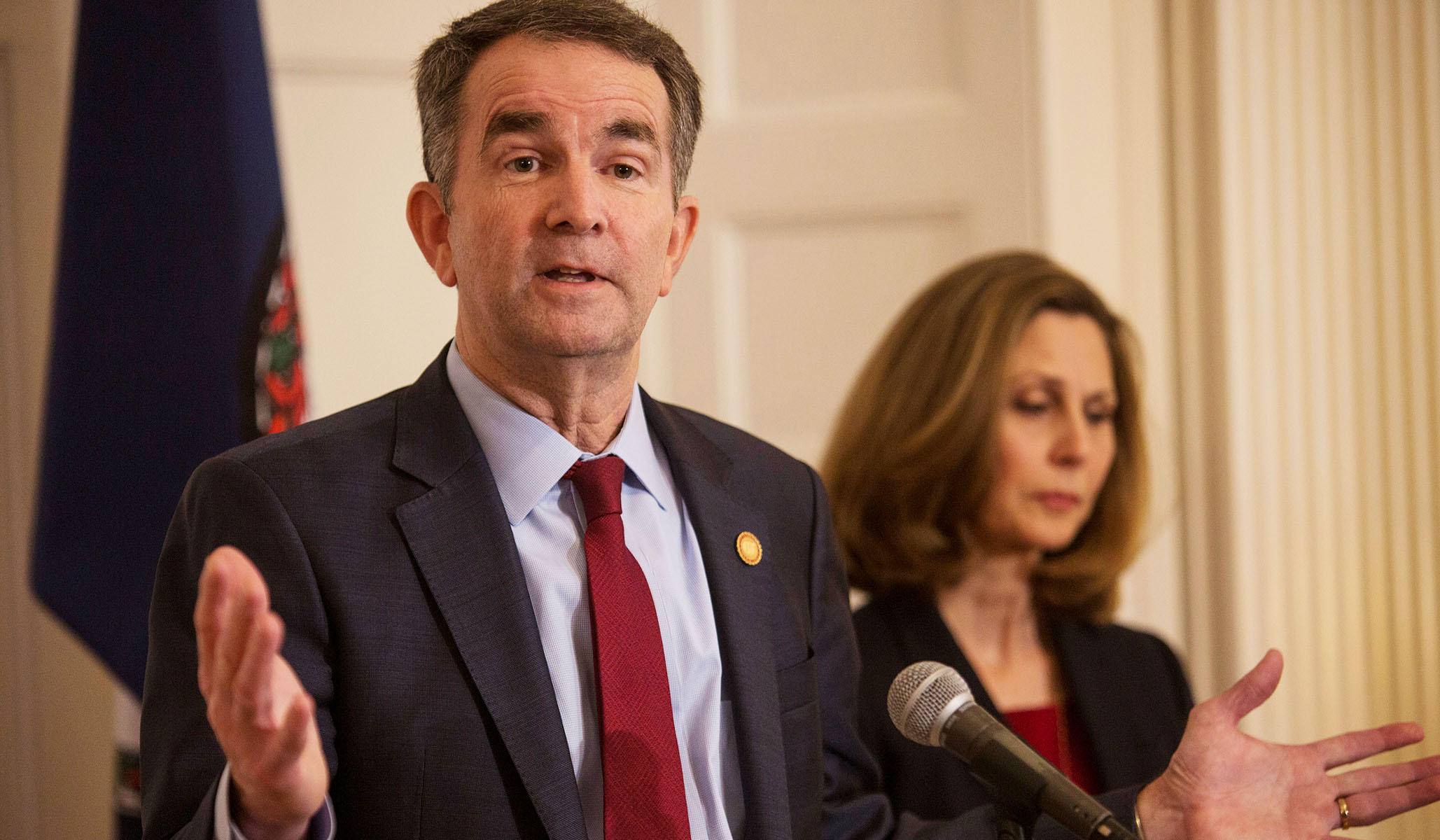 Virginia state politics took a bizarre twist today, as the state's Democrats are now probably more eager to see Governor Ralph Northam removed from office than the state's Republicans are.
Virginia House speaker Kirk Cox said Monday morning that he has no plans to try to force Governor Ralph Northam from office. He told reporters that while he believes Northam has lost the ability to govern "regardless of the veracity of the photograph," he's not convinced that the yearbook scandal meets the constitutional threshold for impeachment proceedings. The Virginia state constitution lists "malfeasance in office, corruption, neglect of duty, or other high crime or misdemeanor" as reasons for impeachment. Virginia law defines "malfeasance" in a variety of ways, but it's far from clear that implausible explanations for racist photos and a nickname in collegiate and medical-school yearbooks would qualify.
Northam remaining in office would probably be a political albatross for the Democrats heading into state legislative elections in November. Northam's continued presence would ensure the controversy about his late-term abortion comments endures, infuriate African-Americans (or anyone who finds Northam's explanation for the photo unconvincing), and probably hurt Democratic fundraising.
Under the Virginia state constitution, impeaching Northam would require either "the Attorney General, the President pro tempore of the Senate, and the Speaker of the House of Delegates, or a majority of the total membership of the General Assembly, to written declaration that the governor is unable to discharge the powers and duties of his office." If Northam objected — and at this point, there's every reason to think he would — a vote of three quarters of both the state senate and state assembly would be needed to remove him. Right now, Republicans have a 51-48 majority in the assembly (with one vacancy) and a 21-19 advantage in the state senate.
Meanwhile, there's the open question of what, if anything, the state legislature should do about the allegation against lieutenant governor Justin Fairfax, described in today's Washington Post.
The woman approached The Post after Fairfax won election in November 2017 and before he was inaugurated in January 2018, saying she felt like she had an obligation to speak out.

The woman and Fairfax first met in Boston at the 2004 Democratic national convention.

During a conversation, the two realized they had a mutual friend. It was that commonality, she recalled, that put her at ease enough that on the afternoon Fairfax asked her to walk with him to his hotel room to pick up some papers, she thought nothing of joining him.

Fairfax and the woman told different versions of what happened in the hotel room with no one else present. The Washington Post could not find anyone who could corroborate either version. The Post did not find "significant red flags and inconsistencies within the allegations," as the Fairfax statement incorrectly said.
If both Northam and Fairfax resigned, state attorney general Mark Herring would become governor.
Something to Consider
If you enjoyed this article, we have a proposition for you: Join NRPLUS. Members get all of our content (including the magazine), no paywalls or content meters, an advertising-minimal experience, and unique access to our writers and editors (through conference calls, social media groups, and more). And importantly, NRPLUS members help keep NR going.
If you enjoyed this article and want to see more content like this, we have a proposition for you: 
Join NRPLUS.