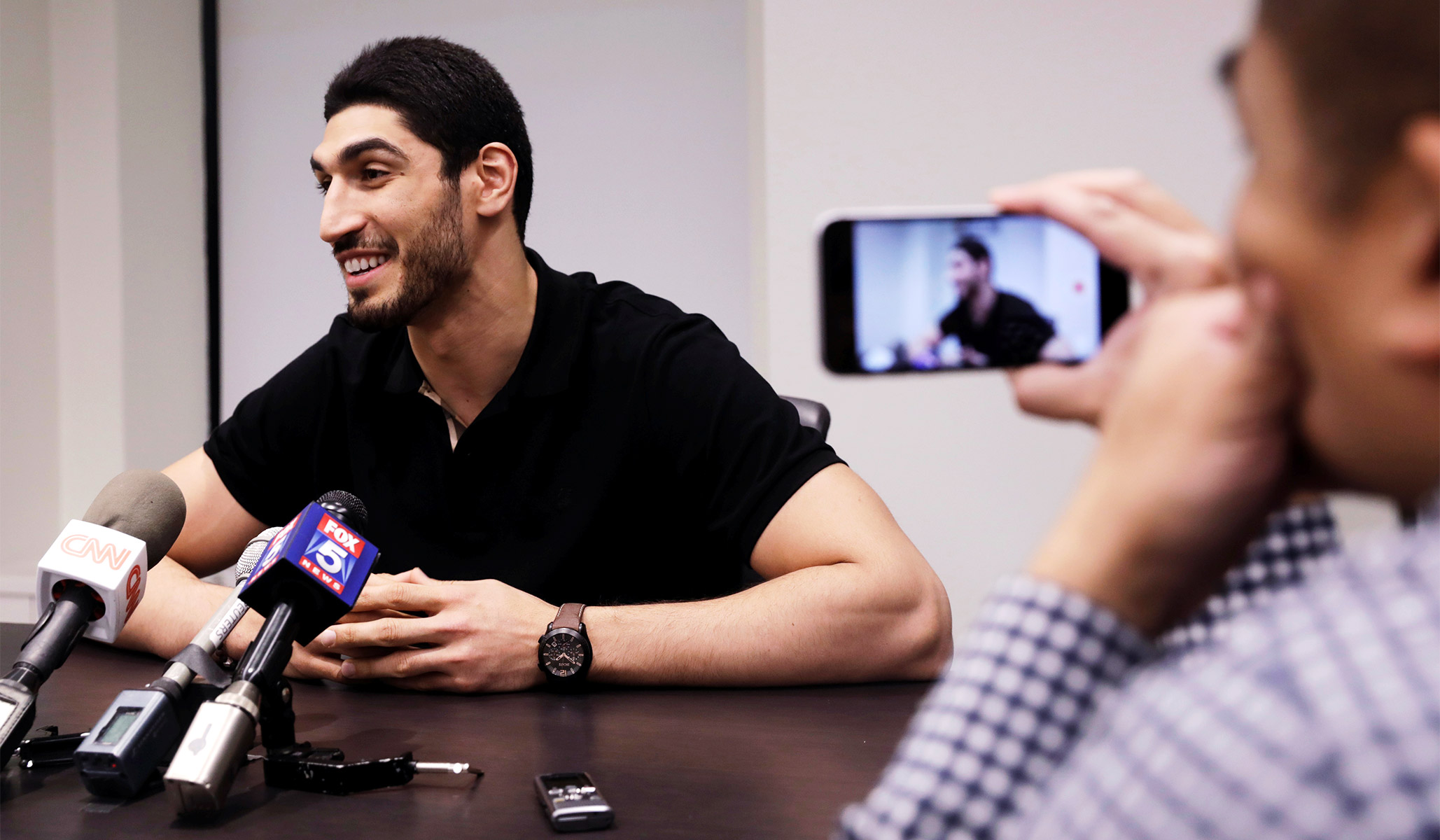 Boston Celtics player Enes Kanter has come out swinging against the Chinese Communist Party, in recent days making the most of his platform to skewer Beijing's repression of Tibetans and Uyghurs and to question Xi Jinping's rule. On Sunday, he wore shoes emblazoned with the message "Free China" to a game.
This afternoon he opened a new front in this campaign, targeting a prominent U.S. enabler of China's mass atrocities, Nike, which has faced allegations of working with suppliers complicit in Uyghur forced labor:
Dear @Nike

Stop the modern day SLAVERY, now!!!#HypocriteNike#EndUyghurForcedLabor pic.twitter.com/tvX2k3wE4X

— Enes Kanter (@EnesKanter) October 25, 2021
In the video he posted, Kanter points to the disconnect between Nike's professed commitment to social justice at home and its refusal to substantiate its denials of reports linking it to China's industrial slave-labor system.
As others have noted, Kanter has long been an outspoken opponent of authoritarianism, and his criticism of the party is only surprising insofar as the NBA's extreme deference to Chinese sensibilities — read: its bottom line — is concerned. But Kanter's repeated statements suggest that there's little chance of the league walking back his criticism of China in the way that it did when Daryl Morey, general manager of the Houston Rockets, tweeted in support of Hong Kong's pro-democracy movement.
Over the coming weeks, Kanter might see fit to pick up where Morey left off. Already, anti-CCP human-rights advocates of all stripes, including Hong Kong's Nathan Law, have lauded, and amplified, his statements.
In addition to Nike, Kanter should consider focusing on party apologists closer to home. There's plenty to be said about other American corporations that have toed Beijing's line and otherwise have remained silent in the face of grave human-rights atrocities.
Then, there's the matter of Joseph Tsai, the executive vice president of Alibaba and owner of the New York Nets. Tsai has unapologetically backed Beijing's position on Hong Kong, most recently telling CNBC that Beijing's enactment of the repressive national-security law in the city "stabilized" the situation.
All the while, Tsai, who obviously has his fortune on the line as he courts the Chinese government, has hidden behind his philanthropy work, including by standing up an outfit dedicated to supporting the Asian-American community. (Among other things, The Asian American Foundation, has provided funding to Stop AAPI Hate, a nonprofit group that has condemned certain anti–Chinese government policies as "anti-Asian.")
So far, Tsai has faced minimal criticism for his obvious support of the Chinese regime. Kanter can shine a spotlight on the obvious inconsistency between Tsai's posturing as an advocate of social justice and his role in justifying the authoritarian policies of a totalitarian regime.
Kanter has his work cut out for him. Although Washington's turn against China is in full swing, mainstream corporate and cultural institutions are far behind, and they stand vulnerable to undue foreign influence. With any luck, Kanter's advocacy can make a difference.