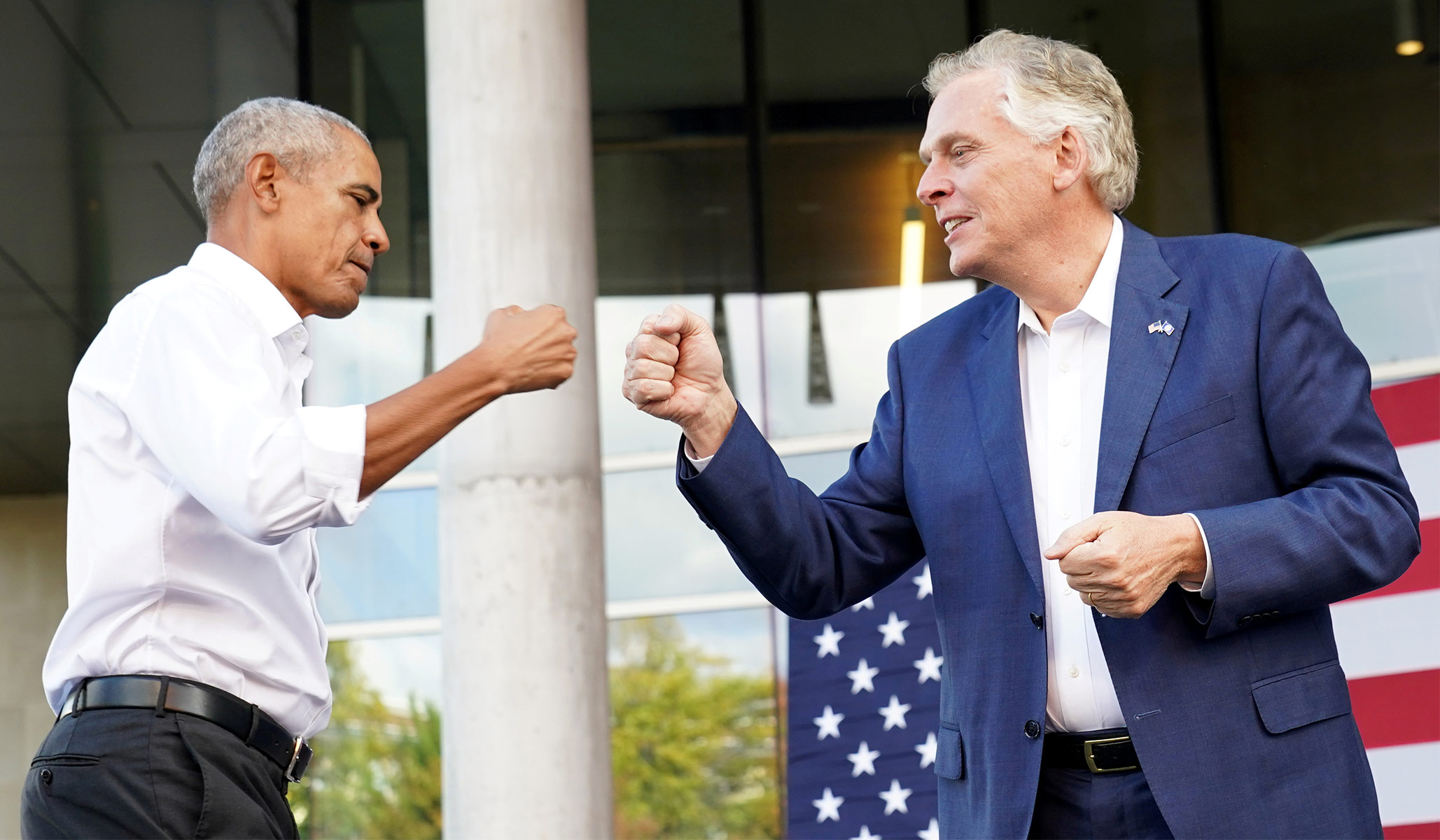 Glenn Youngkin's last-minute surge is ruffling all the right feathers. The Virginia gubernatorial candidate's beleaguered Democratic opponent, Terry McAuliffe — whose campaign has been pulling out all of the stops in a desperate bid to fend off the Republican insurgency — went so far as to bring Barack Obama to a Saturday rally. The former president wasted no time letting the audience know exactly what's at stake in the November 2 election:
We don't have time to be wasted on these phony trumped-up culture wars, this fake outrage, the right-wing media's pedals to juice their ratings. And the fact that [Youngkin is] willing to go along with it instead of talking about serious problems that actually affect serious people? That's a shame. That's not what this election's about. That's not what you need, Virginia. Instead of forcing our communities to cut back at a time when we're just starting to recover, we should be doing more to support people who are educating our kids, and keeping our communities safe.
Apparently, the very same things are also at stake in New Jersey. Here was Obama later that same day, at a campaign rally for Governor Phil Murphy's reelection bid:
We don't have time to waste on phony culture wars or fake outrage that the right-wing media is peddling just to juice up your ratings. We should be building on the progress we've made, not tearing it down. That's not what this election is all about. That's not what you need, Jersey. So instead of forcing schools to cut back, we should be doing more to support the people who are educating our kids.
As far as left-wing canards go, this is a two-fer. First, the idea that conservative cultural concerns — like, say, whether male students who are credibly accused of assaulting their female peers should continue to have access to girl's bathrooms if they claim to be transgender — aren't "serious problems that actually affect serious people." Second, that the Right is always the aggressor in the culture war: In Obama's framing, the culture warriors in Virginia are not the progressive educators who have pushed critical race theory–influenced curricula and transgender ideology in kids' schools, but the parents and concerned citizens who are protesting these reforms. If progressivism is always on the "right side of history," as the former president often liked to claim, then the steady march of cultural liberalism is inevitable; it is not until indignant right-wingers push back that such debates become the "culture war."
Obama and McAuliffe know as well as anyone that new hot-button issues such as CRT and gender ideology in schools are a losing issue for Democrats — and, if the GOP plays its cards right, a winning one for Republicans. Education — a proxy for culture-war issues on everything from masks to CRT — is one of the top concerns in the Virginia race, and the latest polls show McAuliffe dangerously underwater on the question. Voters have traditionally viewed Democrats more favorably than Republicans on schools, but a new Cygnal poll out today shows McAuliffe trailing Youngkin by more than 16 points with parents of K–12 children.
Youngkin's surge has coincided with his willingness to modify the old blue-state GOP campaign handbook on cultural debates, at least within the realm of education. When he kicked off his campaign with a more conventional culture war–averse approach — emphasizing jobs, taxes, and the other standard "kitchen table" issues that the GOP has long seen as the route to victory in Democratic-leaning constituencies — he was five points underwater. But as Virginia public schools have become a national battleground for cultural debates surrounding curricula and gender, Youngkin has leaned in to the fight. Now, the GOP is within spitting distance of the governorship for the first time in years. Whether or not Youngkin manages to pull it off, Republicans across the country could learn a thing or two from his strategy.
Something to Consider
If you enjoyed this article, we have a proposition for you: Join NRPLUS. Members get all of our content on the site including the digital magazine and archives, no paywalls or content meters, an advertising-minimal experience, and unique access to our writers and editors (through conference calls, social media groups, and more). And importantly, NRPLUS members help keep NR going.
If you enjoyed this article and want to see more premium content like this, we have a proposition for you:
Join 

NRPLUS

.