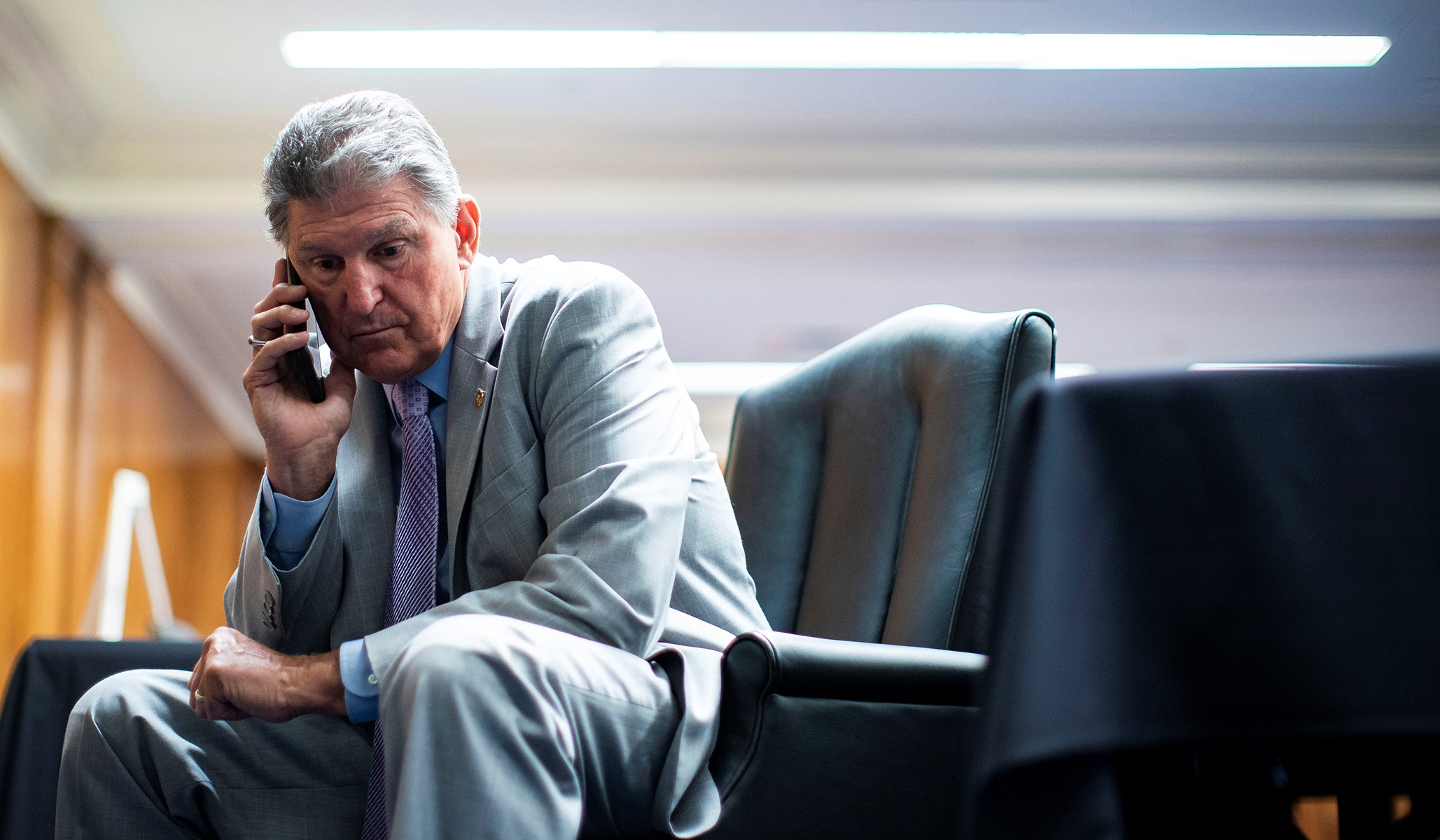 In the Wall Street Journal, Senator Manchin of West Virginia calls for a "strategic pause" on his party's absurd spending plans:
Over the past 18 months, we've spent more than $5 trillion responding to the coronavirus pandemic. Now Democratic congressional leaders propose to pass the largest single spending bill in history with no regard to rising inflation, crippling debt or the inevitability of future crises. Ignoring the fiscal consequences of our policy choices will create a disastrous future for the next generation of Americans.
Manchin continues:
Those who believe such concerns are overstated should ask themselves: What do we do if the pandemic gets worse under the next viral mutation? What do we do if there is a financial crisis like the one that led to the Great Recession? What if we face a terrorist attack or major international conflict? How will America respond to such crises if we needlessly spend trillions of dollars today?

Instead of rushing to spend trillions on new government programs and additional stimulus funding, Congress should hit a strategic pause on the budget-reconciliation legislation. A pause is warranted because it will provide more clarity on the trajectory of the pandemic, and it will allow us to determine whether inflation is transitory or not. While some have suggested this reconciliation legislation must be passed now, I believe that making budgetary decisions under artificial political deadlines never leads to good policy or sound decisions. I have always said if I can't explain it, I can't vote for it, and I can't explain why my Democratic colleagues are rushing to spend $3.5 trillion.
Of course, something that is "paused" can be restarted. And Manchin isn't saying he's not willing to spend any money, but that he won't "support a $3.5 trillion bill, or anywhere near that level of additional spending, without greater clarity about why Congress chooses to ignore the serious effects inflation and debt have on existing government programs." As usual, there's wiggle room here.
And yet . . . Manchin also writes this:
In 2017, my Republican friends used the privileged legislative procedure of budget reconciliation to rush through a partisan tax bill that added more than $1 trillion to the national debt and put investors ahead of workers. Then, Democrats rightfully criticized this budgetary tactic. Now, my Democratic friends want to use this same budgetary tactic to push through sweeping legislation to make "historic investments." Respectfully, it was wrong when the Republicans did it, and it is wrong now. If we want to invest in America, a goal I support, then let's take the time to get it right and determine what is absolutely necessary.
One can read that a number of ways, but here's one way: As it stands, Senator Manchin is against the reconciliation bill, and in favor of the bipartisan infrastructure bill, and, absent a big change, that's where he may well end up.