Update Thursday 5:24 p.m. Britain's UN ambassador says that key powers have reached an accord on a U.N. resolution on Syrian chemical weapons.
Update Thursday 12:30 p.m. The U.N Security Council has reached an agreement on a resolution that will require Syria to dismantle its chemical weapons stores, according to U.N. diplomats. The U.S. and Russia continue to be at odds on how to enforce such a resolution.
Update Tuesday 9:50 a.m. Russia is concerned about talks with the U.S. on the conflict in Syria, saying they are worried force might be used. Russia's Deputy Foreign Minister Sergei Ryabkov said "unfortunately it's necessary to note that in contacts with the Americans, things are not going so smoothly … they are not quite going in the direction they should." Citing the Obama administration's continued insistence that force is still an option, Ryabkov said "we draw certain conclusions from that and assume that the threat of aggression in violation of international law is so for only delayed, not dismissed fully."
Russia also said that a U.N. Security Council Resolution could include mention of Chapter VII of the U.N. charter. This could potentially allow force or sanctions if Syria violates the ban on chemical weapons.
Update Monday 2:41 p.m. Sayyed Hassan Nasrallah, leader of Hezbollah, denies the claim that his group has received any chemical weapons from Syria. "The accusation is truly laughable," Nasrallah said. "We decisively and conclusively deny these accusations which have absolutely no basis in truth."
UPDATE: Weekend President Assad said that he will allow international inspectors access to his chemical weapons sites, but added that the rebels might block access to some locations.
Former chemical weapons chief under President Assad, Brigadier-General Zaher al-Sakat, said in an interview with the Telegraph that he was ordered three times to use chemical weapons, but could not do it and replaced the chemical canisters with harmless bleach. He also said that Assad is not following the terms of the U.S.-Russian agreement to have his chemical weapons destroyed by transferring some weapons to his allies, including Hezbollah and Iran.
UPDATE: Friday 10:58 a.m. Though the OPCW has received a report from Syria on its chemical weapons, officials say that the data received was not complete, according to the Telegraph.
UPDATE: Friday 10:55 a.m. The Syrian rebels have dismissed the Assad regime's call for a ceasefire, calling the Syrian's Deputy Prime Minister's announcement in the Guardian on Thursday "not a credible statement." A spokesperson of the opposition's National Coalition said that while they weren't opposed to a ceasefire, "it has to be part of a comprehensive peace plan."
UPDATE: Friday 10:44 a.m. The Organization for the Prohibition of Chemical Weapons (OPCW) has received Syria's initial chemical weapons report and is now reviewing it.
UPDATE: Thursday 3:30 p.m. Secretary of State John Kerry reasserted at a press briefing today that the Assad regime used chemical weapons and that the U.N. report confirms this even though that was not the stated purpose of the report. At one point, Kerry asked how the rebels could have even executed such an act as the U.N. report describes.
UPDATE: Saturday, 4:12 p.m.: Syrian state TV carried President Obama's speech live.
UPDATE: Saturday, 3:35 p.m.: According to senior administration officials, President Obama's decision to get congressional approval for a strike on Syria came Friday night. He originally planned to take military action without seeking authorization.
UPDATE: Saturday, 3:00 p.m.: Republican Representative Peter King (N.Y.) released a statement accusing President Obama of "abdicating his responsibility as commander-in-chief and undermining the authority of future presidents" by his decision to seek congressional authorization for the use of force in Syria.
"The president does not need Congress to authorize a strike on Syria," King said. "If Assad's use of chemical weapons against civilians deserves a military response, and I believe it does, and if the president is seeking congressional approval, then he should call Congress back into a special session at the earliest date."
Meanwhile, Democratic Representative Eliot Engel (N.Y.) released a statement calling on Speaker of the House John Boener (R., Ohio) to recall the House of Representatives from the August recess for a debate.
UPDATE: Saturday, 2:37 p.m.: Senate Republican leader Mitch McConnell issued a statement in response to the president's request for congressional authorization, saying "the president's role as commander-in-chief is always strengthened when he enjoys the expressed support of the Congress."
Republican House leaders responded to the president's request explaining they are "glad the president is seeking authorization for any military action in Syria in response to serious, substantive questions being raised," and underscoring that "under the Constitution, the responsibility to declare war lies with Congress." They agreed to consider a measure when Congress returns September 9, and said "this provides the president time to make his case to Congress and the American people."
UPDATE: Saturday, 1:50 p.m.: President Obama announces that he believes the United States should use military action and that he is "comfortable" moving forward without the approval of the U.N. Security Council. In an afternoon speech at the White House, he explained he will ask Congress for authorization for military strikes when they reconvene in mid September, but he made clear that he believes congressional authorization isn't necessary.
UPDATE: Saturday, 1:30 p.m.: Senator John Cornyn (R., Texas) says Presdent Obama should recall Congress and ask for a vote on authorization to use military force.
UPDATE: Saturday, 12:45 p.m.: Martin Nesirky, spokesman for U.N. Secretary-General Ban Ki-moon, said that there will be no report on chemical weapons in Syria until lab tests on samples collected by U.N. inspectors are complete.
UPDATE: Saturday, 12:03 p.m.: Arab foreign ministers will meet in Cairo tomorrow to discuss Syria.
UPDATE: Saturday, 11:20 a.m.: Though only senators are being briefed by the administration on Syria today, bipartisan House members will be briefed tomorrow.
UPDATE: Saturday, 11:17 a.m.: UN inspectors have arrived in the Netherlands.
UPDATE: Friday, 5:06 p.m.: Speaker Boehner hasn't ruled out calling Congress back into session on Syria, Michael Steel announced.
UPDATE: Friday, 3:58 p.m.: CBS news reports U.N. inspectors to leave Damascus earlier than expected.
UPDATE: Friday, 2:51 p.m.: Obama stated that he's "looking a wide range of options. We're not considering any boots on the ground approach." Only looking at a "limited narrow act."
UPDATE: Friday, 1:58 p.m.: The White house has released a map showing areas in Syria impacted by Chemical Weapons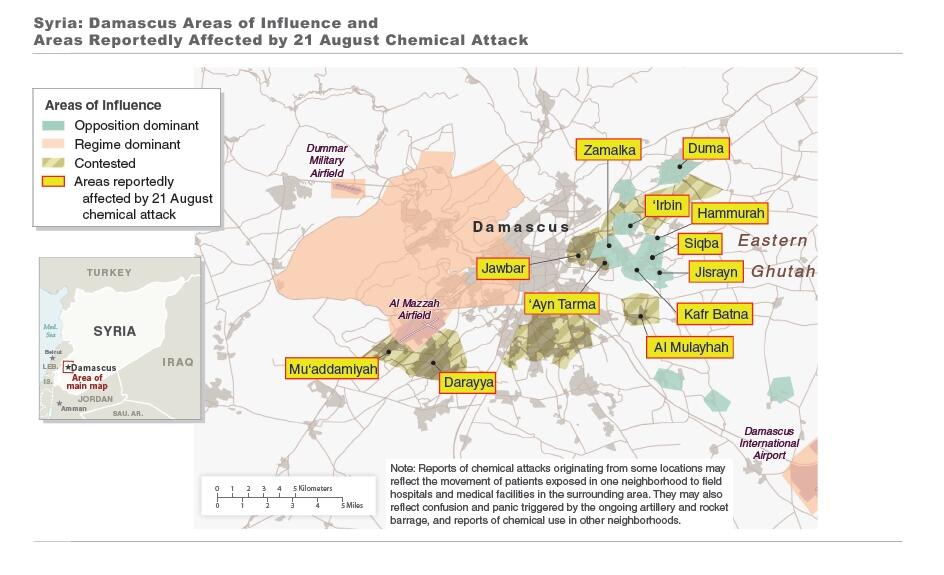 UPDATE: Friday, 1:54 p.m.: NATO Chief says that the alliance has no plans for military action in Syria.
UPDATE: Friday, 1:30 p.m.: John McCain on Secretary of State Kerry's briefing:
UPDATE: Friday, 1:29 p.m.: In his briefing Today, Secretary of State Kerry said:
"The United States Government assesses with high confidence that the Syrian government carried out a chemical weapons attack in the Damascus suburbs on August 21, 2013. We further assess that the regime used a nerve agent in the attack. These all-source assessments are based on human, signals, and geospatial intelligence as well as a significant body of open source reporting."
UPDATE: Friday, 12:52 p.m.: The U.N. chemical weapons investigators will leave Syria tomorrow. As of yet there is no timeline for when their final report will be complete, according to Nick Bryant.
UPDATE: Friday, 11:01 a.m.: Former president George W. Bush said President Obama has a "tough choice" on whether to launch a military attack on Syria. Bush also stated that during his two terms in office he was "not a fan of Mr. Assad."
UPDATE: Friday, 10:50 a.m.: French president François Hollande announced that France is still ready to take action in Syria alongside the U.S., despite Britain's decision to not intervene.
UPDATE: Friday, 10:00 a.m.: Prime Minister David Cameron spoke on Friday about Parliament's vote against intervention in Syria saying, "I think the American people and president will understand." He said he didn't need to apologize to Obama.
UPDATE: Thursday, 5:44 p.m.: British prime minister David Cameron lost a preliminary vote in Parliament authorizing intervention in Syria 285–272. Earlier, an amendment to the motion, authored by the opposition Labour Party, which would have required "compelling evidence" of the use of chemical weapons by governmental forces, failed 332–220.
A senior administration official tells the New York Times that President Obama is willing to move ahead on a military strike on Syria whether or not allies such as Britain decide to join the effort.
Over 170 members of the House of Representatives, including more than 50 House Democrats, are now calling on President Obama to seek congressional approval before a military strike in Syria, in separate letters, the Washington Post reports.
The Security Council meeting Russia called ended after less than an hour on Thursday evening, according to the Washington Post. No progress was made.
President Bashar Assad's forces have moved Scud missiles from a base near Damascus to a heavily militarized mountain region, Reuters reports, which may be aimed at protecting them from any coming attacks.
President Obama briefed Speaker Boehner on Syria earlier today. At the meeting, the speaker questioned the president on legal justifications for any strike and also called on the president to further consult congress and communicate with the American public, according to Politico.
State Department spokewoman Marie Harf told reporters Thursday that the president "still has not determined a response" for Syrian chemical-weapons use.
Russia called for an urgent meeting of the five permanent members of the United Nations Security Council on Thursday afternoon to discuss the crisis in Syria, according to the Associated Press.