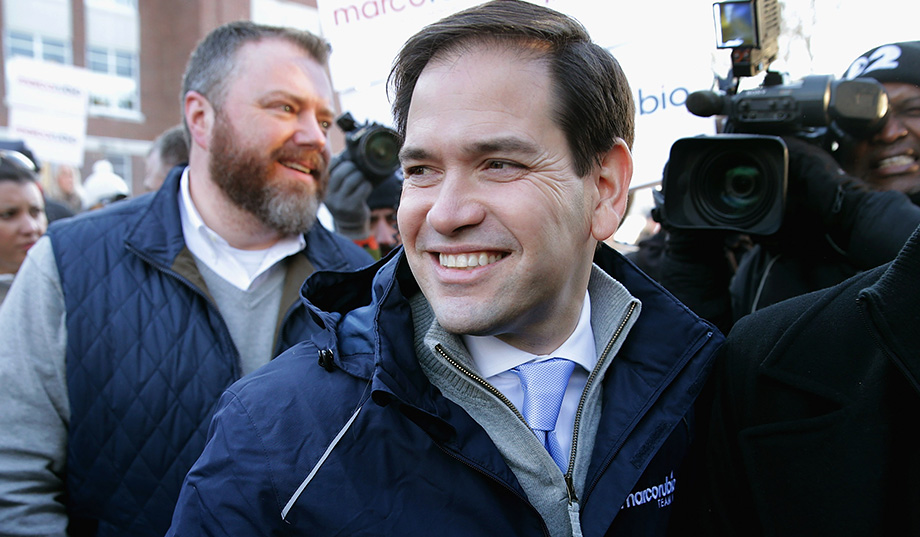 Bedford, N.H. — Marco Rubio might have a major problem on his hands heading into South Carolina: Jeb Bush.
We don't know which, if any, of the three governors — Bush, John Kasich, or Chris Christie — will capitalize on Rubio's supposed last-minute slide and finish ahead of him tonight in New Hampshire. We don't know if Rubio will slide at all; the narrative of his freefall could prove completely overwrought.
But we do know that Bush is the only member of what his team calls "the governors lane" with the organization in place — in South Carolina, Nevada, and beyond — to absorb and sustain a sudden burst of momentum after a strong showing here.
Simply put: Rubio's team is not scared of either Kasich or Christie in the long term. Yes, either one topping Rubio in New Hampshire tonight would represent a setback for the Florida senator's campaign. But both have invested their time and resources almost exclusively in this state, leaving them without the money and infrastructure needed to compete in South Carolina and Nevada later this month and the southern Super Tuesday states on March 1.
Bush poses a much different threat. His strategy was always designed to take him the distance, with an emphasis on organizing everywhere. Even as they acknowledged the outsized influence of New Hampshire on his trajectory, Bush's team was busy building a delegate-collecting enterprise capable of competing at every turn of the primary calendar.
This has largely been overlooked due to Bush's steady decline in the polls, which caused pundits to write him off. But there are indications on the ground here that Bush, whose ground game is arguably the best in the state, has surged over the past five days. There are bits of late-breaking empirical data to justify that perception: Emerson's poll Monday showed Bush bursting into second place for the first time in months; and Monmouth's survey the same day showed Bush leading the GOP field in voter-contact metrics.
None of this guarantees anything. Bush could finish a distant fifth tonight and watch his campaign implode. But it suddenly seems plausible that Bush could finish ahead of Rubio, with a second- or even third-place finish, and head into South Carolina with a head of steam. If that happens, Rubio's in trouble.
Rival campaigns have warned for months not to underestimate Bush's organizational strength in South Carolina. That was before Lindsey Graham, the state's senior senator, endorsed him. There's been buzz for some time that former President George W. Bush, who won South Carolina and remains popular there, would make his campaign-trail debut in the Palmetto State. Politico recently confirmed that speculation. It's easy to envision Jeb Bush, his older brother, Graham, and dozens of decorated military leaders backing Jeb's campaign standing on stage together in the Lowcountry, seeking the blessing of a state whose voters have traditionally prized electability and have long been loyal the Bush family.
That scenario is all the more likely if Bush overperforms in New Hampshire by finishing ahead of Rubio — a development that could prove crippling to his former protege's campaign.
After placing a stronger-than-expected third in Iowa, Rubio hoped to coalesce the center-right behind him with a second-place finish in New Hampshire, creating the perception of a three-man race. Rubio could then feasibly win South Carolina by dominating the wealthy, center-right voters in the Lowcountry while Cruz and Trump split the blue-collar, conservative votes Upstate. (This was the basis of Rubio's 3-2-1 scenario.)
A suddenly resurgent Bush would complicate that math, to say the least. The former Florida governor might not win, but that's hardly the point; his voteshare would likely be sufficient to make Rubio lose. And not just in South Carolina: Bush's team believes they have the best operation in Nevada, something he reiterated here this morning while visiting a voting precinct. (Rubio and Cruz also claim to have superior organizations there.) 
Christie and Kasich, on the other hand, aren't feared in South Carolina, or Nevada, or anywhere else until mid-March. That's why Rubio can afford to finish behind either of those two governors in New Hampshire tonight — just not behind Bush.