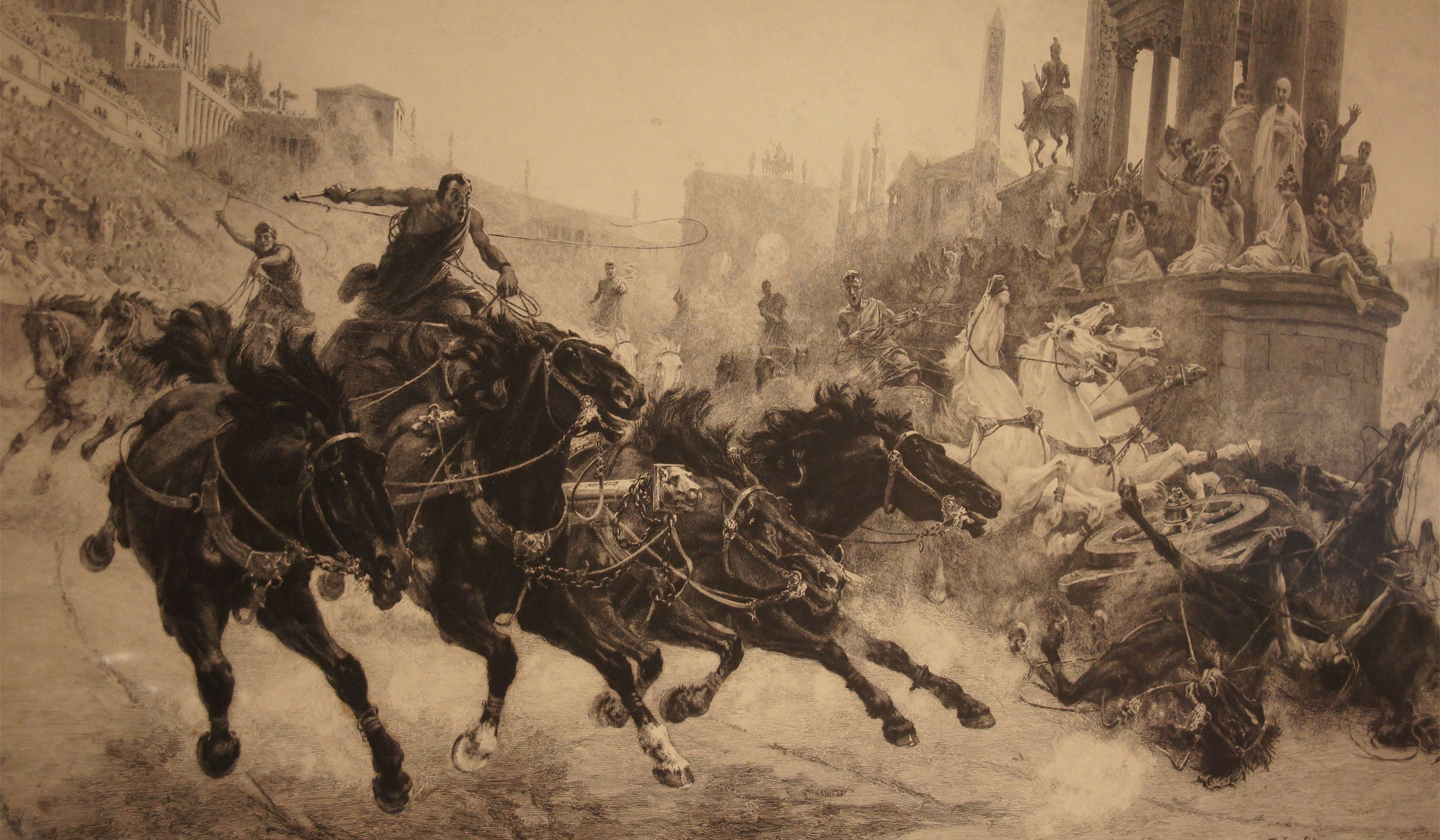 Our Spring 2018 Webathon winds up this week. El jefe, Mr. Lowry, makes the case, wonderfully, for your participating, even at this final stage.
In case you need some visual inspiration, we'll use this horse race image from the novel Ben Hur (you'll remember the 1959 movie version starred the late NR subscriber Charlton Heston) to motivate, so we can end this undertaking with a bang instead of a whimper. But let's be honest: for that to happen, those of you who dine and guzzle ever day or thereabouts at the Buckley Open-Bar Buffett need to participate. Our goal, which is spelled out here in greater detail, is to raise $210,000. It breaks down like this: $100,000 towards defraying the major costs of the website rebuild, $50,000 to bankroll one of our important news reporter positions, and $60,000 for a new finance reporter (these latter two positions are certain to pay for themselves, and more, so your help is truly an investment).
Speaking of break downs, I'll have one . . . unless you who really oughta engage in open-bar bellying-up make the vital decision to toss a few smackers into the tip jar. Can you do that? Of course you can! And when you do, could you leave some encouraging words too? Like these fine folks have:
Todd from Stockton, NJ drops a fat Fifty on us and talks about his four-decade love affair: "I first discovered NR in 1974 and have been grateful for its existence ever since." There'd be nothing to be grateful for without your type of selflessness pal!

Scott takes time from enjoying the San Diego sunshine to hit SEND on a $100 contribution. Then he makes with the laudatory: "Thanks for staying principled. Thanks for your rigorous intellect and willingness to call out hypocrisy no matter from which direction it comes. And thanks especially for Jonah Goldberg and the G-File. Brilliant and hilarious." Blush.

On the other side of the fruited plains, in West Roxbury, MA, Cornelius contributes $100 . . . and encouraging words come with the cash. "You are my sanctuary in times of cultural and political turmoil. Jonah G. summed it up in today's G-File: (paraphrasing) conservatives have their biases, but at least consider that they could be wrong in their conclusions. The left is willing to follow the GPS over the cliff right or wrong. Thank you all for what you have done these many years." Back at you.

Nathaniel from St. Paul does likewise, and his $100 contribution comes with these generous thoughts, in part: "Keep up the great work, and please continue the debate of ideas, especially among the right. I love the way NR encourages the free exchange of ideas among its many writers and editors. The fact that the same organization can house ardent Trump supporters like Conrad Black, so-called Never Trumpers like David French, populists, nationalists, fiscal conservatives, the religiously devout and the atheist, social conservatives, isolationists and national greatness types, and of course continuing to support the work of great communicators like Jonah Goldberg is absolutely wonderful to me. All of this is done with a spirit of mutual respect and collegiality that is sorely lacking in our current political climate."

Keli from Bozeman delves into the couch creases, comes up with $50, dedicates it, and cries uncle: "Oh, all right already! I cannot ignore the pleas any longer – especially when I sheepishly realized I save NR for last every day cause it's the best. Keep up the good work." Kept, thanks to you.

Cynthia from Queensbury, NY sends along . . . A grand! After being revived, I read her accompanying note: "Please keep up the good work. Keep the faith!" Kept. Again!
Who among you can make like Cynthia? If you can't do $1,000 (or $5,000 or $10,000), is it asking too much for $10, $25, or $50 to help NR? Or $100, $250, $500? You know there is some generosity inside you, wanting dearly to burst out, so let the bursting . . . burst. Make your donation direct to NR here. If you prefer PayPal, send your help to NR here. And if you have a fetish for licking envelopes, mail a check (payable to "National Review") to us at 19 West 44th Street, Suite 1701, New York, NY 10036. We deeply appreciate all who provide us any level of help.