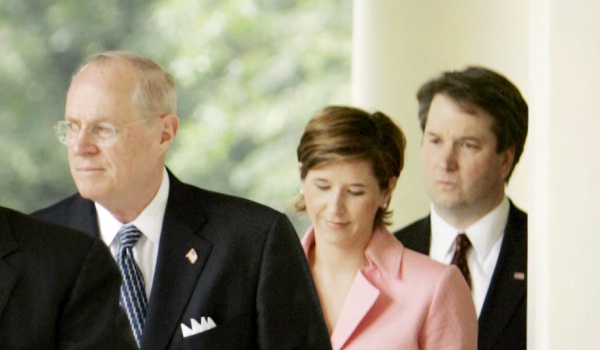 Every time I criticize the mainstream press, I am treated to a saccharine lecture on how wrong I am to cast aspersions about America's most valuable profession. "You don't understand," I am informed. "These people are diligent, and hard-working, and thorough, and they move heaven and earth to get the story right. Occasionally, they make mistakes. But they feel terrible when they do, and they move quickly to fix it. They don't deserve your disdain."
But they do, so often. And here is a good example of why that disdain is so forthcoming:
Furthermore, the five names Trump added to his list of Federalist Approved judges last November was to get Kavanaugh on that list. The other four names were considered cover, per source.

In other words: the decision has been baked for a while:
W/ @frankthorp

— Leigh Ann Caldwell (@LACaldwellDC) July 10, 2018
Gosh, what a bombshell story! And the day after the nomination, too! Given that this has the potential not only to dominate the news cycle, but to filter down into the rhetorical arsenals of everyone who opposes Kavanaugh, one can only assume that its progenitor did her homework, right? After all, she isn't some random; she's a Capitol Hill reporter for NBC, and worked previously at CNN and in public radio. She knows how important it is to ensure that her story is solid. It would be absurd if her attitude were, "not sure about this one, better send it around the Internet just in case."
Oh:
To be clear: This is from one source and dont have any info on whether potus talked to kennedy about a possible replacement.

— Leigh Ann Caldwell (@LACaldwellDC) July 10, 2018
At best, this is extraordinarily irresponsible. At worse, it is malicious. Since Trump won the election, our national conversation has been marked by this approach: First, a "journalist" will present an exciting story as fact; then, to rile up the reader, they will inject some high-octane editorializing — perhaps an "in other words . . ." or a "this is not normal" or an "in 2018!"; and, finally, they will present the real story — or, in this case, admit that they are relying on "one source" and don't actually "have any info" on whether it's true or not. And then they will sit back and watch the initial claim go viral, and, if they are called on it they will refer their critics to the caveat they added afterwards.
The point here is not that Caldwell is necessarily wrong. I am skeptical myself, and Leonard Leo has categorically refuted the charge, but it's certainly possible that we'll see more of this story. The point is that this isn't journalism. Because she did no research, Leigh Ann Caldwell has allowed herself to be used as a laundry service for political rumor-mongering. Whether deliberately or not, she's become part of a partisan fight. Irrespective of whether she wanted to, she has made herself a mouthpiece, not an arbiter. "I heard a rumor" is not good enough. It's not professional. Do better — or quit complaining about your cavilers.
UPDATE: And here's the inevitable backtrack, once the rumor has spread and the usual suspects are drawing sweeping conclusions from it:
I've deleted this tweet because it incorrectly implies a transactional nature in Kennedy's replacement. I am told by a source who was not directly part of the talks that Kennedy provided Pres. Trump/ WH a list of acceptable replacements. (1/2) pic.twitter.com/ptxJmrbH9S

— Leigh Ann Caldwell (@LACaldwellDC) July 10, 2018