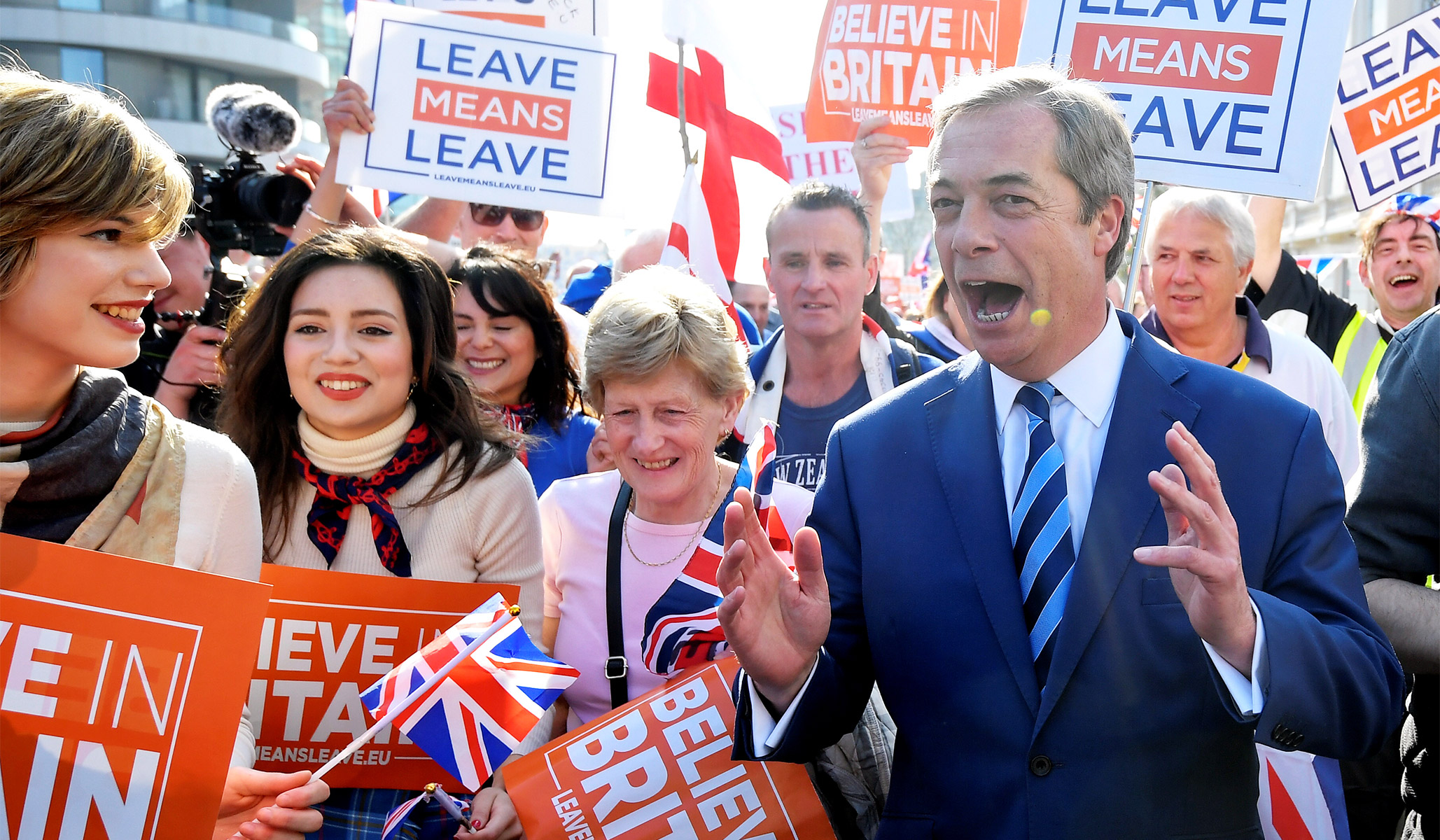 That Britain, whose voters chose to leave the EU in 2016, will partake in the European Parliament elections next month is frankly absurd. Britain was supposed to have left the bloc already (Brexit day was scheduled for March 31, was extended to mid-April, and was extended again to October 31). And elected British MEPs — presuming that Brexit still happens — would have to vacate their seats almost immediately.
This is yet another source of voter frustration. And Nigel Farage, the former UK Independence Party (UKIP) leader, has seized it as an opportunity to gain support for his "Brexit party," launched April 12. According to a YouGov poll, the Brexit party is leading with 27 percent of the vote. Labour is at 22 percent and the Conservatives are trailing behind at 15 percent.
This is bad news for the Conservative party who are — at least ostensibly — the Brexit party. Around 70 percent of Conservative constituencies voted Leave in the 2017 election, and it has been the task of the Conservative government for the past two years to deliver this result. But they haven't. Failure after failure, broken promise after broken promise; an entirely self-inflicted crisis of trust is upon them, and the gulf between Parliament and ordinary voters is ever widening. The worry now is that the Tories might bleed Euro-skeptics to Farage's single-issue party.
This is also a concern for the Labour party since 60 percent of its constituencies also voted Leave. So far, the Labour party has gotten away with a deliberately ambiguous line on Brexit. But in future elections, they'll need to step up.
Might a compromise between the two parties be possible? Might that help ease Brexit along? Well, cross-party talks are ongoing. However, party leaders are struggling to put their differences aside. For instance, Corbyn has expressed outrage that the Tories want "to turn this country into a deregulated, low-tax society which will do a deal with Trump." Theresa May's deal has already failed three times, yet with her authority hollowed out, she shows no signs of stepping down this side of Brexit.
"Now is the time to fight back," Nigel Farage told Good Morning Britain the day the Brexit party launched.
This isn't the first time Farage has managed to pull off a surprise victory. His party — then UKIP — had shock success in the European Parliament in 2014 when he hailed to victory with 26.6 percent of the vote.
To be sure, the European Parliament elections are neither the be-all-end-all of British politics nor of Brexit. Nevertheless, this does suggest yet another significant electoral realignment. And it does warn of yet more trouble in store for the Tories.