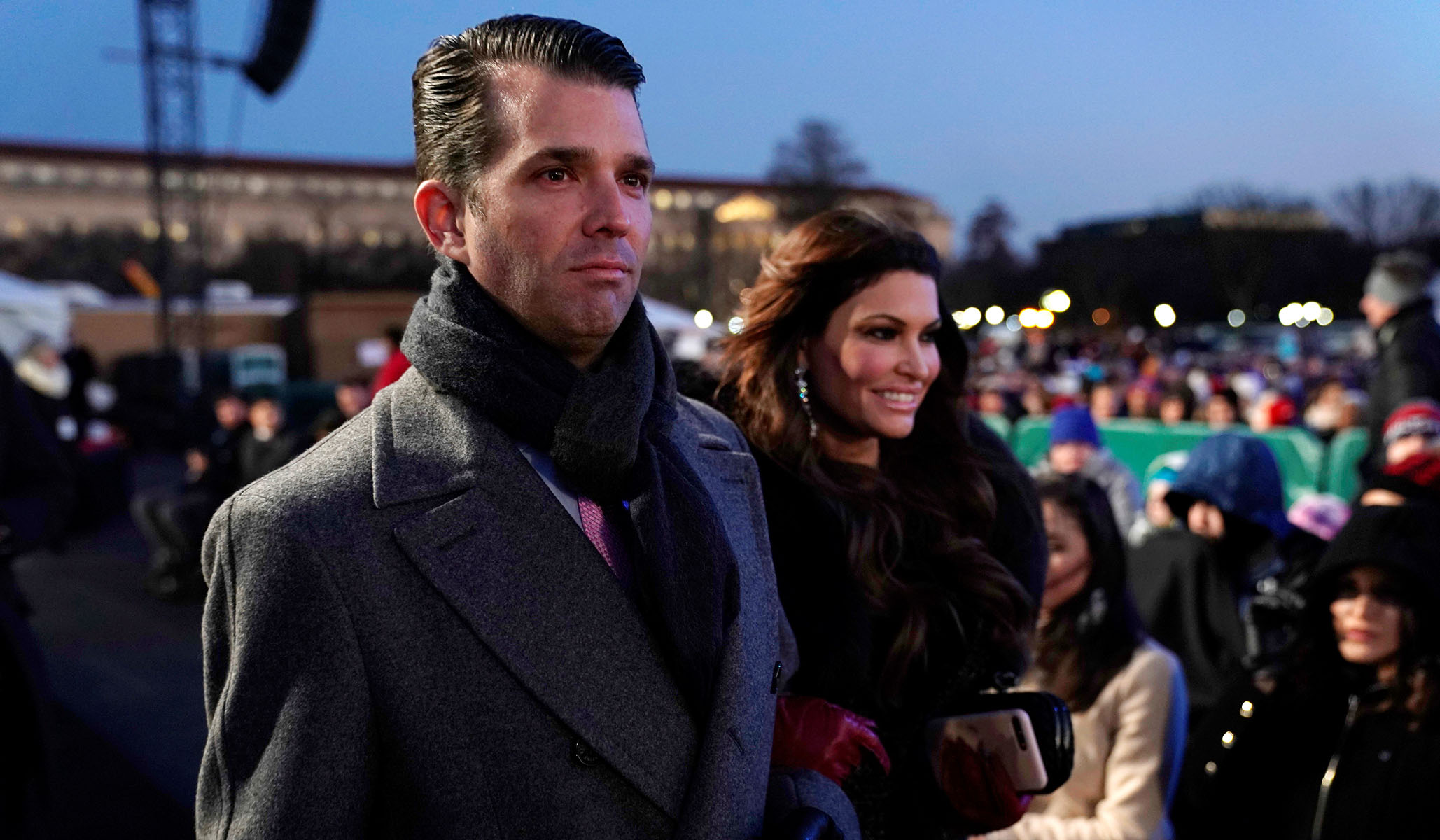 Earlier today NPR published a report entitled "Trump Jr.'s 2017 Testimony Conflicts with Cohen's Account of Russian Talks."
That's big news . . . if true.
If Trump's testimony is in conflict with Cohen's new version of his 2016 contacts with Russia, then it raises the possibility that Donald Jr. lied to Congress. He could face prosecution, bringing the Mueller investigation straight into the president's family and potentially triggering a political crisis.
NPR, however, doesn't deliver the goods. In fact, its entire story seems to be based on a misreading of the transcript of Donald Jr.'s testimony. I'll bring the receipts in a moment. But first, let's turn to NPR's claims. Here's how it begins the story (pardon the long excerpt):
Donald Trump Jr.'s testimony to Congress about his family's real estate negotiations with powerful Russians does not comport with the new version laid out by Donald Trump's ex-attorney Michael Cohen, official transcripts show.

Trump Jr. told the Senate Judiciary Committee in September 2017 that although there had been negotiations surrounding a prospective Trump Tower in Moscow, they concluded without result "at the end" of 2014.

"But not in 2015 or 2016?" Trump Jr. was asked.

"Certainly not '16," he said. "There was never a definitive end to it. It just died of deal fatigue."

The questions and Trump Jr.'s answers do allude to a number of other prospective projects; he also was asked by Senate investigators about news reports about a Trump Tower Moscow negotiation that took place in 2015 and 2016, which he acknowledged but did not detail.

The accounts by Trump Jr. contrast with a new version of events given by Cohen on Thursday in a guilty plea in federal court. In that new version, Cohen says the discussions with at least one Russian government official and others in Moscow continued through June 2016, well into Trump's presidential campaign.
This is confusing and misleading. When Trump Jr. refers to the deal that "died of deal fatigue," he was not referring to the deal Cohen was attempting to broker. If you read the transcript closely, the conflict with Cohen's new testimony disappears. In the transcript, he refers to two different potential Moscow Trump Tower deals — one worked through the Agalarov family and the other through Michael Cohen.
The Agalarov deal died in 2014. The Cohen deal — according to Trump Jr. — was still alive in 2015 and 2016. He even offered to provide the committee a copy of Letter of Intent (LOI) regarding the second deal. Critically, the committee did not ask Trump Jr. much about that second deal, and details are sketchy. Trump Jr. didn't go into near enough detail about the second deal to conclude that his testimony materially conflicts with Cohen's or that he lied to the committee.
In this portion of the transcript, Trump Jr. talks about the Cohen deal, gives a timeframe, and refers to the LOI: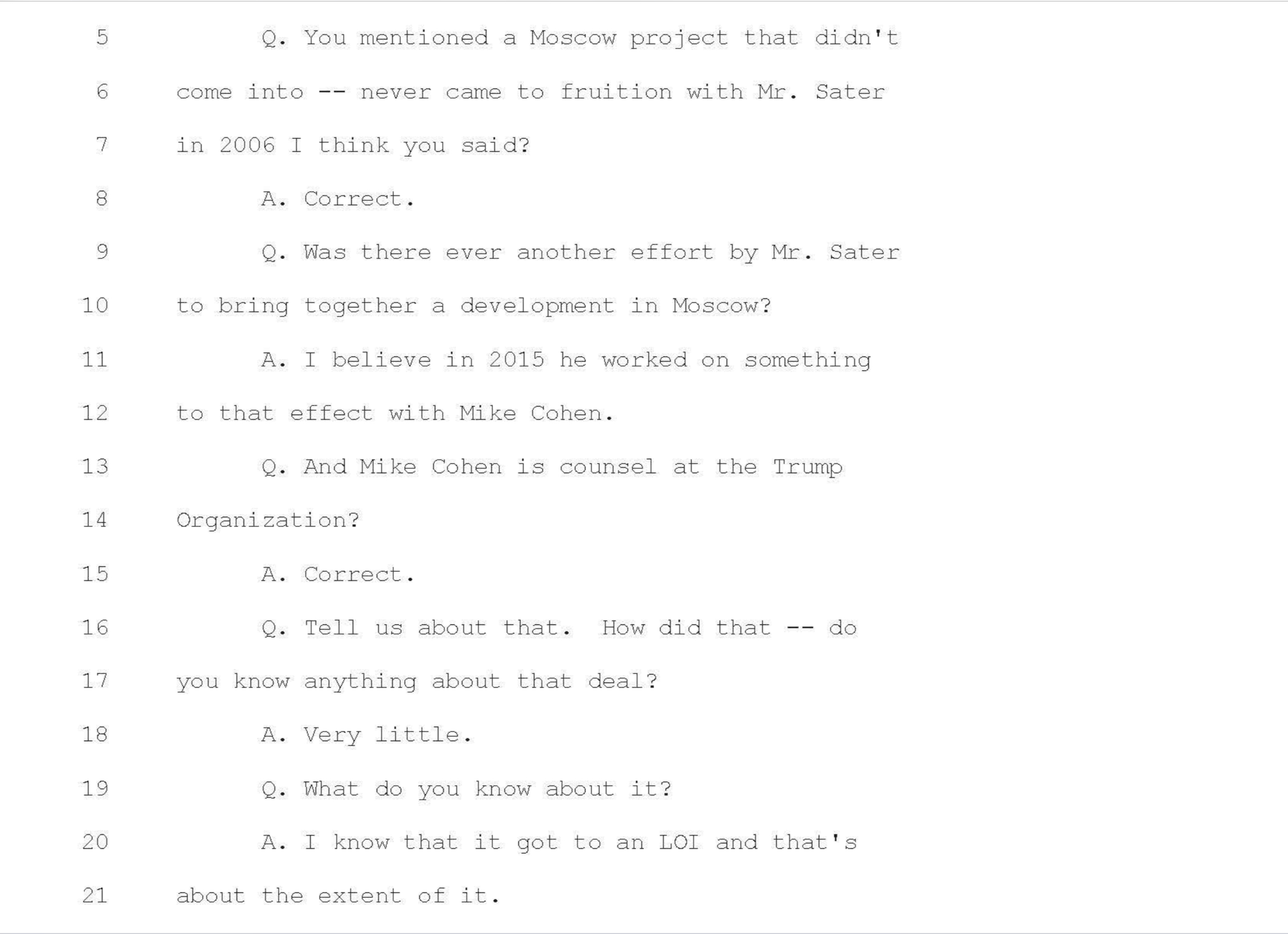 Here Trump Jr. denies knowledge of Cohen's efforts to reach a Russian government official about his deal and again says his knowledge was peripheral: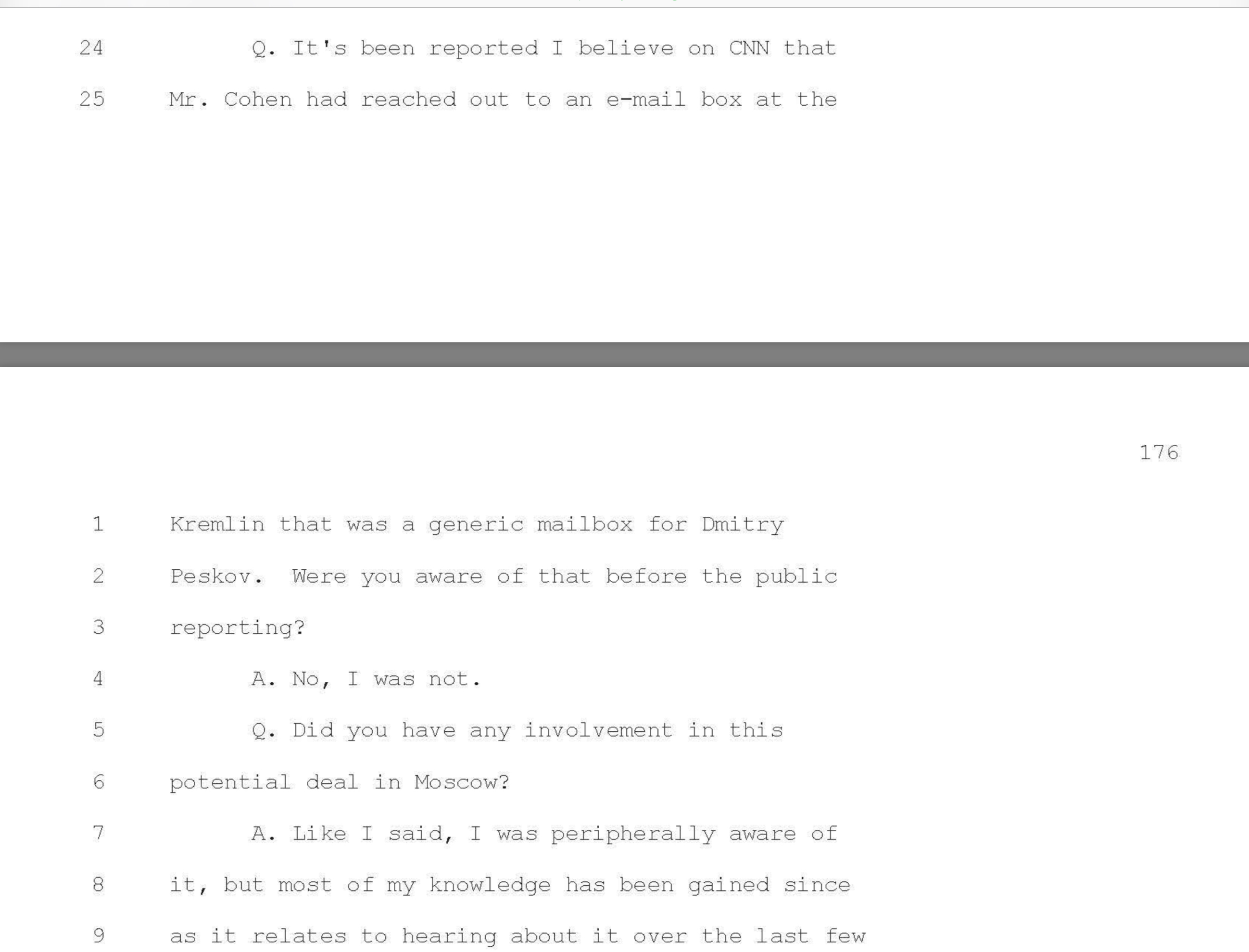 This next excerpt details the end of the first deal, the Agalarov deal. You can see that the committee and Trump Jr. are clearly distinguishing the two: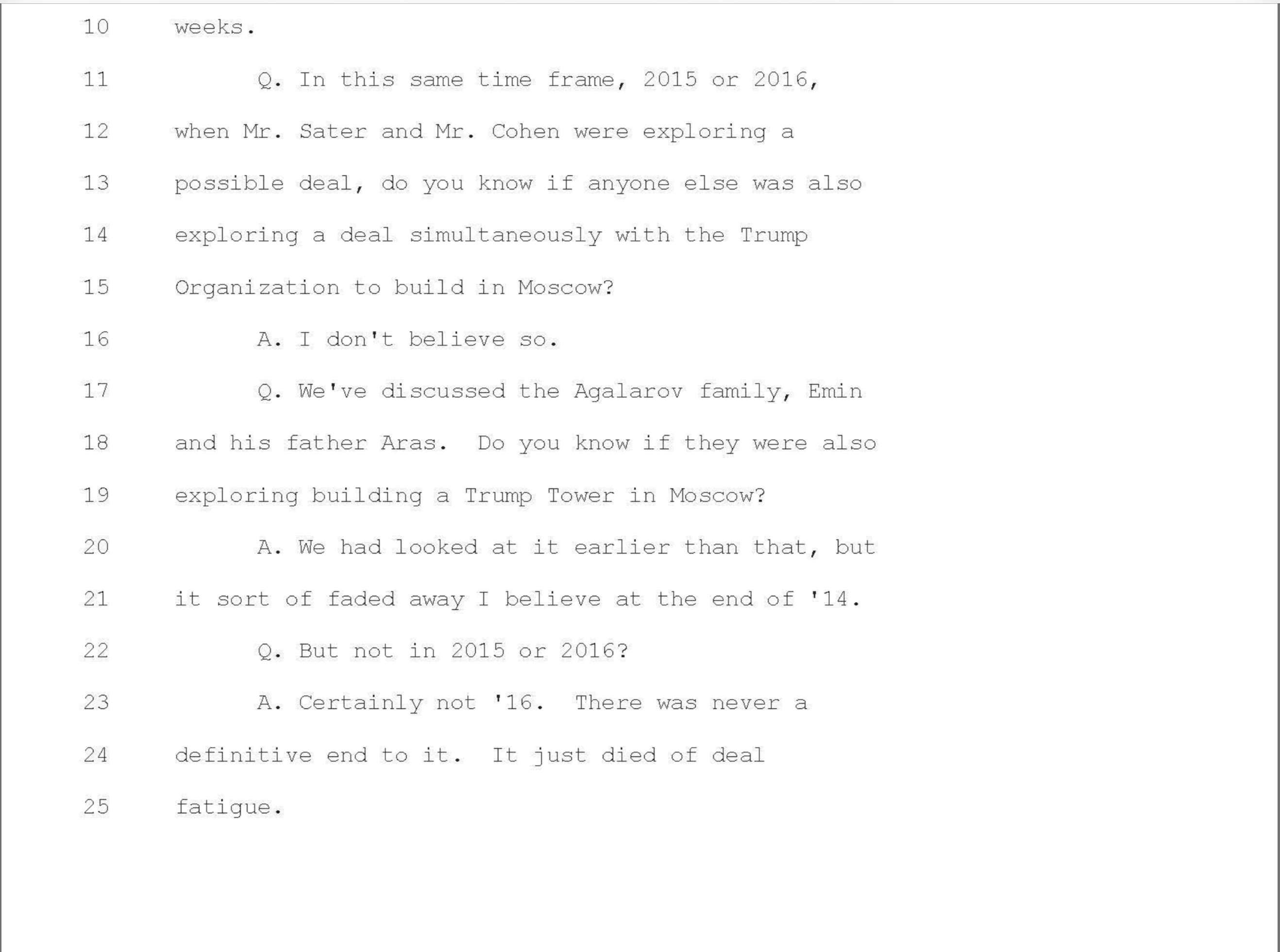 Where is the conflict with Cohen? In the criminal information against Cohen, Mueller alleges that Cohen "briefed" Trump's "family members," but he doesn't say when or about which aspects of the deal. Conflicts may emerge later, but based on the available information, NPR is flatly overstating its case when it says Trump Jr.'s account is in "contrast" with Cohen's or "does not comport" with Cohen's new version.
The reality is that we don't have any truly comprehensive account from Trump Jr. on the second Trump Tower deal. We don't know the full details of Cohen's testimony. We don't have any obvious or apparent conflicts. NPR's story is wrong, and it should issue a plain and clear correction and explanation.
UPDATE: Just as I finalized this post, NPR printed a comprehensive editor's note that now leads the article:
Editor's note: An earlier version of this report mischaracterized an answer Donald Trump Jr. gave to Senate investigators in 2017 about the prospective projects his family was negotiating with people in Moscow.

The story reported that Trump Jr.'s response — that negotiations on one project concluded by the end of 2014 – contrasted with the version of events as laid out in the guilty plea by Michael Cohen on Thursday. In fact, Trump Jr. and investigators were alluding to a different set of negotiations — not to a deal that Cohen was reportedly pursuing. Trump Jr. did acknowledge in his testimony that Cohen and another man were exploring a possible deal in Moscow in 2015 or 2016.

Trump Jr. did not address what Cohen has now admitted — that talks about such a deal continued at least into June 2016, longer than previously known and well into the presidential campaign.
This is a prompt explanation of a journalistic error — exactly what we need when the media makes a mistake.