Last week I put up a chart showing how the U.S.'s debt problem is accelerating. This week's chart shows the promises made in 2009 by the president about what the deficit would be like in 2012 and what it actually is. In other words, this chart compares projected deficits through 2019 under the most recent Presidential Budget Request, with deficits projected in the Obama administration's first budget called a "New Era of Fiscal Responsibility."
Back in 2009, the president projected that he would cut the deficit to $912 billion by 2011 and $581 billion by 2012. The reality is quite different. Fiscal year 2012, which ended a few weeks ago, was the fourth year in a row to close with a deficit that surpassed a trillion dollars.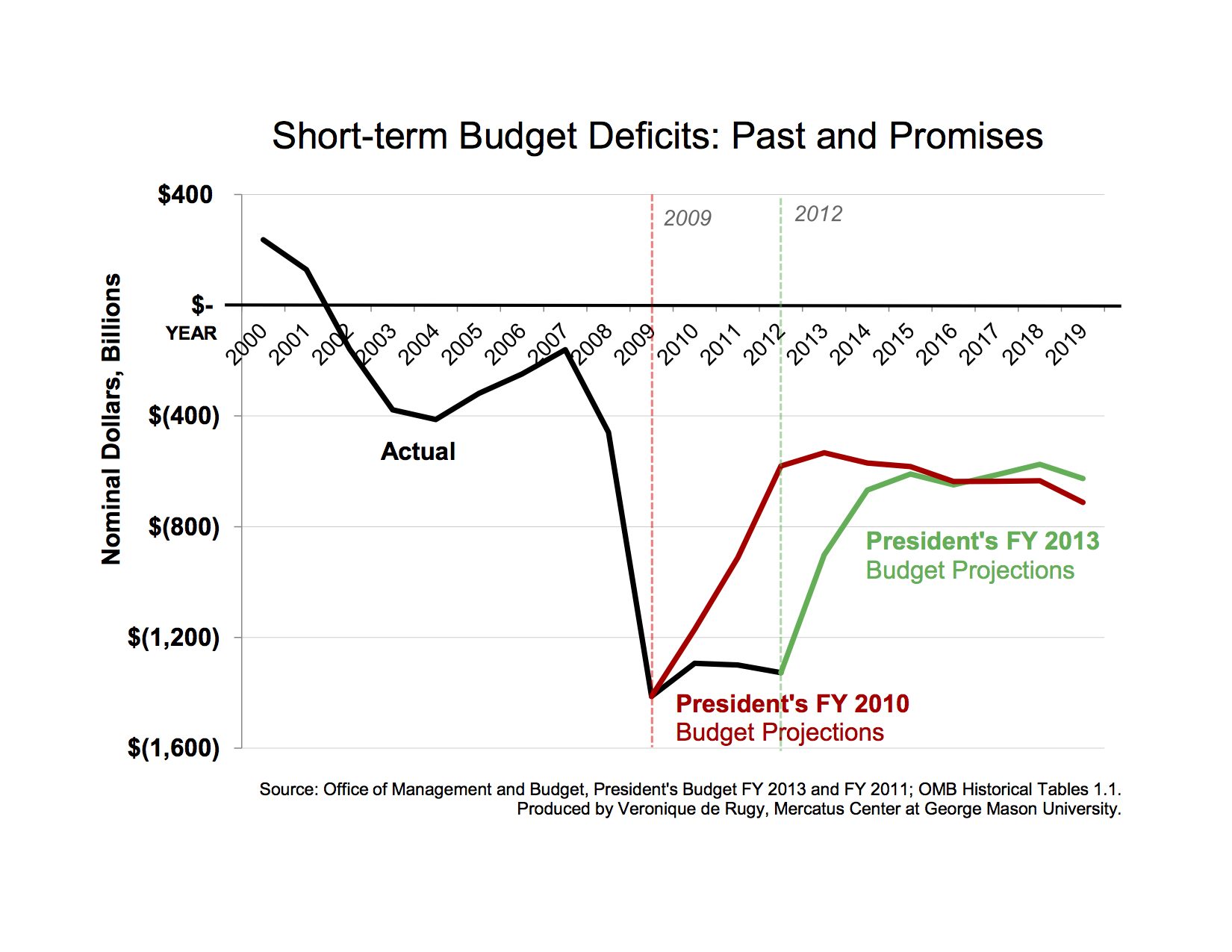 The green line on the chart is the most recent promise (see table S-1) made by the administration about upcoming improvements of our fiscal situation for the next few years. These projections, like the ones before them, should be taken with a grain of salt. Unless the U.S. changes direction rapidly and starts cutting spending, the deficits will be larger than the ones projected here.
Unfortunately, there is still a considerable lack of political will in Congress right now to shrink the size of government. This is why I was impressed with Representative Jim Jordan's remarks on C-SPAN Newsmakers program yesterday morning (here). Talking about the sequester cuts that are supposed to be implemented starting on January 2, 2013, the chairman of the Republican Study Committee stated that while he thinks that sequester's cuts to defense spending is undesirable, it beats doing nothing. Roll Call reported on his statement:
"I would say the only thing that's worse than cutting national defense is not having any scheduled cuts at all take place," the Ohio lawmaker said in a C-SPAN "Newsmakers" interview scheduled to air Sunday. Jordan separately noted he remains adamantly opposed to raising tax rates.

Jordan's remarks stand in contrast to the warnings from Republican hawks, mostly in the Senate, who have been sounding the alarm that the cuts would be too "devastating" to the Defense Department, in the words of Sen. Lindsey Graham (R-S.C.).