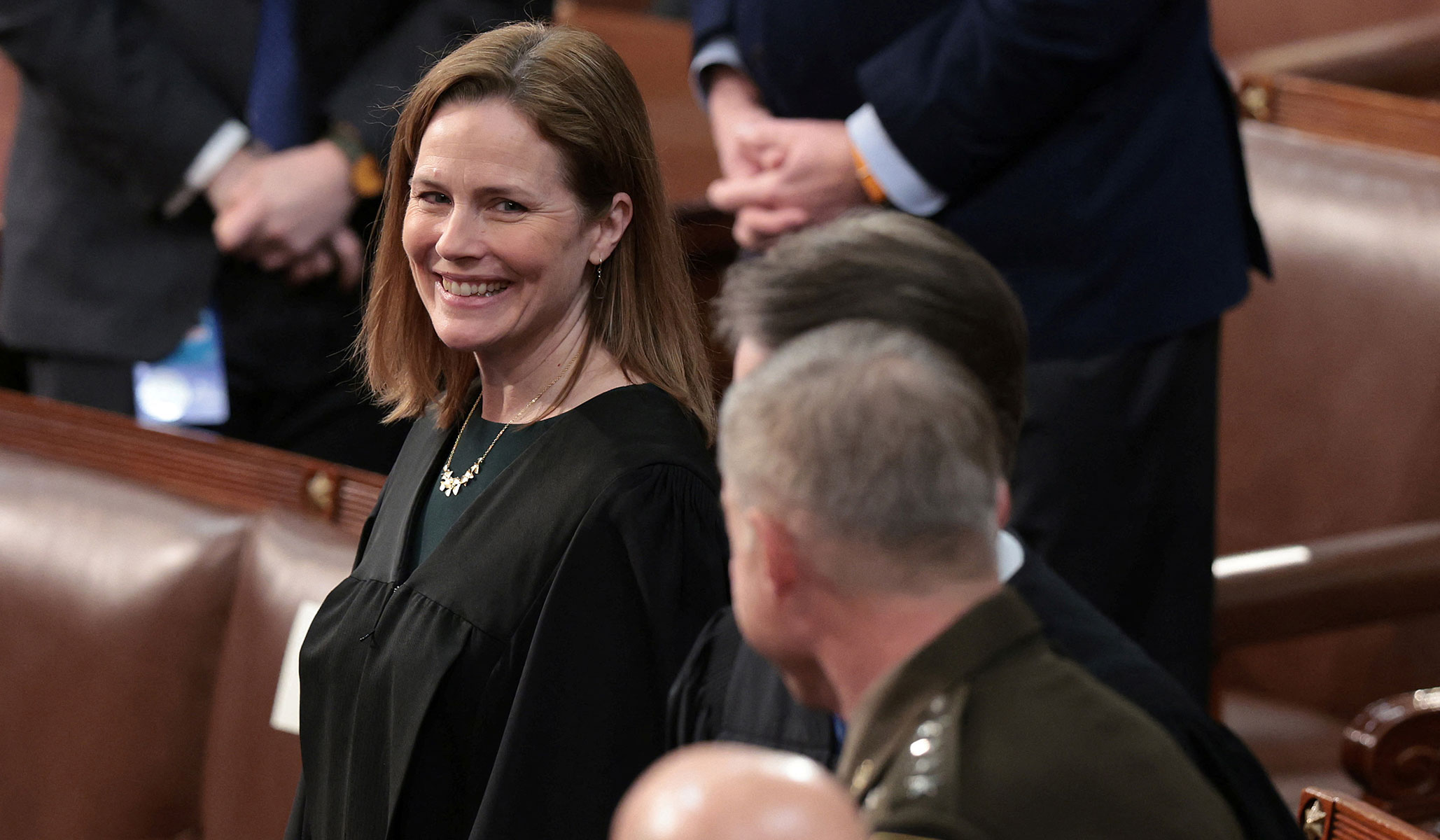 Amy Coney Barrett is, by any standard, a vastly more accomplished legal scholar than Mark Joseph Stern of Slate. Among other things, she graduated summa cum laude from Notre Dame Law School, clerked for Justice Antonin Scalia, distinguished herself over an 18-year teaching career at Notre Dame with both her teaching prowess and her academic writings (including more than a dozen law-review articles), and served for six years on the Advisory Committee for the Federal Rules of Appellate Procedure. During her three-year tenure as a federal appeals judge on the United States Court of Appeals for the Seventh Circuit, she participated in 622 cases and wrote 81 majority opinions, as well as four concurrences and seven dissents. (By comparison, at the time of her nomination to the Supreme Court, Ketanji Brown Jackson had published a grand total of two published opinions as an appeals judge.) Both her scholarship and her judicial writings covered a broad range of legal issues, and her core focus as an academic was jurisprudence itself: statutory and constitutional interpretation, precedent, separation of powers, and other meta-topics that require scholars to be conversant in the interpretation of many different areas of the law.
There is, however, a certain species of progressive — of whom Stern is an unfortunate exemplar — that is simply unable to encounter conservatives in general and non-white-male conservatives in particular without insulting their intelligence. Thus, we get a particularly contemptible column entitled "Amy Coney Barrett Is in Over Her Head," complete with an illustration of her drowning in paperwork and a subtitle, "Even as her votes enabled the court's hard-right turn, the newest justice has floundered on the intellectual sidelines." Stern sneers that Barrett came "ill-prepared for many aspects of her job." He claims that, "of all the current justices, Barrett had the least amount of preparation and training for the unique requirements of the job," even though Justice Elena Kagan had never been a judge, and Barrett spent more time on the bench than Chief Justice John Roberts or Justice Clarence Thomas. Stern claims that Kagan made up for her lack of judicial experience because she "spent nearly six years as dean of Harvard Law School, presiding over a snake pit of clashing egos—a perfect training program for the Supreme Court," as if Barrett's long faculty tenure and seven children would leave her unprepared for this. More to the point, this argument is bizarrely out of place in a column attacking Barrett for being too deferential to her colleagues in the building of majority opinions. Stern also claims that Barrett "refused to answer questions at her hearings, proffering opaque platitudes to avoid derailing her confirmation," as if this distinguishes her in any way from every other nominee since Robert Bork. In fact, Barrett's authoritative performance at her hearings left little doubt to anyone watching them of her firm grasp of the whole field.
Stern asserts that Barrett has never produced "a scintilla of public thought," a confession on Stern's part that he hasn't read, or at any rate understood, her academic work, which he characterizes as "often dry and technical, verging on esoteric" — Stern may as well just come out and say that he finds topics like the interpretation of statutes and the Constitution, and the value of precedent, "Boooo-ring!" He even describes one of her opinions this term, in the Boston Marathon bomber case, as "a snoozer about federal appeals courts' authority to impose procedural rules on district courts" — exactly the workaday stuff of courts. Barrett's judicial writing may tackle the technical side, but it is typically brisk and clear.
Stern's main argument, once the random insults are out of the way, is that Barrett has been too quiet in her first full term on the Court, often signing on without her own separate concurrences to majority opinions in the big cases. Stern frames this as "cynically withdrawing into the intellectual shadows." "When the decisions come down, Barrett is frequently missing in action . . . Barrett has chosen a different tack: silence." Of course, there is a reason for this so obvious even Stern has to mention it: Barrett spent the term as the newest justice, and "as the junior justice, she does not get assigned blockbuster opinions." Most likely, she did not write separately in those cases because she had ensured that her own input was part of the majority opinions written by colleagues such as Thomas and Samuel Alito who had preceded her to the bench by many years. If you are looking for an analysis of how Barrett's first year differs from previous junior justices, don't hold your breath; Stern doesn't bother to offer any comparisons.
Overall, in fact, Stern is woefully short on actual examples to support any of his arguments; the best he can do is complain that Barrett said things progressives dislike, which he calls "tone-deaf" but most people would just call common-sense questions. While Stern hits Barrett for doing her job without fanfare as the newest justice, he leveled the opposite criticism when Neil Gorsuch took the bench, claiming in 2017 that Gorsuch's active questioning was "slightly irritating to his colleagues" and perhaps a sign of sexism:
Adam Feldman, the scholar who runs Empirical SCOTUS, told me that during his first argument, Gorsuch was interrupted by his colleagues exactly zero times—despite asking a record 22 questions. Perhaps Gorsuch's free pass is thanks to his not being a woman: A recent study by Tonja Jacobi and Dylan Schweers found that the female justices are interrupted much more frequently than the male justices and often by their own colleagues. In 2015, for instance, 65.9 percent of interruptions were directed at the three women on the bench. "Overwhelmingly," Jacobi and Schweers wrote, "it was men doing the interrupting: Women interrupted only 15 percent of the time and men interrupted 85 percent of the time, more than their 78 percent representation on the court."
So, if a man talks a lot, that is proof that he is sexist; if a woman defers to her more senior colleagues, it's proof that she's just not smart enough to keep up with the menfolk. This is embarrassing tripe, and it feeds into the very stereotypes about women that Stern professes to find offensive.