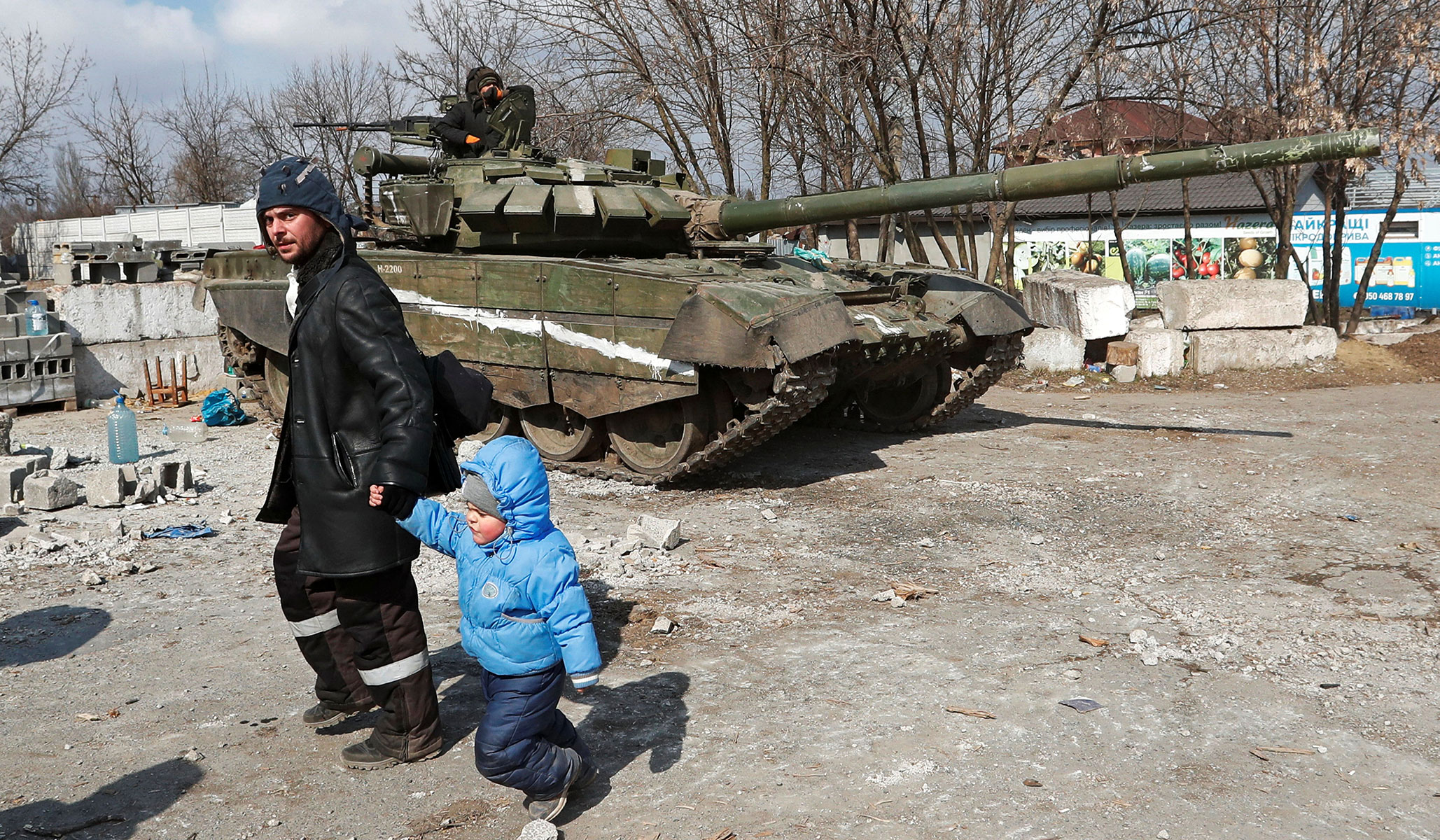 It was enlightening and stimulating to talk with Radek Sikorski. He is the guest on my latest Q&A podcast, here. Sikorski, as you know, is a Polish journalist, writer, politician, and statesman. He is a member of the European Parliament. He was defense minister and foreign minister of his country, and also speaker of the house (or the Polish equivalent). Once upon a time, as he points out to me, he was the chief foreign correspondent of National Review. Greatly prized by us.
The Ukrainians have put up a hell of a fight, Sikorski and I agree at the outset of our podcast. I will paraphrase what he says:
I was in Kyiv ten days before Russia invaded, and I spoke to, among other officials, the defense minister, who told me that they had a plan to disperse and not give Russia a set-piece battle, which would put Ukraine at a disadvantage. They indeed dispersed. The delivery of Western weapons — Javelins, Stingers, and so on — has helped a great deal.
The unknown piece of the equation was the will to fight of the Ukrainian army. The spirit of that army. Their morale is amazing — and the low morale of the Russian army is also amazing.
Putin has already failed in his Plan A, and he is now trying to wage a war of attrition, which is why he is targeting civilians.
If his requests to the Chinese for more matériel are not granted, then I think he might attempt one more push on Kyiv, and, if that fails, we may see serious peace negotiations.
The war crimes of Putin's forces are shocking, are they not?
They are appalling, but not shocking. Remember how Putin came to power. Remember the apartment bombings. If you are willing to kill your own people. . . . Remember that he burned Grozny, the capital of Chechnya, to the ground, and took over the ashes. Remember what he has done in Syria. He is doing the same thing in Ukraine — but it's in Europe, so we find it shocking.
Why now? Why did Putin choose to launch his assault in February 2022?
A number of factors, possibly. He saw the American exit from Afghanistan. He must have figured that the Americans would not rally around the Ukrainians. There was a new government in Germany, headed by a Social Democrat. The government may well have seemed soft. He thought he had an understanding with China, an "all-weather friendship." He saw that Ukraine was beginning to succeed as a democracy: fighting corruption, integrating its economy with Europe, holding genuine elections. Meanwhile, demand for Russian gas and other things was dropping in Western Europe. Putin may well have figured: In five or ten years' time, it will be even more difficult to conquer Ukraine, so why not now?
Sikorski adds,
This conflict is not about Ukraine only. It is about autocracy and democracy, a toleration of minorities and a kind of 19th-century unity of state and people. It could also kill globalization. If China starts arming Putin for this war of conquest, there will be dire consequences for all of us. The world could have two blocs again, with each creating economies within the bloc. This would be tremendously costly, for people everywhere.
A word about what the war has exposed, concerning the Russian military:
Putin started this war with insufficient forces. Ukraine has a numerical advantage. We always assumed that Russia would have a technical advantage, but . . .
How about the question of nukes?
Putin cannot push a button, as in the movies. There is a chain of command. Will commanders want to be responsible for genocide? Or will they think it better to get rid of Putin?
There is a theory: When the United States says, "We will defend every inch of NATO territory, but we will not fight in Ukraine," Putin and his men hear, "Do what you like everywhere else. Do what you like in Ukraine, Moldova, Georgia . . ."
I understand why President Biden is saying this. He wants to reassure us, the NATO members on the eastern flank; and he wants to reassure the American people, that their sons will not fight in Ukraine. But we ought to be in the business of making Putin unsure of what we will do, rather than telling him exactly where our redlines are. We should be doing things that make him nervous — things that are not escalatory and that are perfectly within our rights to do. There is a NATO exercise starting in Norway. We should be starting another one in the Baltic states, and another one in Alaska, so that Putin cannot marshal all his forces and throw them at Ukraine. This would materially relieve Ukraine of some pressure.
Is Putin mad?
He is not clinical. He is rational within a different logic: within the logic of a desire to reestablish the Russian empire, within the logic of hurt feelings and not enough respect and the kind of post-imperial resentment that leaders of former empires traditionally feel. Ukraine is the last toll of the Russian empire. This is Putin's Algeria, if you like.
It's hard to let go of an empire. The British fought you Americans because they didn't want to let go of you. They fought the Irish. They suppressed the Indian mutiny, and so on. The French fought in Indochina, as well as Algeria. The Portuguese fought in Mozambique, etc. It's very difficult to grant a former colony the right to be other. And it usually takes a war.
"They speak our language," is the Putin attitude. "They are our peasants. What's this business of being a separate country? That's absurd!" This is Putin's mistake. He thinks in a completely anachronistic way, in which your language determines your state loyalty. Well, Americans speak English, but they ceased to be loyal to the British crown, right? Try telling an Irishman that he's really English and that London has the right to rule Ireland again.
Ukraine is interesting in that identities are actually political. People define themselves as Ukrainian or Russian on the basis of their political preferences. "I am Ukrainian because I want my country to be a tolerant democracy, and a part of Europe." "I am Russian because I like strongmen such as Putin." That is the division.
Putin is like a husband after a bad divorce, beating up the former wife because she dared to fix up her life rather better with someone else.
Instead of ending in Ukraine's obliteration, could this war end in Putin's fall from power?
Let's hope so. But, for that, Ukraine would have to win. What would winning look like? Ukraine keeps most of its territory — almost all of it — and integrates with the rest of Europe, while remaining officially neutral. Finland or Sweden, if you like.
Putin keeps crying "Nazi! Nazi!" What's that all about?
There was an article in the Guardian about the messaging of the far Left in Britain: They can't decide whether Ukraine is Nazi, as per Russian propaganda, or Zionist, given the number of Jews in the government, starting with the president.
Putin talks of "denazification." If any country needs deradicalization, and to learn peace with one's neighbors, and tolerance internally, surely it is Russia.
There's a reason that hipster and gay Kyiv went to the front lines. There's a reason they took up arms. They know that, in a Putinized Ukraine, there'd be no room for them. This is a war for the right to be different.
So, it's exactly the other way around. It is Putin, not Ukraine, who represents the idea of "Ein Volk, ein Reich, ein Führer" — One People, One Realm, One Leader.
A word about the Russian state media, and the Russian apparatus more broadly:
Generations have been brought up on a crazy imperialist ideology. There is the old Russian version. There is the Soviet version. And you have the Putin version, which is an amalgam of the two. The school curricula and the media have persuaded a sizable portion of the Russian population that they have a God-given right to rule over their neighbors and to have their Lebensraum. This idea needs defanging.
Have you heard the heartrending recordings of people in Ukraine calling their parents in Russia? The people in Ukraine are under bombing, and their parents don't believe them.
The protests of individual Russians have been incredibly brave and inspiring, haven't they?
Yes. When the Warsaw Pact invaded Czechoslovakia, there were eight or nine people who protested in Red Square, and they were all sent to prison, of course. Today, the protests are much more widespread, even though Russia is almost cut off from outside information. The chairman of an organization of war heroes resigned his position, in a letter of protest — a protest against the war in Ukraine. Extraordinary. Thousands of protesters have been arrested.
A lot of people are impressed with the generosity of Poles, in welcoming Ukrainian refugees.
Well, you know, we popularized the word "solidarity" around the world. Poland's nature is to mobilize in a crisis. We now have almost 2 million Ukrainian refugees and no refugee camps, because the refugees have been received into Polish homes. This will require state solutions, and European solutions, but we feel that the Ukrainians are fighting our fight, and the least we can do is take care of their women and children.
What's underreported and equally interesting is that we had a million Ukrainians before the war, most of them men, working at our construction sites and driving our Ubers. According to reports, some 80 percent of them have gone back to Ukraine to fight.
About ten years ago, you made a statement that made news around the world. Speaking in Berlin, you said, "I will probably be the first Polish foreign minister in history to say so, but here it is: I fear German power less than I am beginning to fear German inactivity.
Yes. Germany has been very late in recognizing that Putin regards himself as our enemy and that we need to do something about it. Germany has gotten their shock, and I hope they follow through on what Chancellor Scholz has announced: assistance to the Ukrainians, the rearmament of Germany, and a change in Germany's energy policy.
In the past, you have said that liberal-democratic values have to be argued for, in every generation. Advocates of liberal democracy cannot rest on their laurels. They cannot assume that people — especially young people — naturally grasp the superiority of liberal democracy, or freedom, over autocracy.
Oh, it's not just that liberal values have to be defended, or argued for. They are at a disadvantage, in a contest with the atavisms. I encourage people to Google and read George Orwell's review of Mein Kampf, by a previous chancellor of Germany. The atavisms are very, very appealing: drums, excitement, a flag, a tribe, a fight. Can liberals match that, with the rule of law, a separation of powers, a free press, religious toleration, and so forth?
The higher values are a thin veneer that needs bolstering, all the time.
A final word:
If Ukraine wins — by the definition I have already presented — I think Russia will eventually overcome Putinism and become our ally, possibly, in our competition with authoritarian China, and that will change the balance of power substantially. If Putin wins — and I don't think he can win without Chinese help — we will have the two blocs, and that will be very ugly. So, there's a lot at stake in this fight.