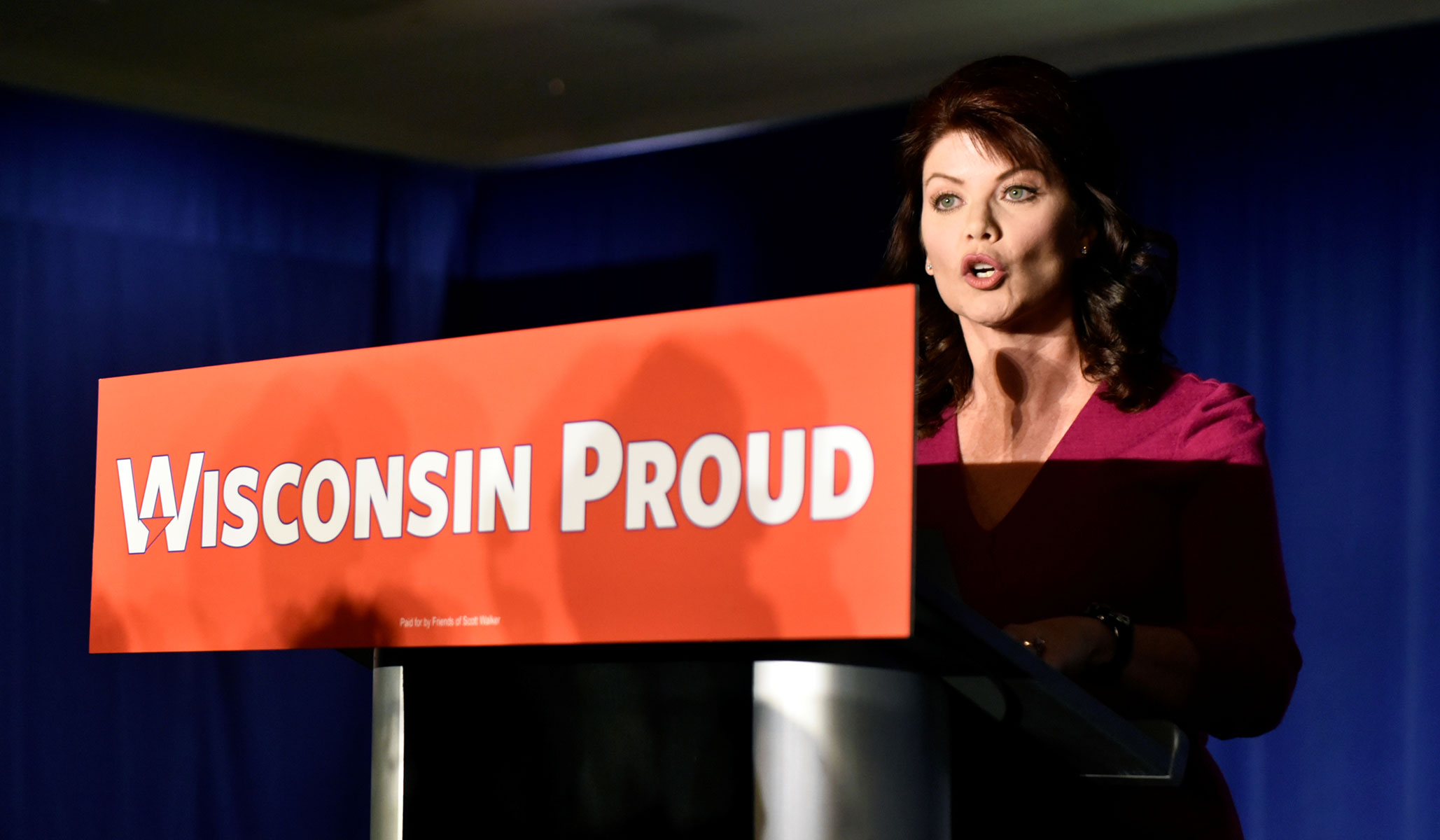 Mike Pence endorsed Rebecca Kleefisch in the Wisconsin gubernatorial primary today, adding to the massive list of conservative individuals and organizations that have endorsed her over Trump-backed Tim Michels. The primary election will be held on August 9.
Kleefisch was lieutenant governor from 2011 to 2019, for both of Scott Walker's terms as governor. She helped stand up to public-sector unions, who sent thousands of protesters to the state capitol in opposition to the state's budget in 2011. That led to her recall, along with Walker's, and they each won their recall election with larger margins than they won in their first election.
The GOP leadership in both houses of the Wisconsin legislature endorsed her, as have numerous other state legislators. She's also been endorsed by Iowa governor Kim Reynolds, Senator Ted Cruz, former U.N. ambassador and South Carolina governor Nikki Haley, and, naturally, Scott Walker.
With the Supreme Court returning the issue of abortion to the states (where it belongs), it's all the more important that Wisconsin Right to Life has endorsed Kleefisch. Crime is becoming more of an issue to voters, and Kleefisch is endorsed by the sheriffs of 40 of the state's 72 counties. She's rock-solid on gun rights as well, with the Wisconsin Firearms Owners Association supporting her.
Tim Michels, on the other hand, is endorsed by former governor Tommy Thompson and Donald Trump. And that's pretty much it. Not one member of the state legislature and not one sheriff has endorsed him yet. One campaign mailer claimed he has been endorsed by the NRA — but he has not been endorsed by the NRA (source: the NRA). He has an "AQ" rating from the NRA, which is one grade below Kleefisch's "A" rating. Wisconsin Right to Life endorsed him as well as Kleefisch, but unlike Kleefisch, who supported multiple cuts to Planned Parenthood funding during the Walker years, we don't really know anything about Michels's record on abortion. In fact, we don't really know anything about his record on anything.
Michels ran for Senate in 2004 against Democrat Russ Feingold, losing by eleven points. Then, he essentially disappeared from any visible role in Wisconsin politics. He apparently spent a fair amount of time in New York and Connecticut, where his kids went to school and he purchased multiple multimillion-dollar homes.
Then, with the campaign already well underway, he parachuted into the gubernatorial election at the end of April and got Trump's endorsement. He's been self-funding his campaign and pledged not to take individual donations — which is a creative way to turn having no in-state conservative connections into an "outsider" campaign posture.
Given that nearly everyone else has supported Kleefisch, Trump's endorsement is a bit puzzling. It may have had something to do with Trump's pettiness and grievances over the 2020 election. Trump lost Wisconsin in 2020, but he continues to believe that he actually won it. One person he believes harmed him was Wisconsin Supreme Court justice Brian Hagedorn, who joined the court's left-leaning members in declining to hear one of Trump's legal challenges to the election. (Like all the legal challenges the Trump campaign brought in Wisconsin, it was baseless anyway.)
What does Hagedorn have to do with Michels and Kleefisch? Well, in 2019 Hagedorn's son went to high-school homecoming with Kleefisch's daughter, which apparently came up in conversation when Michels visited Trump's home in Mar-a-Lago before announcing his campaign. Even though Michels donated $5,000 to Hagedorn's campaign in 2018 (Wisconsin Supreme Court justices are elected), Trump was reportedly "bothered" by the homecoming photo and subsequently announced his endorsement of Michels.
Trump had reportedly nicknamed Kleefisch "48 Percent Becky," referring to the 48.5 percent of the vote she and Walker won in 2018, narrowly losing the election. Again, the unreasoning pettiness is something to behold: Trump is making fun of Kleefisch, who has won three of four statewide races in which she has run, while endorsing Michels, who is 0–1 in statewide races in his career and earned only 44 percent of the vote in that one and only election in 2004. And Trump himself earned a lower percentage of the vote in Wisconsin when he won the state in 2016 than Walker and Kleefisch earned when they lost in 2018. Walker and Kleefisch won with comfortable outright majorities in each of their three victories.
One of the only polls of this year's race shows Kleefisch and Michels basically tied at around 25 percent, with many voters still undecided. The general election promises to be close, with incumbent Democrat Tony Evers raising plenty of money and the state being one of the most competitive in the country. It's one of the top flip opportunities for the Republican Governor's Association. Mike Pence is wise to endorse the only consistent and experienced conservative in the race, Rebecca Kleefisch.