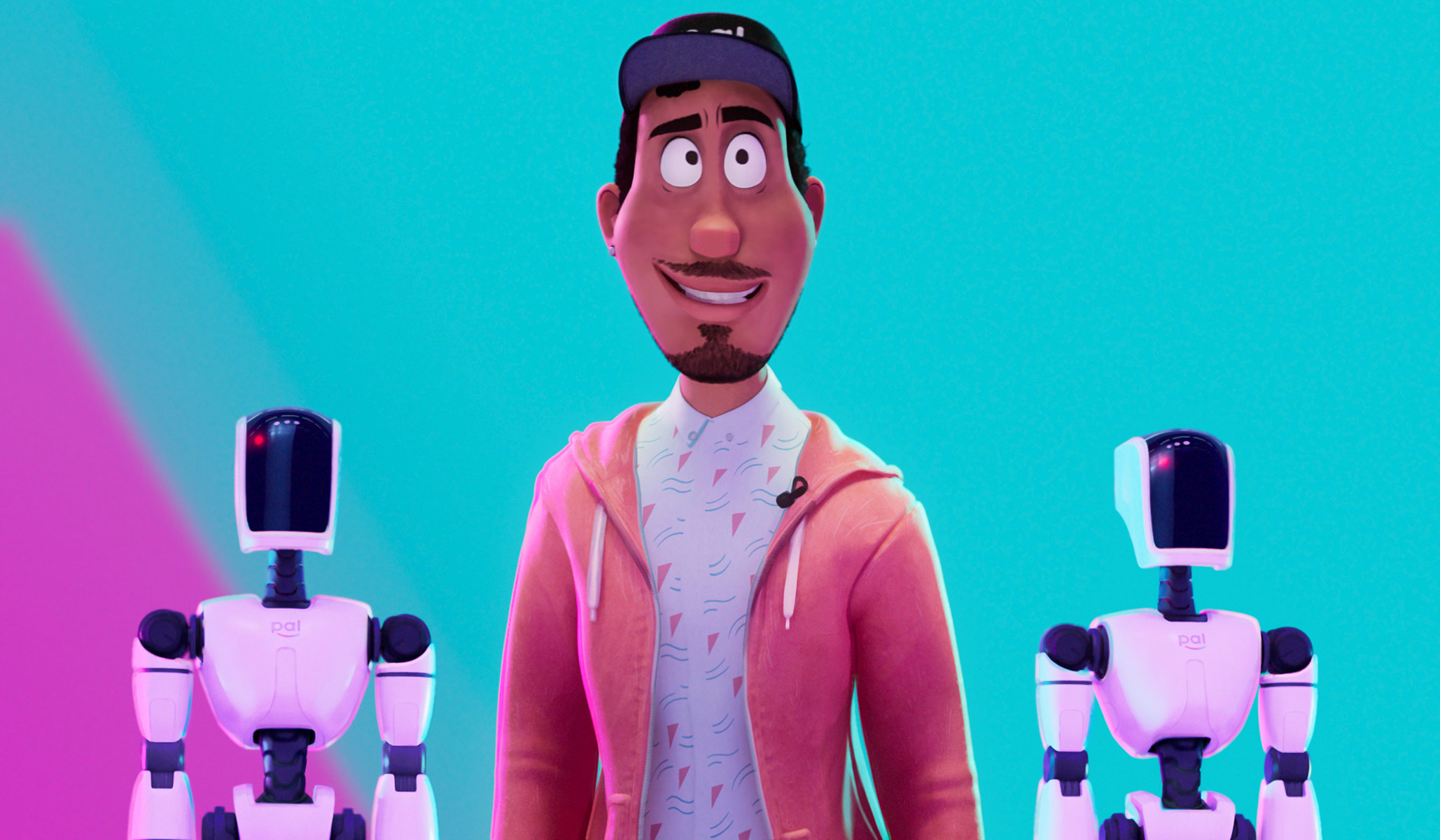 Two recent animated movies I watched with my sons over the break — Ron's Gone Wrong and The Mitchells vs the Machines — deal with the themes of social media, modern tech giants, and the fears that all those hours of staring at our phones, tablets and computer screens is getting in the way of real human connection among family and friends. As far as animated children's movies go, both movies are really good, but I think Ron's Gone Wrong had more to say about kids being addicted to social media and their phones in unhealthy ways, featuring iPhone-in-a-rolling-robot devices called "B-Bots."
But it's not just in kids movies; you can find versions of "evil" new media and "Social Media Is Bad" tropes everywhere.
If a modern piece of pop culture fiction features a tech giant, there's a good chance the CEO will be an openly sinister caricature of either Steve Jobs, Bill Gates, or Mark Zuckerberg. And there's about a 90 percent chance that the character will have a big product unveiling scene like Jobs used to do with new Apple products, unveiling the plot-driving product that will seem miraculous but have some hidden dark side. There's a good chance the character will offer some darkly ironic slogan, like, "now, everything in our lives is in the palm of my hand."
If a movie or tv show features everyone using a new kind of technology, there's a 50-50 chance that technology will turn out to be a secret form of mind control, or force people to buy things, or be enormously dangerous in one form or another, or the artificial intelligence will turn "evil" and start attempting to enslave humanity. The hero of the story will almost always be someone who doesn't use the technology, and who does things the old-fashioned way, finding it simpler, more honest and virtuous than all of this modern convenience – "a Timex watch in a digital age," as the villain taunts in Live Free or Die Hard.
So, here's the thing: If seemingly everyone is wary, suspicious, or worried about the influence of these products, companies, and corporate titans… why are so many people still using those devices and on those social media networks? If we fear social media and our ubiquitous smartphones are manipulating us, controlling us, corrupting us, or making us dumber . . . how is it that 85 percent of Americans own a smartphone? (TikTok is more or less an extension of Chinese intelligence, and yet everybody under age 25 seems to be using it.)
Is it simply a matter of convenience and laziness? Or is it that we realize that as demonic as these devices and networks may seem in fiction, in real life, they're… just sort of there? Facebook lost a half-million daily active users in three months in early 2021 – — not exactly a mind-controlling hypnotic device, then. It may seem like everyone is on a particular social media network, but they aren't;  Twitter has significantly fewer users than other sites and apps like Facebook, YouTube, and Instagram – and in the U.S., just 10 percent of tweeters contributed 92 percent of tweets in 2020. We say we can't live without our phones, and yet we are absent-minded enough to lose about 70 million smartphones per year.
In real life, these new technologies are not quite as pervasive, ubiquitous, and all-seeing and all-controlling as their fictional counterparts.
Our souring feelings towards big tech are complicated; some people are livid with social-media companies for suppressing voices and shutting down discussion of topics like Hunter Biden's laptop; some worry that the tech companies are helping extremist views flourish and proliferate. Others worry about privacy, and those seemingly all-knowing algorithms after hearing stories like how Target learned that a teenage girl was pregnant from her shopping habits. We rightfully worry whether kids and teenagers can handle the open sewer that is some corners of the Internet; we don't want kids and teenagers picking up bad and self-destructive ideas like cutting themselves and eating disorders. But most of us also know that simply banning kids from certain social networks until they're 18, as Peggy Noonan recommended this weekend, is likely to work about as well as other efforts to keep adult materials from teenagers. Ban them from TikTok, Instagram, and YouTube and they'll just move on to other online ways of communicating with each other.
In the end, most of our problems with social media and new technology are with the users, or how it is used. Our technology problems are, at heart, human being problems. Technology doesn't change us, so much as it reveals us.
Then again, the consistent sinister portrayal of Big Tech in pop culture may reflect the mentality of screenwriters and directors who were familiar with one way of doing things in Hollywood a decade or two ago, and who now feel overwhelmed, trying to catch up with an entertainment environment dominated by streaming services. Are some of us inclined to believe that anyone who comes along and tries to get us to change the way we've always done things must have a sinister agenda? Lord knows that's the way I feel every time our publishing system changes.