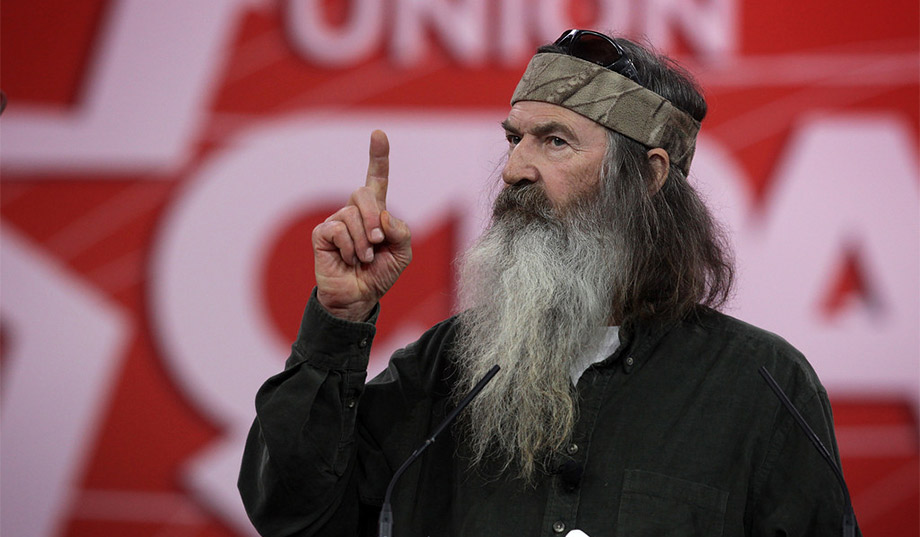 Duck Dynasty star Phil Robertson told a CPAC crowd on Thursday that the U.S.A. should be run by Christians, and not any others — adding omniously that "we got too many 'any others' in the White House."
Robertson marked his receiving the Defender of the First Amendment award with a long speech that covered everything from George Washington to genital herpes.
After a fawning twenty-minute introduction from the heads of Breitbart and Citizens United — who jointly presented the award for Robertson's firm stance after his controversial comments on gay marriage nearly got his show canceled — Robertson delivered a rambling 40-minute address that nearly derailed CPAC's tightly scheduled political pageantry.
In his speech, Robertson used George Washington and James Madison to argue that CPAC attendees shouldn't be drinking. He also marveled that 110 million Americans have sexually transmitted diseases, calling genital herpes the "revenge of the hippies!" and noting that neither the Nazis, Communists or Islamists had "any Jesus with them."
The Duck Commander, however, seemed to avoid discussion of homosexuality, the topic that originally brought him to political prominence.