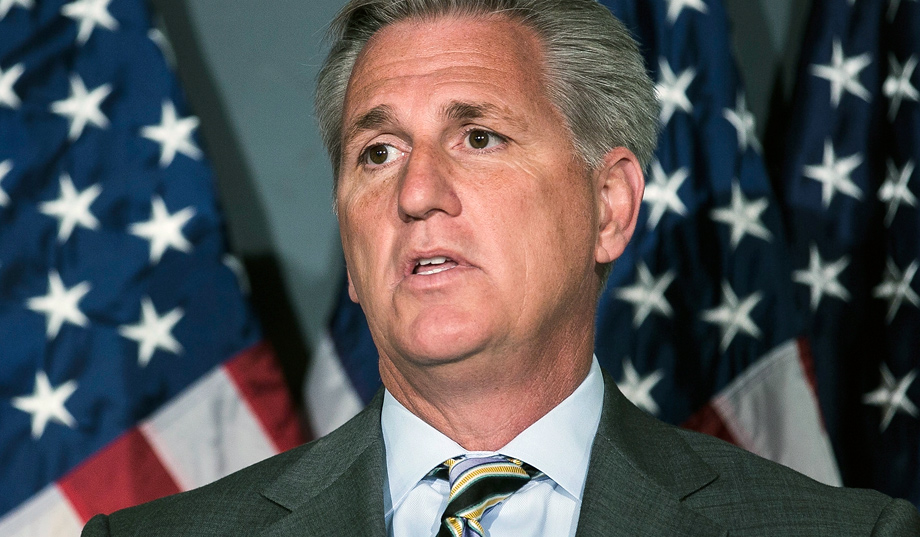 It's a bombshell: Kevin McCarthy has taken himself out of the race for House speaker, and Speaker John Boehner has delayed the vote to anoint his successor that was set to take place at noon today. Word emerged from inside the Republican conference meeting on Thursday, in which Republicans were expected to elect McCarthy speaker designate.
"McCarthy is postponing the election," one GOP congressman texted from the meeting. "Took himself out."
Moments later another text popped: "Yep, he's out."
Over a barbeque lunch in the back of the Ways and Means Committee hearing room, the majority leader rose to speak to his colleagues. He was considered a lock — facing weak challenges from Oversight Committee chairman Jason Chaffetz and from a member of the House Freedom Caucus, Daniel Webster — and yet he told the conference that he's "not the right guy" for the job and that Republicans need to elevate a "new face." According to another GOP representative in the room, McCarthy said he reached a decision after he and his wife prayed on the matter.
The news took his colleagues aback. Chaffetz says he was "stunned."
"I thought he was giving his speech, but instead he said . . . that he did not want to be someone who divides our country, and that he's not the guy," says Louisiana representative John Fleming. "In fact, he even made the statement that when he came to Congress he didn't come here to be speaker."
Moments after the meeting adjourned, California Republican Darrell Issa emerged to speak to a scrum of reporters — not officially on McCarthy's behalf, though that's certainly how it looked. "He felt he could not get to 218," the number of votes necessary to be elected speaker on the House floor, Issa said.
It happened suddenly. A source close to McCarthy told National Review on Wednesday that the majority leader was confident that he had secured about 200 votes, and possibly gotten all the way to 218. At 1:00 P.M., just an hour after the scheduled meeting at which he withdrew from the race, came a statement from his office: "Over the last week it has become clear to me that our conference is deeply divided and needs to unite behind one leader. I have always put the conference ahead of myself. Therefore, I am withdrawing my candidacy for speaker of the House."
Almost immediately, new names for the position began to float on Capitol Hill. Trey Gowdy ("If the Hillary hearing goes well, Trey Gowdy will get a tremendous amount of pressure," says one House Republican, referring to the Benghazi committee's scheduled interview with the former secretary of state, set to take place later this month. "I don't know that he has the heart to do it.") Peter Roskam. Jason Chaffetz. An interim speaker. Somebody, anybody.
In a phone call, McCarthy tells National Review he wants Ways and Means Committee chairman Paul Ryan to run, but Ryan issued a statement Thursday ruling out a bid. So right now, McCarthy says, the conference may be ungovernable. "I don't know," he says. "Sometimes you have to hit rock bottom."
McCarthy's move followed something of a political rock bottom of his own that stretched over two brutal weeks. Even before he announced his bid, he faced resistance from conservatives who viewed him as too closely tied to Boehner, the outgoing Speaker. All week, the Tea Party Patriots had been circulating T-shirts on Capitol Hill with the term "McBoehner" emblazoned across the front, along with an orange, wine-swilling, cigarette-smoking amalgam of Boehner and McCarthy.
Then McCarthy had a sit-down with Fox News's Sean Hannity, usually a friendly interviewer to Republicans, and Hannity tossed out some difficult questions he was not fully prepared to answer. He spent the subsequent two weeks digging himself out from under a statement he made implying that the House's investigation into the Benghazi terrorist attack was intended to damage Hillary Clinton politically.
Republicans more than anything want somebody who will not embarrass them on the national stage, and McCarthy's gaffe raised doubts on that question. "Everybody thought Hillary Clinton was unbeatable, right?" he told Hannity. "But we put together a Benghazi special committee, a select committee. What are her numbers today? Her numbers are dropping. Why? Because she's un-trustable. But no one would have known any of that had happened . . . "
That was Tuesday, September 29, and it was downhill from there.
McCarthy appeared on Fox News's Special Report on Thursday, October 1, to clean up the mess. It was painful to watch. "Look this is not what you're going to see as speaker of the House," he said, arguing that the committee was created "for one sole purpose, [and] that's the work the committee has done. [It was] never my intention to imply anything [else], and that's — I want to be very clear with my colleagues, very clear with this country, of where we're going."
Bret Baier's much-vaunted political panel, not unfriendly to conservatives, proceeded to eviscerate him. "I think the original statement was stupid, and I think in his attempt to clean it up, he made the matter worse," the Weekly Standard's Steve Hayes said, predicting that the original statement was going to cause Republicans to "take a second look" at McCarthy. South Carolina congressman Trey Gowdy, the chairman of the Benghazi committee, has spent two years going out of his way to ensure his investigation is not politicized in any way, said Washington Post columnist Charles Krauthammer, and McCarthy "demolished that in 30 seconds."
"I'm not sure he's undone the damage," Krauthammer said.
As recently as Tuesday, the majority leader was still issuing statements about his misstatement. One of them prompted Hayes to remark, on Twitter, "Stop digging."
Though he'd thought about dropping out after his statement about Benghazi, he says he initially believed he could "push through," but realized he couldn't. To get to 218, he needed to pick off members of the House Freedom Caucus, but it had gone into "lockdown," Mccarthy says, and made demands that he couldn't meet. "I wouldn't have enjoyed being speaker this way," he says.
Meanwhile, members from the mainstream of the caucus said they were hearing from constituents complaining about McCarthy. He says he didn't want to drag them through a "tough vote."
A plugged-in insider notes that McCarthy had gone out of his way to bend to the Freedom Caucus, siding with it, for instance, against the Ex-Im bank. "No one could have more effectively been their voice," this source argues. "He had gone out of his way to give into their demands," and at the same time "he had the credibility with the mainstream guys to do it."
But the opposition to anyone associated with the current leadership team was too fierce. Now, there's the question of whether the divide between the middle of the conference and the Freedom Caucus is too big for anyone to bridge, especially with high-stakes, fraught fights over the debt limit and spending looming.
One thing is certain: The person whose career Thursday's events helped most is outgoing House speaker John Boehner. After McCarthy withdrew from the race, several members lingered over their lunches. "Members are devouring the rest of the food," one Republican texts. "Talking about the Cubs game from last night. And pontificating Boehner may be Speaker for longer than he or anyone anticipated."
"We watched it with Speaker Boehner the past two times," says Devin Nunes. "If you don't have the whole conference behind you, then you're in this position where it makes it easy to attack you. Nobody wants to be in that position." Asked whether anybody can unite the conference, Nunes says he doesn't know. "I guess if not, we'll just keep Speaker Boehner around for awhile."
McCarthy himself tells National Review, "We'll find a Republican."
Editor's Note: This story has been updated since its original publication.