Dennis Cauchon had this piece in USA Today about a major shift in the source of personal income from private wages to government programs. He writes:
The Bureau of Economic Analysis reports that individuals received income from all sources — wages, investments, food stamps, etc. — at a $12.2 trillion annual rate in the first quarter.

Key shifts in income this year:

• Private wages. A record-low 41.9% of the nation's personal income came from private wages and salaries in the first quarter, down from 44.6% when the recession began in December 2007.

•Government benefits. Individuals got 17.9% of their income from government programs in the first quarter, up from 14.2% when the recession started. Programs for the elderly, the poor and the unemployed all grew in cost and importance. An additional 9.8% of personal income was paid as wages to government employees.
However, the trend started a while back. Look at this chart.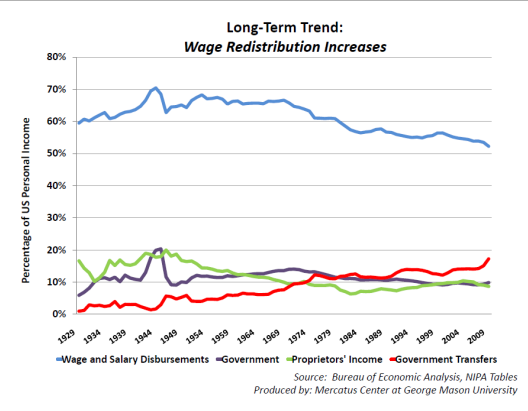 On this chart we can see the changes over time in the composition of personal income in the United States since 1929. The most notable trend is the increase in the portion of personal income coming from government transfers (mainly social Security payments, unemployment benefits, food stamps, and personal and business tax credits.) And the increase isn't minor: the proportion of total personal income constituted by government money has grown from 0.9 percent to 17.2 percent.
While we may agree that safety nets are okay during hard times, this is not what's going on here. Government transfers increased even during good times. It means that more people are getting more of their income from government transfers.
And yes, the share of private wage is falling. That's what the rise of dependency looks like.