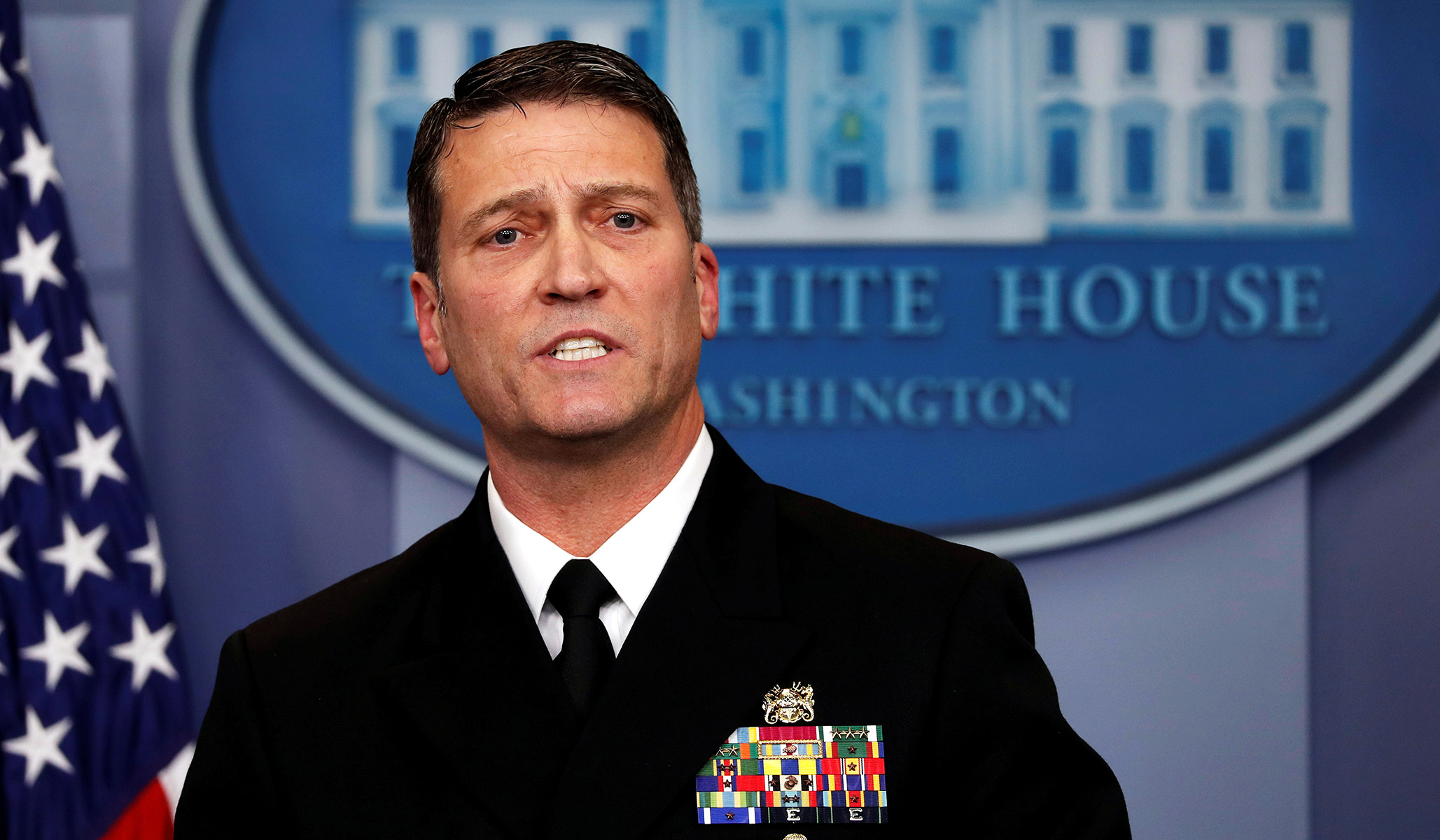 Something doesn't quite add up in the competing claims about Ronny Jackson, the presidential physician who is President Trump's nominee to be the next secretary of Veterans Affairs.
Democratic senator Jon Tester offers a series of tales that make Jackson appear wildly irresponsible and reckless:
Tester described reports to the Veterans' Affairs Committee that alleged that on overseas trips, Jackson would "go down the aisle way of the airplane and say, 'All right, who wants to go to sleep?' And hand out the prescription drugs like they were candy … and put them to sleep and then give them the drugs to wake them back up again."

Tester's staff told CNN that Jackson would hand out Ambien and Provigil.

"These are called controlled substances for a reason," Tester said on "Anderson Cooper 360."
Tester says he's received allegations that Jackson was drunk on duty during Obama's presidency, while he was the primary health-care provider for the president, on several different presidential trips. Tester claims he was so drunk as to be "unresponsive."
Except . . . that seems like the sort of thing someone would notice, isn't it?
Yet Jackson received glowing reviews and assessments from President Obama himself several times, and fairly recently:
 "Ronny's positive impact cannot be overstated. He is a tremendous asset to the entire White House team. Already at a level of performance and responsibility that far exceeds is current rank, promote to Rear Admiral now," said an undated performance review that was signed by Obama.

Obama said in October 2014: "A most impressive leader who continues to perform at the Flag Officer level. Ronny has earned my confidence and the gratitude of my family for his diligence and knowledge. Promote to Flag immediately."

Obama said in October 2016: "Ronny does a great job — genuine enthusiasm, poised under pressure, incredible work ethic and follow through. Ronny continues to inspire confidence with the care he provides to me, my family and my team. Continue to promote ahead of peers."
If Jackson is handing out prescription medicine like a Pez dispenser, getting blackout drunk, and causing late-night disturbances pounding on staffer's doors . . . wouldn't someone at some point try to get him removed from his duties? Or at the very least, inform the president? And if Obama knew, would he really keep touting Jackson as "poised under pressure"? If Obama knew, would he really keep using Jackson as his personal physician and for his family?
And if these incidents occurred . . . why wouldn't the president be notified?