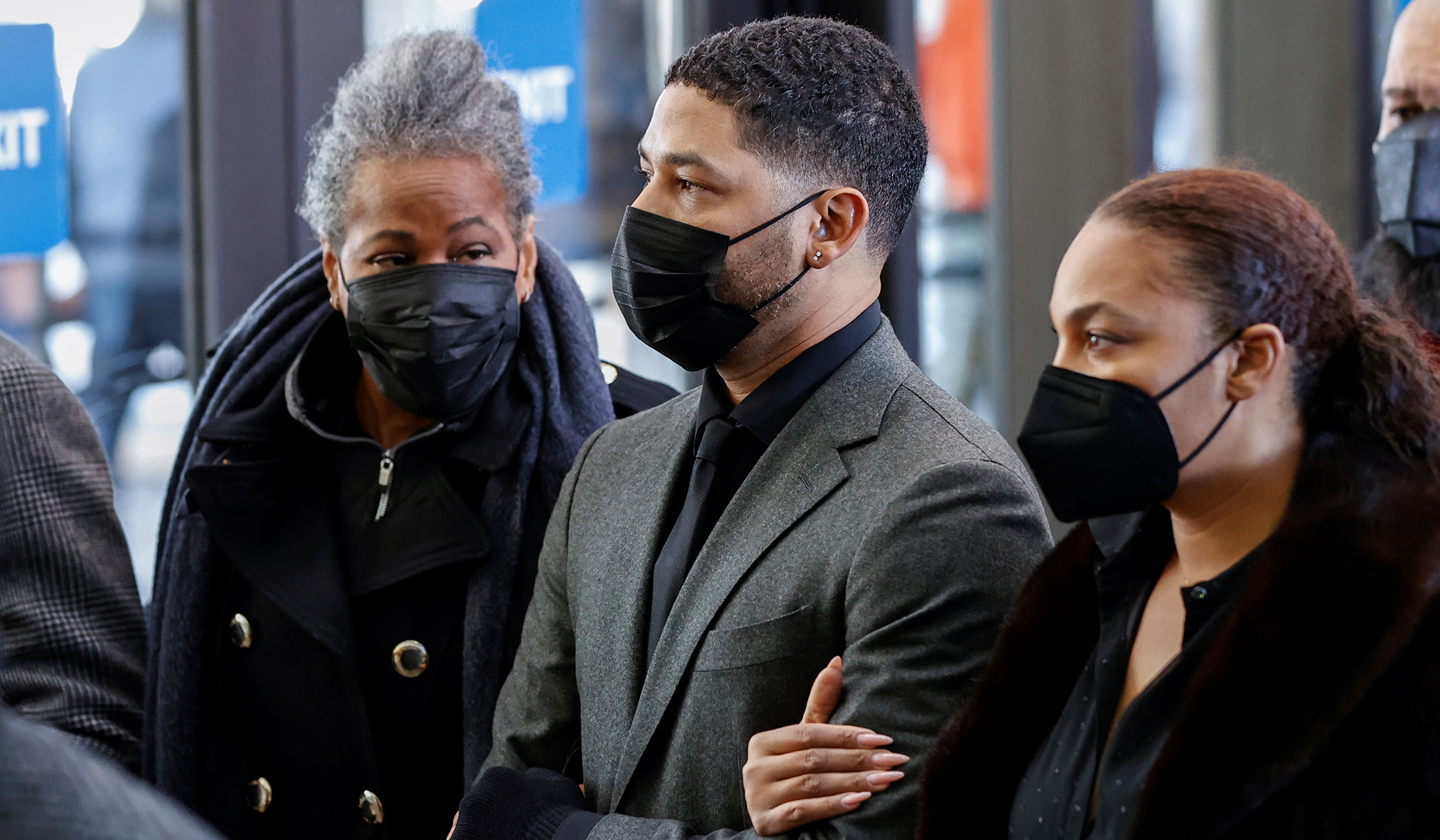 I emphatically agree with Kevin that trial perjury should be treated very seriously, meaning punished by time in prison. It also seems probable, to put it mildly, that Jussie Smollett gave perjurious testimony in his criminal trial. So, should he face another trial, this time for perjury? I would agree that he should if there were no other way to punish the false testimony, but fortunately there is another way.
Smollett is charged with six counts of disorderly conduct arising out of his allegedly false reporting to police that he'd been subjected to a violent assault — motivated by racism, homophobia, and politics — when, in fact, he had staged the attack. In Illinois, according to the Associated Press, disorderly conduct is a class-4 felony in Illinois; each count thus carries a potential sentence of up to three years' imprisonment.
Trials, of course, are expensive for taxpayers. That is a big reason why perjury should be punished when it occurs — on the same rationale that hoax reports of crime, which result in a huge waste of police time and effort, should be prosecuted, as is happening in Smollett's case. Because trials are burdensome, the justice system has an alternative approach to trial perjury: If the defendant is convicted, any false trial testimony is accounted for in the sentence imposed, obviating the need to try the defendant a second time.
Illinois has sentencing guidelines, which mirror the federal sentencing guidelines in many important particulars. Under the federal guidelines, a defendant's sentence may be enhanced by the trial judge for "obstructing or impeding the administration of justice." One example of such obstruction is trial perjury. (See section 3C1.1, application notes, example (c) under "Examples of Covered Conduct.") Illinois's guidelines are not laid out with the clarity of the federal manual, but there are plenty of state cases holding that it is proper for a judge to enhance a sentence based on a finding that a defendant committed perjury at the trial.
Importantly, there is a difference in this context between perjury and merely exercising one's constitutional right to put the state to its burden of proof. A defendant's sentence may not be enhanced merely because he pleads not guilty when he is, in fact, guilty. The obstruction enhancement applies only when a defendant provides a false version of events. (Technically, a not-guilty plea is not a claim of innocence. It is an assertion of the defendant's constitutional right to put the state to its burden of proving guilt beyond a reasonable doubt — i.e., the plea means "You have to prove it," not "I didn't do it.")
Here's how the sentencing enhancement would work in Smollett's case.
Let's assume he were convicted on all six counts. That would provide 18 years of statutory "exposure" (potential prison time). Smollett would be a first-offender, his crimes would be considered non-violent, and disorderly conduct (which covers a wide range of low-grade criminal behavior) is ordinarily not deemed a particularly weighty offense. This is why most criminal-law wonks predicted that Smollett would be looking at little or no time in custody if convicted.
I have thought that the sentence would be a bit tougher than that — maybe one to two years' imprisonment. That's because (a) it is unusual for the state to charge six disorderly conduct counts, so law-enforcement officials (other than the reprehensible Cook County attorney Kim Foxx) have signaled their assessment that this was serious misconduct, causing them to pour significant investigative resources into an explosive but false claim; and (b) Smollett had neither admitted his guilt nor expressed remorse for his appalling behavior.
Regardless of whether one's prediction was on the high or low side, it is safe to assume that Smollett was not going to get anything close to an 18-year term of incarceration if he were convicted but did not testify — or, at least, did not commit perjury. Now, though, while he still won't get close to 18 years, a court finding of trial perjury (which would necessarily follow, under the circumstances, if the jury finds Smollett guilty) should revise everyone's calculations upward.
Few things outrage a sentencing judge more than perjury committed in the judge's presence, in an effort to sway a jury over whose selection and service the judge has presided. Even before there were sentencing guidelines, judges tended to punish trial perjury by sentencing a convicted defendant more severely than would otherwise have been the case. The guidelines simply codify that longstanding practice.
How much more severely? Well, the federal obstruction enhancement is two points. That can be significant. Let's analogize to my prediction, above, about Smollett. A defendant who was looking at a sentencing range of 18 to 24 months would typically be in guidelines offense level 15 (in criminal-history category I, which applies to first offenders — see the federal guidelines sentencing chart, here). But if the offense level ticked up to 17 due to application of the two-level obstruction enhancement, that sentencing range would jump to 24 to 30 months. And note here that defendants who accept responsibility and express remorse tend to be sentenced at the bottom of their range; by contrast, a defendant who commits perjury has a much greater chance of being sentenced at the top of the range. So, in my example, the difference could mean a full year — a prison sentence of 30 months instead of 18 months.
Moreover, I should stress that the guidelines are advisory. They are intended to bring more uniformity to sentencing (so that there are not scandalous disparities in the terms imposed on defendants with similar histories who commit similar crimes). But the guidelines are not mandatory. As long as the judge adequately explains the sentence imposed, the sentence is within the judge's discretion. The only real restriction is the statutory term prescribed for the crime — here, 18 years.
Consequently, while I wouldn't bet on a sentence quite this severe, a five-year sentence, reflecting Kevin's observation that Smollett would deserve the maximum statutory sentence for perjury, is certainly not out of the realm of possibility (especially if it accounts for both the perjury and the underlying hoax crimes). The salient point for present purposes is that, if Smollett is convicted on some or all of the six counts, the judge would be able to account for the perjury in Smollett's sentencing, relieving the state and its taxpayers of the need to try him a second time.
Clearly, if Smollett were acquitted but the state could nevertheless convincingly prove that he committed perjury, it would be imperative that he be separately tried again for perjury. Double jeopardy forbids a subsequent prosecution for the same crime even when acquittal has been obtained due to perjury. Therefore, Smollett could not be retried for the hoax crimes. If he has lied, then only a perjury prosecution could prevent him from the windfall of his undeserved acquittals.