Mediaite has video and a good summary. A key exchange:
"How do you know it doesn't work?" Cuomo asked.

The Texas senator claimed that "the jurisdictions with the toughest gun control laws, cities like Chicago, cities like Washington D.C., they almost invariably have the highest crime rates, the highest murder rates."

"No, that's not true," Cuomo shot back. "The Giffords Center analysis says that with a few exceptions, states that have the strictest gun control measures have the lowest rates of gun deaths."
These are not opposing claims but just different ones. Their biggest disconnect is between "murder rates" and "gun deaths."
There is, in fact, no simple correlation between states' gun laws and their homicide rates. There is a link between gun laws and "gun deaths" more broadly, as shown in the Giffords report and similar efforts, but it's driven by suicides — and even there, such an analysis doesn't rule out a substitution effect. (In other words, if looser guns laws merely cause people to kill themselves with guns instead of killing themselves some other way, a correlation with "gun deaths" will still emerge.) Nor does it address the various other limitations of merely comparing one variable with another.
More complicated research is largely inconclusive on whether various types of gun control work to reduce killings, as I've discussed in more detail here and here, and as a new RAND report documents. For what it's worth, I'm a tentative supporter of some measures that target the people most likely to misuse guns while at most mildly inconveniencing the rest of us, such as gun-violence restraining orders and universal background checks.
But speaking of efforts to screen gun buyers, Cuomo also said:
Just a recent example, look at Connecticut, look at how they brought the numbers down.
Here he's almost certainly referring to an absolutely terrible study claiming that after 1995, when the state passed a law requiring a permit to purchase a handgun, gun homicides fell a whopping 40 percent relative to the trend they'd have experienced otherwise. Here's a chart I made for The American Conservative in 2016 showing what actually happened: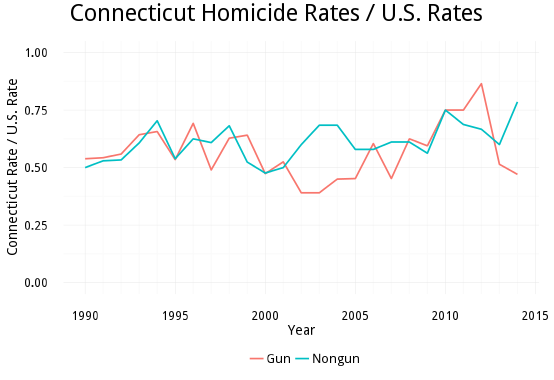 Basically, for a brief period in the early to mid 2000s, Connecticut had somewhat lower gun-homicide rates than it had had previously (after taking national trends into account). But non-gun homicides showed the opposite trend, canceling out much of the decline even if we assume the law caused it. Oh, and we shouldn't assume that, because for six years after the law went into effect, as well as the entire decade after 2005, there's no sign whatsoever of a reduction in gun homicides relative to non-gun homicides.
The authors of the aforementioned study got around this by (a) cutting the data off in 2005 and (b) comparing Connecticut not with national trends but with a statistical abstraction ("synthetic Connecticut") that was mostly just the trend in Rhode Island — a state that experienced an abrupt murder-rate hike right after Connecticut's law went into effect.
It's a horrendous piece of research and no one should ever cite it, but three years after being published it's still a mainstay in the gun debate.