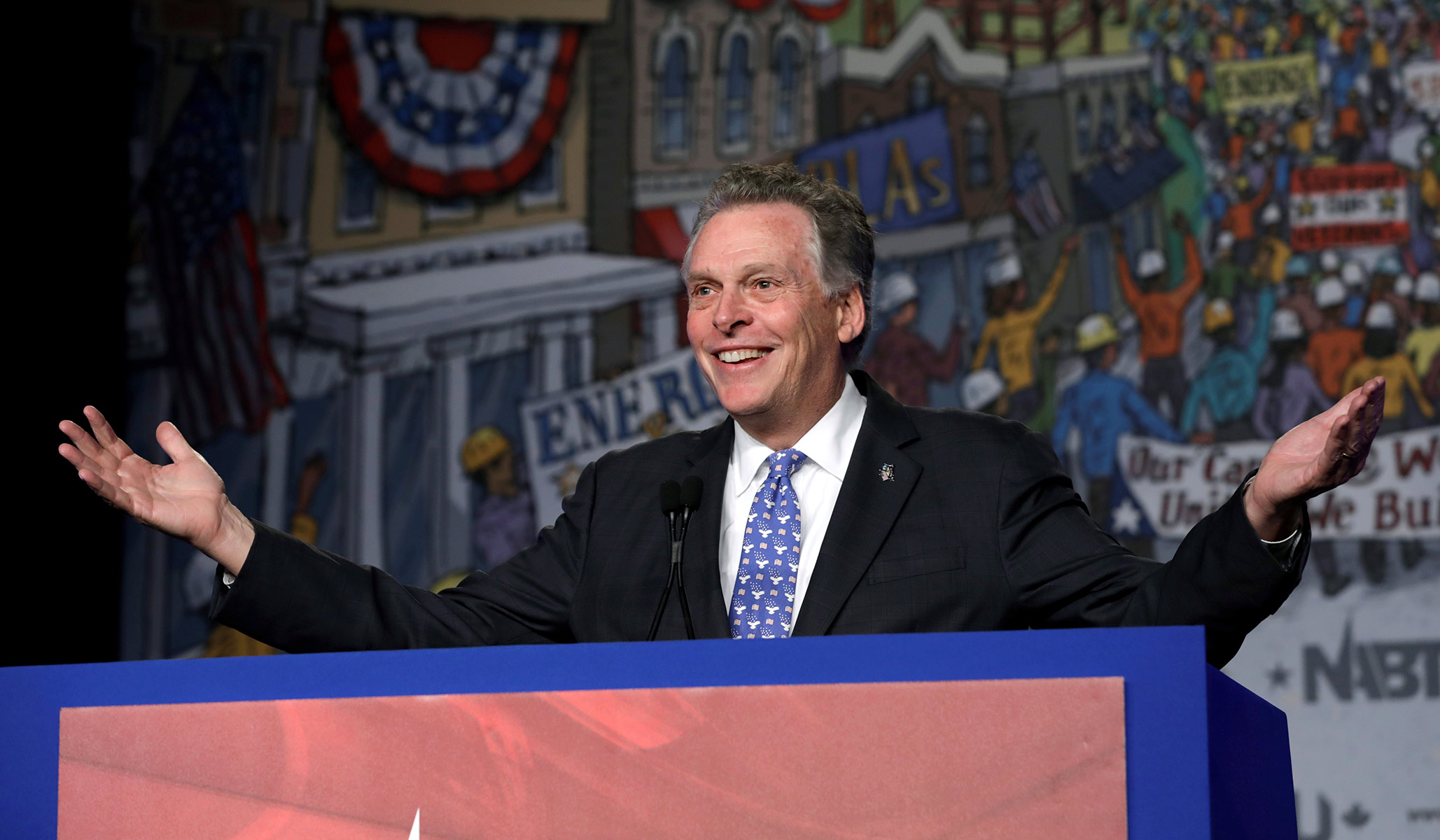 At Thursday night's Virginia gubernatorial debate, Democratic candidate Terry McAuliffe was asked if he would sign legislation loosening Virginia's statute on third-trimester abortions. 
Specifically, moderator Susan Page asked McAuliffe if he would sign a legislative "proposal to reduce the number of doctors required to [certify the necessity of a third-trimester abortion from three doctors to] one and to change the level of damage to a woman's health"—a clear reference to legislation introduced by Virginia Democratic delegate Kathy Tran in 2019.
"Of course I would support that," McAuliffe said during his 60-second response:
The issue here is, in order for a woman to get an abortion in the third trimester, you have to have a primary doctor certify and then you have to have two other doctors. The problem you have in rural parts of the state is there are not three doctors. So, that puts women in rural communities at a disadvantage. So, if they came up with a solution—and the woman's life has to be in danger, has to be certified—if you have a legitimate doctor that says 'this woman, her life's is in danger,' of course I would support that. I'll do anything I can.
McAuliffe's suggestion that a single doctor would have to first certify that a "woman's life has to be in danger" to perform a third-trimester abortion is not an accurate description of the existing statute or Tran's bill. The statute says that three doctors must certify that not having an abortion would either likely endanger a woman's life "or substantially and irredeemably impair the mental or physical health of the woman." The legislative proposal that McAuliffe was asked about would strike the words "substantially and irredeemably." 
As David French wrote in 2019: 
The bill reduces the number of doctors required to certify the alleged medical need for an abortion from three to one, and — critically — eliminates any required showing of severity before the doctor and mother can determine that the birth would impair her physical or mental health. Under the bill's actual text, virtually any claim of impairment would suffice to meet the act's requirements. Anxiety? Depression? The conventional physical challenges of post-partum recovery? Any of those things could justify taking the life of a fully formed, completely viable, living infant.

That's infanticide. That's barbarism.
Kathy Tran caused an uproar in 2019 when she admitted that her bill would legalize abortion in the final moments of the ninth month of pregnancy if a single doctor asserted it was necessary for the mother's mental health: 
At a legislative hearing in January, Tran's Republican colleague Todd Gilbert asked her about her bill to remove existing restrictions on third-trimester abortions.

"So how late in the third trimester could a physician perform an abortion if he indicated it would impair the mental health of the woman?" Gilbert asked. "I'm talking about mental health."

"I mean, through the third trimester. The third trimester goes all the way up to 40 weeks," Tran replied.

"So where it's obvious that a woman is about to give birth, she has physical signs that she's about to give birth, would that still be a point at which she could still request an abortion if she was so certified?" Gilbert asked. "She's dilating?"

"Mr. Chairman, you know, that would be a decision that the doctor, the physician, and the woman would make," Tran replied.

"I understand that. I'm asking if your bill allows that," Gilbert said.

"My bill would allow that, yes," Tran replied.
In February 2019, McAuliffe was asked if he supported Tran's bill. "Absolutely not," he replied. A few months later, McAuliffe called it a "common sense bill." 
"McAuliffe does full flop on late-term abortion bill," Politifact reported at the time. Just last week, McAuliffe refused to say if he would allow Tran's bill to become law.
This post has been updated to include a lengthier excerpt of McAuliffe's response.