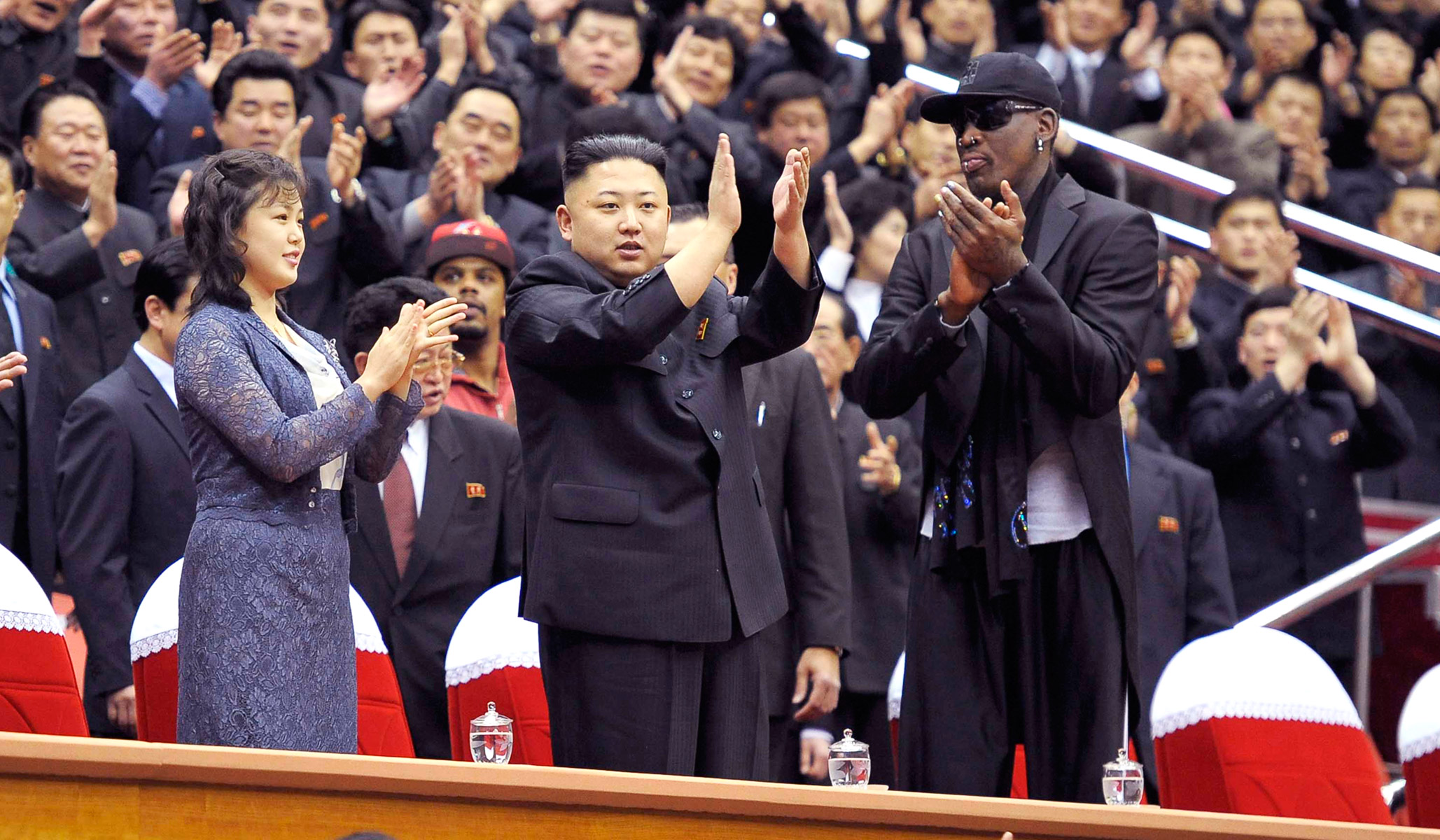 Dennis Rodman must be one of the very few people in the world to know both Donald Trump and Kim Jong-un. Is he, in fact, the only one? Rodman knows Trump through Celebrity Apprentice, I believe. He knows Kim — through Kim's love of basketball. More on that in a moment.
The former NBA star is traveling to Singapore, where the Trump-Kim summit will take place. He has made a statement, to wit, "I'll give whatever support is needed to my friends, President Trump and Marshall Kim Jong Un." He further said, "To all Americans and the rest of the world I'm honored to call President Trump a friend. He's one of the best negotiators of all time and I'm looking forward to him adding to his historic success at the Singapore Summit."
Sounds good. (To read a news story, go here.)
I'll give you a couple of items about the Kim family and basketball, included in my book about dictators and their families.
The current Kim's father, Jong-il, was a big, big fan of the NBA. He followed it obsessively. His favorite player was Michael Jordan, naturally. In 2000, the U.S. secretary of state, Madeleine Albright, traveled to North Korea. She brought a gift for the dictator: a basketball signed by Jordan. Where'd it wind up? In the International Friendship Exhibition Hall, at Pyongyang.
Other baubles in that hall include a crocodile briefcase from Fidel Castro, a gem-encrusted sword from Yasser Arafat, and a bear's head from Nicolae Ceausescu.
Jong-il passed this great love of basketball to his youngest son, Jong-un. (Another son, Jong-chul, loves Eric Clapton. Another son, Jong-nam, is dead — killed by Jong-un.) How many children does Jong-un himself have? No one knows — but we know that his first child is a girl, and we know that her name is Ju-ae. How do we know this?
Because Kim's friend Dennis Rodman reported it. Yes, that is true. No intelligence agency gleaned this information. The world found out from Dennis Rodman.
One more word before I finish up here: Around the world, Rodman may be a bit of a joke, or a lot of one. But to us Detroit Pistons fans, he will always be a great player, a man who helped us get to the finals three years in a row. (We won twice.) His post-NBA career should not obscure what he did on the court.