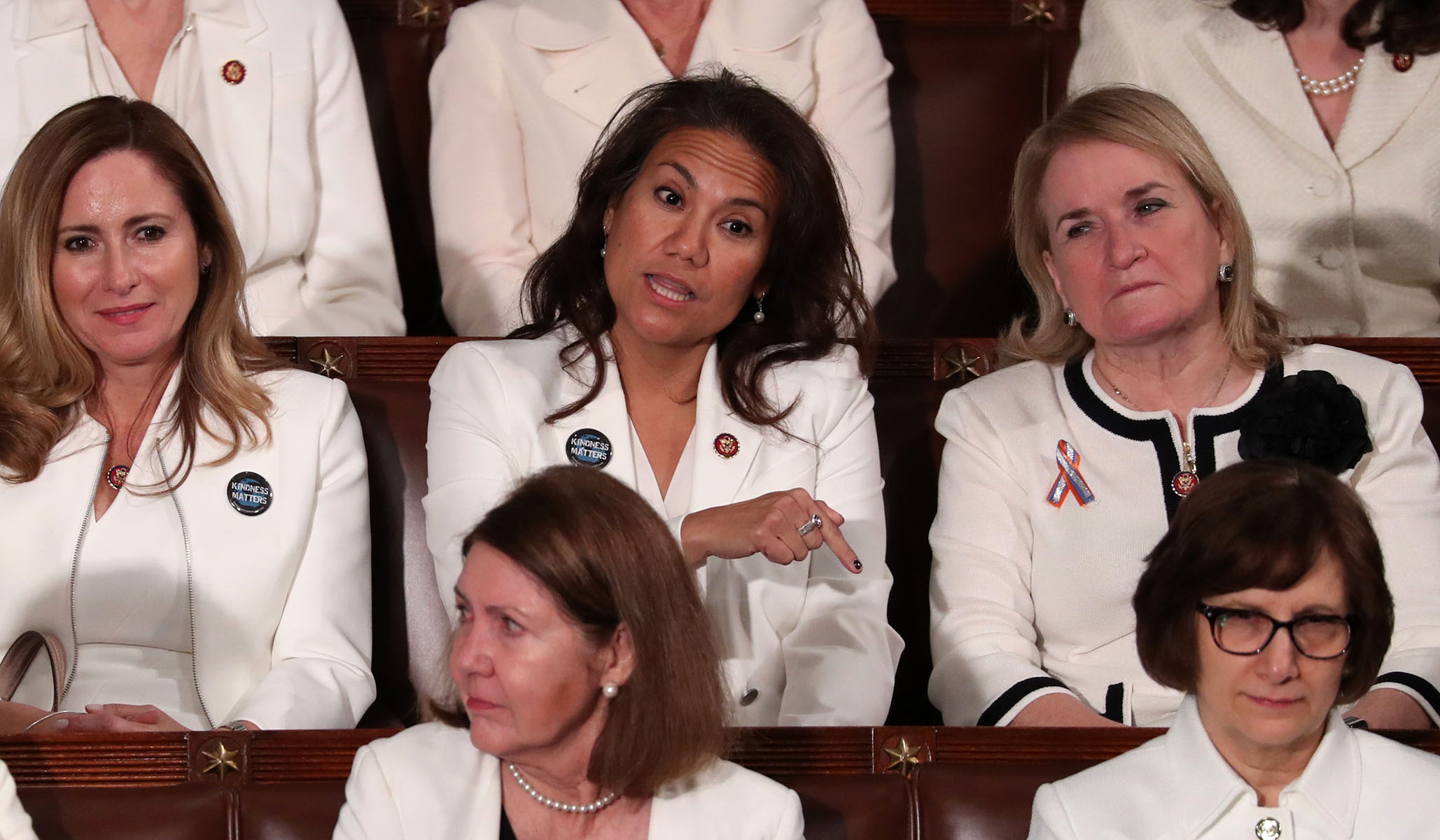 In his State of the Union address, President Trump reiterated his commitment to paid family leave, saying "I am proud to be the first president to include in my budget a plan for nationwide paid family leave — so that every new parent has the chance to bond with their newborn child."
The Democrat women in white didn't clap for rising wages or faster economic growth. They didn't clap for a protecting a baby who could otherwise survive outside of the womb. They were hesitant to clap even for rescuing women from sex-trafficking rings. But they along with Speaker Pelosi joined Republicans in clapping heartily for paid family leave.
Paid leave is perhaps the only Trump campaign promise that has widespread bipartisan support and remains at the forefront of the administration's agenda. Paid leave has the full attention of the first daughter, one of the president's closest advisors, and a thick stack of evidence to support its significant benefits — from reduced infant mortality, increased breastfeeding, higher wages and workforce participation for new mothers, and reduced reliance on food stamps and welfare programs.
In an unholy alliance, paid parental leave enjoys support from some of the most liberal governors in the country to the most ardent of pro-life groups. And it's an area where both the private sector and government have failed to pick of up the ball. Only 15 percent of employees have access to a paid family-leave policy, and the U.S. is the only major economy that doesn't protect the first few weeks of an infant's life by partially supplementing a parent's lost wages to stay home.
So one might wonder, what's the hold up? Why has there not been bipartisan legislation similar to what the president proposed in the White House budget, for six weeks of a federal paid-leave policy to be used upon the birth or adoption of a child, to be administered by the states?
The answer is, of course, politics. On the Right, paid leave is a relatively new idea with conservative proposals circulating only in the last few years. To be sure, congressional Republicans are increasingly wading into the debate. Senator Fischer pushed successfully for employer tax credits for paid leave to be included as part of tax reform, although it's not clear the extent to which this will increase access to leave. Senator Rubio has proposed allowing parents to access their Social Security retirement benefits early to finance parental leave, although there are no co-sponsors in the Senate or companion legislation in the House (as of yet).
There seems to be broader hesitancy within the party about a nationwide paid-leave program related to costs and wariness about any new government program. But for perspective, a paid parental-leave plan of the type the administration has proposed would cost less than 1 percent of what we spend annually on entitlements. A policy this size would not necessitate new taxes and could be paid for out of existing spending — keeping the size of government the same while delivering significant benefits.
Meanwhile, congressional Democrats, led by likely 2020 presidential contender Senator Gillibrand, have advocated for paid leave for years. They have rallied around a single policy to do so, the Family Act, which would provide up to 12 weeks of paid leave for a wide variety of uses, including illness, caring for a family member, or parental leave. While in theory, congressional Democrats would be the most sympathetic to the Trump administration's plan to advance paid leave given their long-standing advocacy for the issue, in practice, they have been some of the biggest opponents.
Among many Democrats, anything less than the Family Act is unacceptable — this includes six to eight weeks of a federal-paid parental leave policy. But there's a reason why this plan has been unable to secure a single congressional-Republican supporter. The FAMILY Act is nearly 30 times more expensive than the Trump plan, estimated to cost at least $85 billion a year and relies exclusively on higher taxes to pay for it. Given its generosity, the Family Act is likely to crowd out most private paid-leave plans and goes beyond the evidence that we have from the states, which is largely based on California's six-week paid family-leave plan. It too has been unable to secure even a single Republican member of Congress in support of the plan. Are liberals really willing to block paid parental leave to millions of parents if it's not their exact plan, putting progressive ideals over people?
I'm hopeful that a spirit of togetherness and compromise will prevail. The Trump administration has put forward a common-sense approach to paid parental leave that has wide bipartisan support and that can break the log jam.  Congress should not reduce themselves to the same partisan pettiness that they so often shake their finger towards the White House for.
On paid parental leave, President Trump has identified a way forward. That's worth clapping for. Now it's time to act.
Something to Consider
If you enjoyed this article, we have a proposition for you: Join NRPLUS. Members get all of our content on the site including the digital magazine and archives, no paywalls or content meters, an advertising-minimal experience, and unique access to our writers and editors (through conference calls, social media groups, and more). And importantly, NRPLUS members help keep NR going.
If you enjoyed this article and want to see more premium content like this, we have a proposition for you:
Join 

NRPLUS

.