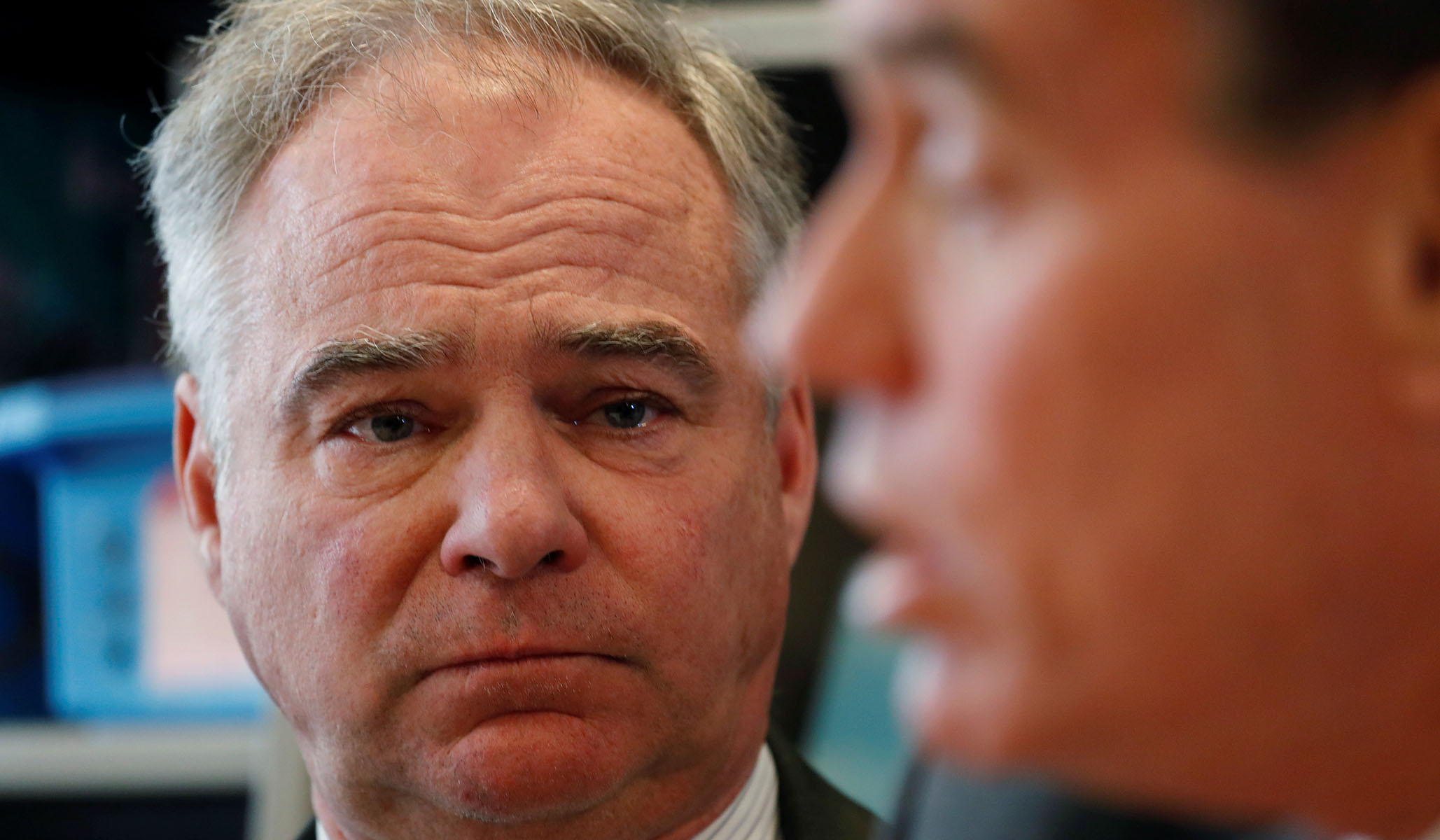 Senator Tim Kaine is in a bind. The Virginia Democrat has been confronted in recent weeks about where exactly he stands on abortion rights, and he's learning that there's no easy way to make everyone happy.
His latest juggling act is finding a way to pacify concerned Catholic constituents, who wish to know where their Catholic senator stands on the Born-Alive Abortion Survivors Protection Act, a proposed piece of federal legislation that would mandate medical care for infants born alive in the context of abortion.
Senator Ben Sasse (R., Neb.) brought the bill to the floor earlier this month, in the wake of Virginia governor Ralph Northam's comments appearing to endorse physicians' right to let newborns die, at least in some circumstances. The entire Senate will vote on the legislation on Monday.
Though Kaine has yet to issue a statement on how he plans to vote, he recently responded to constituent inquiries about his stance on the bill with a letter, a copy of which was obtained by National Review. The text doesn't say explicitly whether he'll vote against Sasse's bill next week, but the implication seems to be that he intends to oppose it.
"This bill would establish new requirements for health care practitioners in the case of a fetus who survives an abortion," Kaine writes. It's an intriguing turn of phrase: A fetus, after all, is what the Left has chosen to call unborn children in an effort to dehumanize them. If a fetus survives an abortion, presumably it is no longer a fetus but a newborn infant.
The rest of the letter is similarly slippery. "I support the right of women to make their own health and reproductive decisions," Kaine goes on. "For that reason, I oppose efforts to weaken the basic holding of Roe v. Wade . . . [and oppose] restricting and criminalizing women's reproductive decisions."
Kaine's office did not respond to National Review's request for comment on the senator's official position on the born-alive bill. But even as the senator appears poised to oppose legislation that does nothing more than require medical care for living infants — it doesn't even prescribe a particular method of care — he has expressed disapproval for the increasing abortion extremism of  Democrats in his state.
Late last month, Virginia Democratic delegate Kathy Tran proposed a bill that would legalize abortion in the last three months of pregnancy and admitted that her legislation would allow abortion even when a mother was in labor. This, Kaine says, goes a bit too far. He told the Daily Caller, when pressed for his opinion about his state's abortion laws, that he supports "the existing Virginia law . . . not the Tran bill."
As it stands, Virginia's law allows abortion in the third trimester only if three doctors agree that a woman's health would be "substantially and irremediably impaired" if she doesn't obtain an abortion. Tran's bill would reduce the requirement to one doctor, strike the "substantially and irremediably language," and allow abortion for mental-health reasons as well as physical.
Kaine said he supports the current law in his state because it is "consistent with Roe v. Wade, where the state is able to impose meaningful regulations of a third trimester of pregnancy."
What, then, are we to think of Kaine's apparent intention to block Sasse's legislation, which wouldn't touch abortion rights at all? Like his fellow Democrats, the Virginia senator is caught in a tricky situation, and one triggered by the governor in his own state. Some Democrats evidently are prepared to say that extending medical treatment to living infants is a restriction on abortion rights — an extreme and unpopular stance.
Kaine evidently is prepared to say that he both accepts some state limitations on abortion but opposes mandating medical care for infants, lest it "restrict and criminalize women's reproductive decisions." These are the incoherencies Democrats are forced to adopt to continue promoting abortion on demand while refusing to outright endorse infanticide.
Something to Consider
If you enjoyed this article, we have a proposition for you: Join NRPLUS. Members get all of our content (including the magazine), no paywalls or content meters, an advertising-minimal experience, and unique access to our writers and editors (through conference calls, social media groups, and more). And importantly, NRPLUS members help keep NR going.
If you enjoyed this article and want to see more content like this, we have a proposition for you: 
Join NRPLUS.