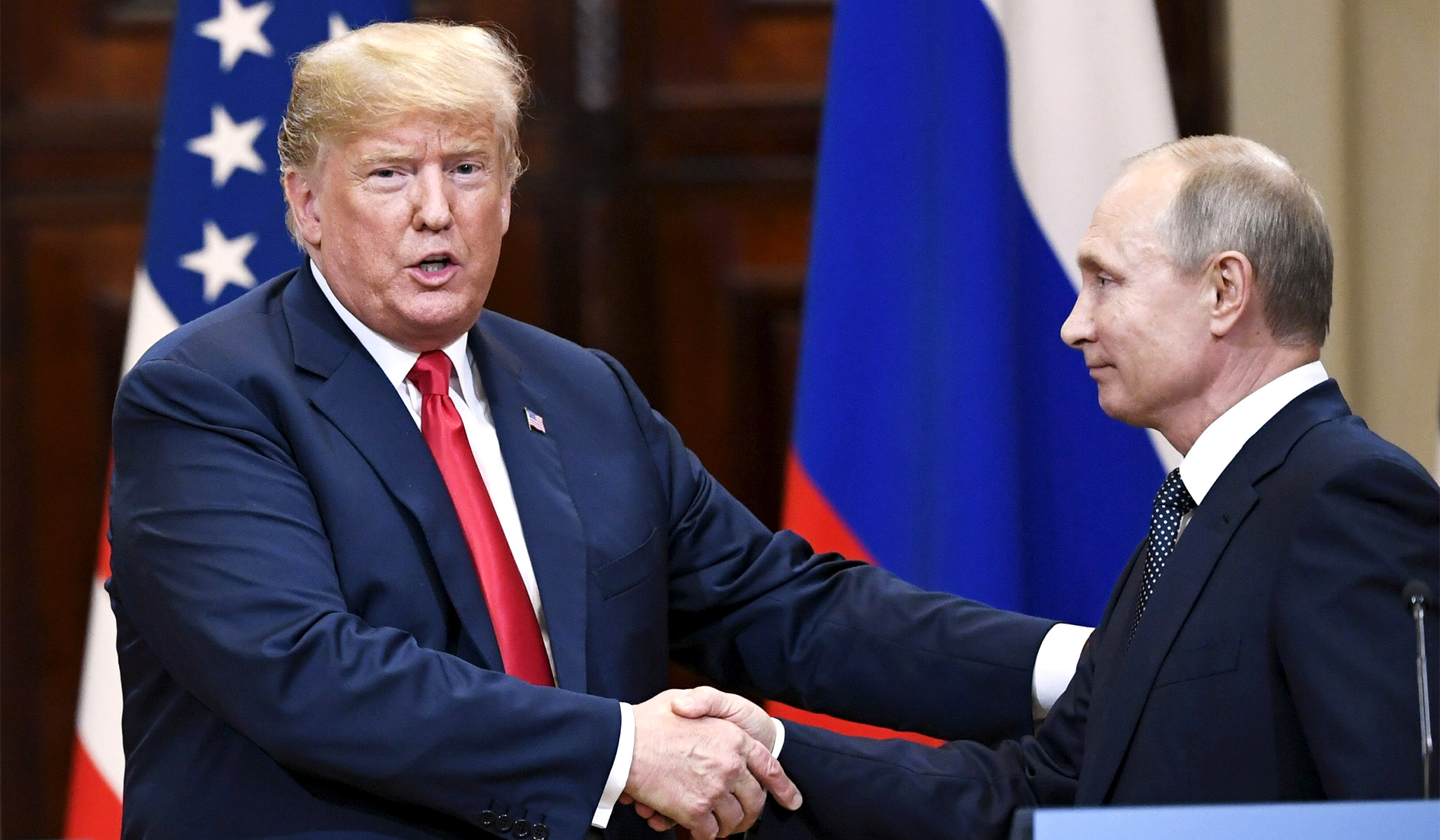 This morning, President Trump tweeted, "Our relationship with Russia has NEVER been worse thanks to many years of U.S. foolishness and stupidity and now, the Rigged Witch Hunt!"
Some of us see it differently. Putin's Russia is a dictatorship that kills critics, violates borders, interferes in democratic elections, etc. — and that's why relations between it and the United States, a great liberal democracy, are bad.
Also, the Mueller team has just indicted twelve GRU agents. Does our president think that's the fruit of a "Rigged Witch Hunt"?
When Trump sent out the above-quoted tweet, the Russian foreign ministry responded, "We agree." That's something that ought to give us pause — all of us Americans.
• Some conservatives are remembering Jeane Kirkpatrick today, who, in a famous 1984 speech, said Democrats (her own party at that point) tended to "blame America first." President Trump appeared to do so in his tweet. Then, at his press conference with Putin, he was asked whether Russia bore any responsibility for bad relations between Moscow and Washington. Trump said, "I hold both countries responsible. I think that the United States has been foolish. I think we've all been foolish." And a bit later: "I think we're all to blame."
In times past, we conservatives referred to such a posture as "moral equivalence."
• For two years now, there has been a debate over who hacked the Democrats in the 2016 election. In a debate with Hillary Clinton, Trump said, "I don't think anybody knows it was Russia that broke into the DNC. She's saying Russia, Russia, Russia, but I don't — maybe it was. I mean, it could be Russia, but it could also be China. It could also be lots of other people. It also could be somebody sitting on their bed that weighs 400 pounds, okay?"
Later, there was a theory that a Democratic staffer had leaked sensitive information and been murdered as a result.
The U.S. intelligence community holds that Russia is the guilty party, when it comes to election interference. Our intelligence community holds that Russia is still at it. H. R. McMaster, who was once Trump's national security adviser, said that evidence of Russia's guilt was "incontrovertible." In February, Dan Coats, the director of national intelligence, made a blunt statement: "Frankly, the United States is under attack." Last week, with equal bluntness, he said, "The warning lights are blinking red."
And, of course, Robert Mueller indicted those twelve GRU men.
President Trump, at his joint press conference with Putin, was asked whom he believed: Putin or the U.S. intelligence community. He answered, "My people came to me — Dan Coats came to me, and some others. They said they think it's Russia. I have President Putin — he just said it's not Russia. I will say this: I don't see any reason why it would be."
• Many of us have noted that Trump has excellent people around him — many of conservatism's best and brightest. General McMaster was one of them. Then we have John Bolton, James Mattis, Dan Coats, Mike Pompeo, et al. But none of them was elected president. None of them ran for the office. The American people chose Trump. And "it all comes down to the man at the desk," as George Bush the Elder said in the 1988 campaign. The president is where the buck stops, as Truman had it, or rather his sign did.
Dan Coats can be as blunt as he wants, and he does a service when he informs the public. But if the president chooses not to listen to him, or not to believe him — that's the president's prerogative, and the voters will react as they will.
• People have often pointed out that there seem to be two administrations, when it comes to U.S. policy on Russia: President Trump — and the rest of the administration. This idea was spelled out in a New York Times article, headed "Trump Opens His Arms to Russia. His Administration Closes Its Fist" (here).
• Sergei Magnitsky was Bill Browder's lawyer — and a whistleblower. Magnitsky was tortured to death, real slow, by Russian authorities. Since that time, Browder has dedicated his life to human rights and justice. He has campaigned all over the world for "Magnitsky acts," which place sanctions on Russian officials who abuse human rights. His activism has made him a prime target of Putin and the Kremlin. Bill (he is a friend of mine) has to watch his step at every turn. He has stuck his neck out, for truth and justice.
Today, at the joint press conference, Putin told his usual tales, his usual lies, about Bill (or some of them). All the while, Trump nodded solemnly and understandingly. It would be hard to tell you how disgusting that was to many of us.
• Putin suggested that the Kremlin and Washington cooperate in investigating Russian cyber attacks. Trump, gratified, called this "an incredible offer." He repeated it: "I think that's an incredible offer. Okay?"
"Incredible" is just the right word, though the president may not know it.
• Throughout this summit, Trump's posture toward Putin has been gentle and respectful — even deferential. Contrast this with his posture toward Trudeau, Merkel, May, and their like.
• In an interview on Saturday, Trump was asked to name America's "biggest foe globally right now." Trump first said the European Union. Later, with Putin, he referred to the boss of the Chinese Communist Party as follows: "our mutual friend President Xi."
People notice these things, and are right to.
• On his way to Finland, to meet Putin, Trump once again referred to the press as "the enemy of the people." This phrase is greatly meaningful in Russia: Many, many people have been killed under that designation. What I mean is, many people have been killed as "enemies of the people." I think American presidents should avoid this phrase, especially when talking about the free press, annoying as that press may be.
In Russia, many, many journalists have been killed, having incurred the displeasure of Putin. An American president should remember that.
• Over the weekend, I expressed the hope that Trump would bring up political prisoners, in the tradition of American presidents. (For my blogpost, go here.) Evidently, this did not happen. Some of us were especially hoping that Trump would bring up the case of Oleg Sentsov, the filmmaker and writer from Crimea who has been on hunger strike for over two months.
• In the Obama years, a lot of us made the following point: The president seemed annoyed with democratic protesters in Iran, for making it harder for him to deal as he wanted with the Iranian government. In a similar way, Trump seems annoyed with reality for intruding on his desired relations with Putin.
• I have been banging on a drum for many years (to no avail) — decades now. I don't believe that Olympic Games, World Cups, and other such international competitions should be held in police states. President Trump said he wanted to "congratulate Russia and President Putin for having done such an excellent job in hosting the World Cup. It was really one of the best ever."
I would greatly appreciate a president, or other leader, who said, "No more Olympic Games or World Cups in police states. Choose another place in this great broad world."
• Over and over, Trump said, "The world wants to see us get along" — the United States and Russia. Sure. But sometimes, relations must be unsmooth between adventuring dictatorships and democracies such as ours. Every conservative, among others, knows this in his bones.
• Do you know who sounds like a conservative Republican of the old school? Ben Sasse, the senator from Nebraska. To see what I mean, consult his Twitter feed, here.