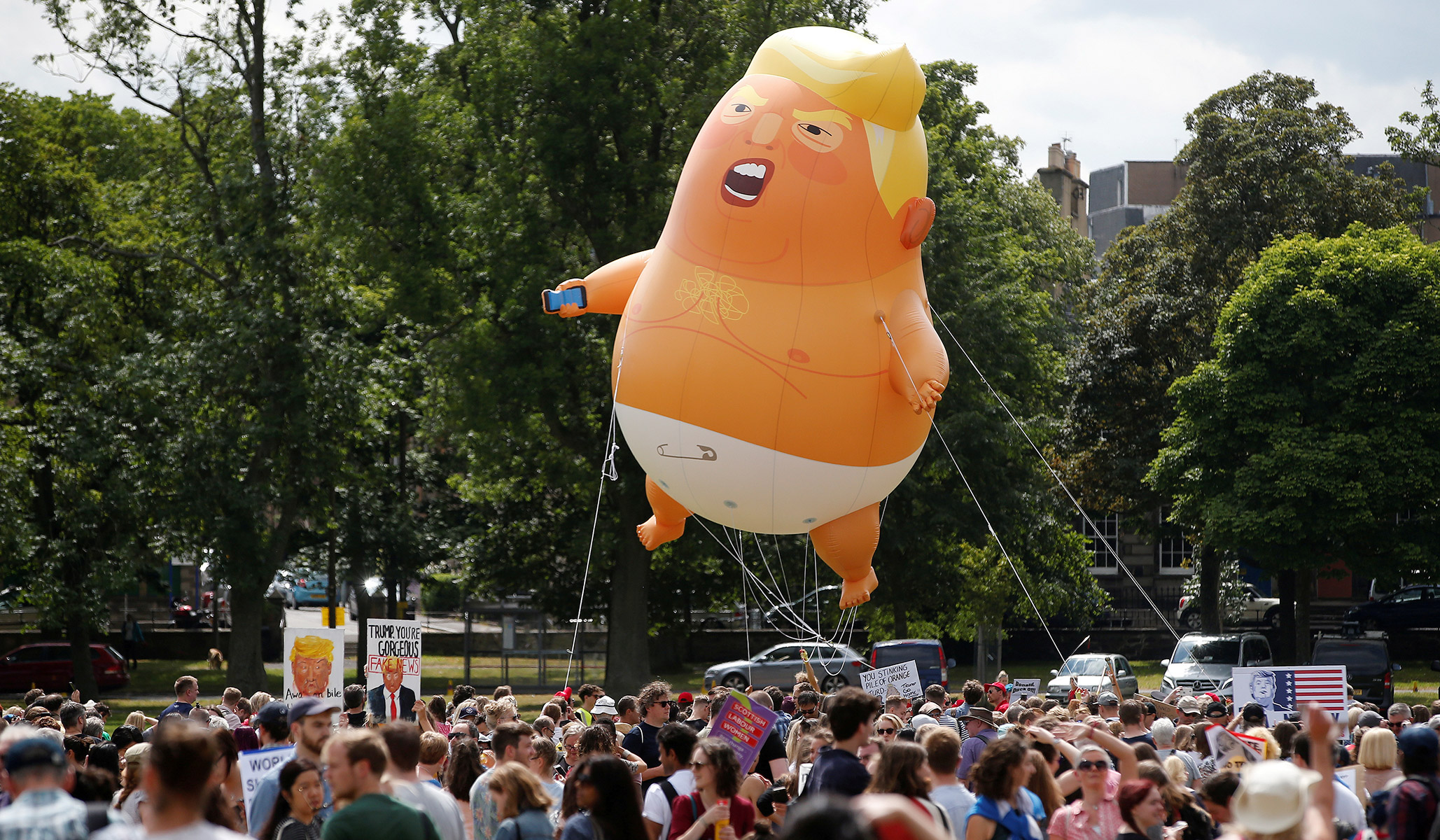 Among the many things I enjoy about being British is our reputation for decorum. This isn't simply good manners to those who deserve it, but something altogether more sophisticated: politeness towards those we can't stand. The old iron fist, velvet glove. Irony at its best.
Sadly, such propriety was in short supply when Donald Trump visited the U.K. last week.
A pathetically small blimp — Donald Trump in a diaper – was authorized by the mayor of London, Sadiq Khan, and paraded around by thousands of angry protesters. The protest's momentum was somewhat deflated by the fact the president did not visit Central London. Nevertheless, the event was well covered by the British media.
Then, North, in Scotland, the president was met with similar protests at his Turnberry golf course. Attendees chanted insults while playing out of tune bagpipes . . .
Of course, President Trump also has very bad manners. It's hard to count the number of insulting comments he has made since coming to office. And his trip to the U.K. was no different. In an interview he gave to the Sun, Trump was outrageously undiplomatic about his host, Prime Minister Theresa May.
Like those who protested him, Trump's criticism, though inappropriately expressed, had a certain validity. Brexit is a mess and May's soft Brexit proposal will prove tricky for a U.K.–U.S. trade deal. Trump later backpedaled, though, suggesting the Sun interview was "fake news" and the British– American relationship was, in fact, the "highest level of special." The prime minister handled this with admirable grace, as best she could.
Maybe Trump will get what he wants out of such tactics. Who knows.
But it's hard to imagine that the Trump protests were effective in any meaningful way. In meeting crass behavior with yet more crassness, the only thing achieved is a loss of dignity. The situation recalls a child who, feeling he or his friends have been treated unfairly, exudes satisfaction in blowing a giant raspberry and summoning the worst words in his vocabulary. Hardly the moral high ground.
The adults in the room certainly saw it that way. Liam Fox described it thus:
Liam Fox says that protesters against Donald Trump's visit to Britain were "an embarrassment to themselves" https://t.co/r3ECw2cwgf pic.twitter.com/qFk19l0ljI

— BBC Scotland News (@BBCScotlandNews) July 14, 2018
Quite.