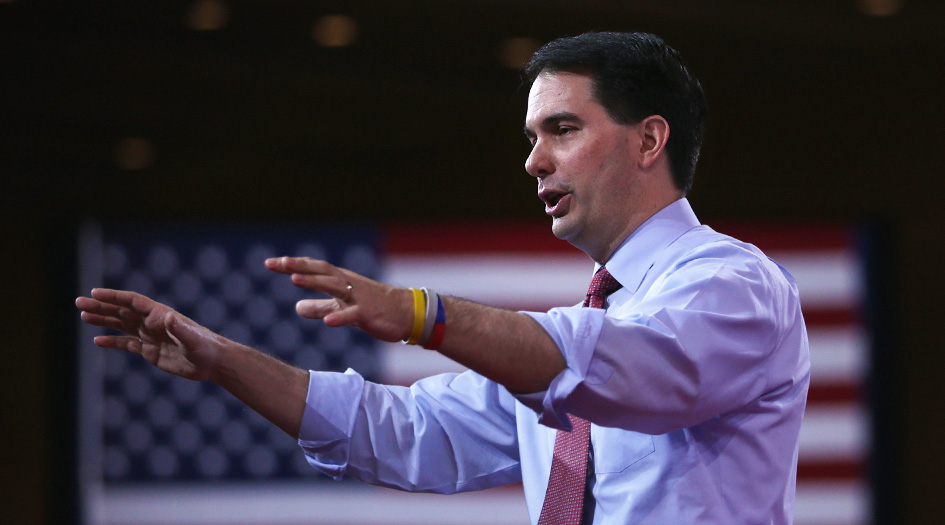 Scott Walker hit all the right notes when he took the stage at the Conservative Political Action Conference on Thursday to address a standing-room-only crowd — even gamely handling a heckler.
Walker was talking up Republicans' push to pass a right-to-work law in Wisconsin, a measure to weaken labor unions, when a heckler stood up and began shouting in the packed ballroom. What he said wasn't clear, but Walker handled it like a pro: He quipped, "Apparently the protesters come [here] from Wisconsin as well."
The governor, considered a top contender in the 2016 Republican presidential primary, got a quick standing ovation for his response — one of a number he got during his address.
After spending some time touting his strong domestic record as governor of Wisconsin, Walker sharply criticized the Obama administration for its ineffective strategy in the fight against the Islamic State, and its disapproval of Israeli prime minister Benjamin Netanyahu's upcoming address before Congress.
Looking to shore up his own bona fides on foreign policy, Walker went out of his way to tell the audience that, as governor, he receives FBI briefings about potential threats to his state. And he pointed to his 2011 face-off with public-employee unions as preparing him for these sorts of situations.
"If I can take on 100,000 protesters, I can do the same across the world," he said.
Walker's speech, one of the most anticipated of the conference, capped off the first day, and had the auditorium filled to capacity, including crowds standing alongside the walls.
Before Walker wrapped up, the crowd briefly erupted into a chant of "run, Scott, run" when talk on stage turned to 2016. "I've run three time in the last four years, so I'm getting pretty used to it," he said.