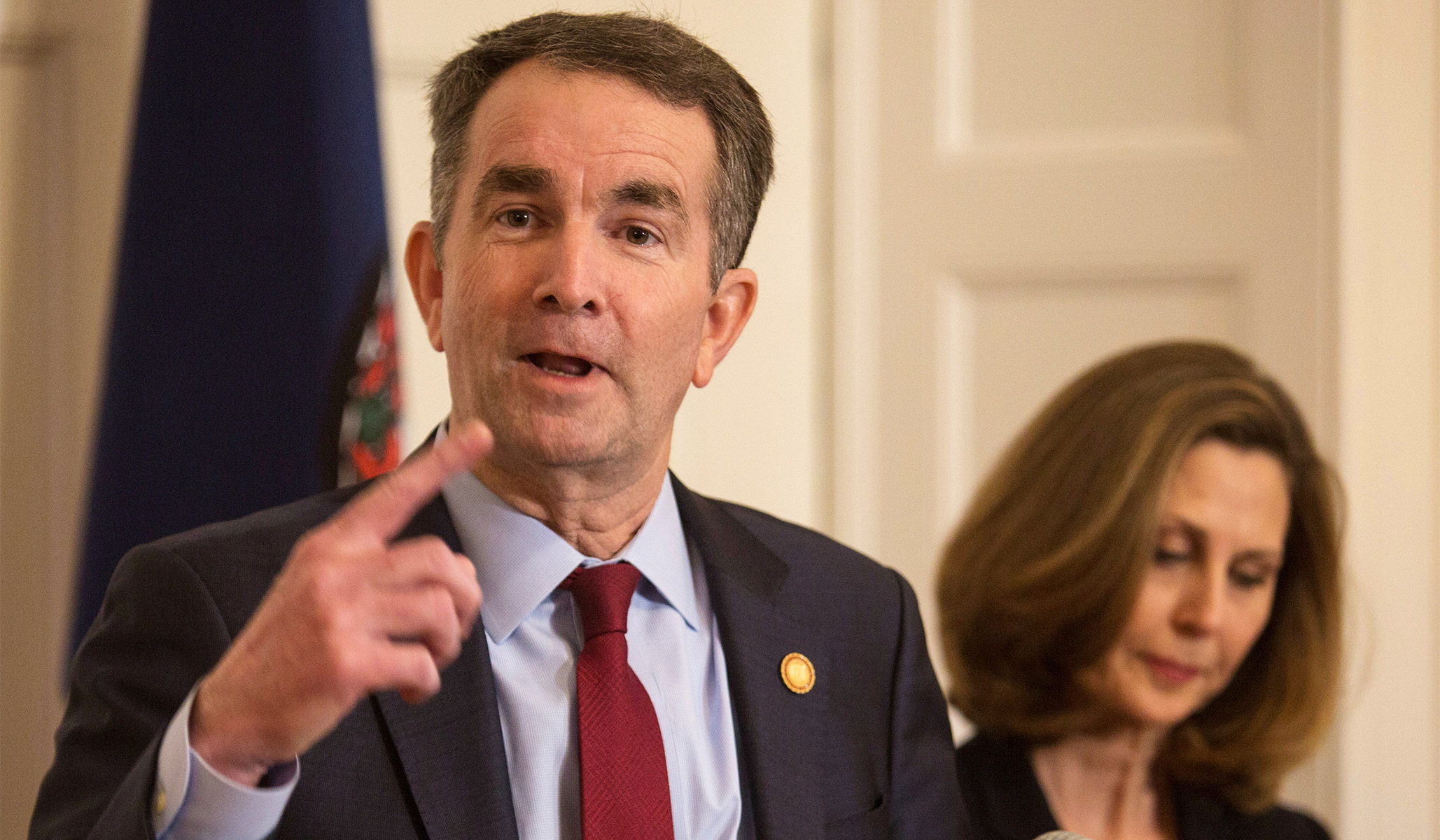 Thanks to President Trump's penchant for keeping a story alive if he thinks it'll be damaging to Democrats, disgraced Virginia governor Ralph Northam is back under the microscope for comments he made at the end of January about abortion late in pregnancy and medical care for infants.
At a rally in Wisconsin on Saturday night, Trump noted that the state's Democratic governor Tony Evers "shockingly stated that he will veto legislation that protects Wisconsin babies born alive," referring to a bill that would require doctors to provide medical care to infants born alive in the course of an attempted abortion procedure.
Trump then referenced Northam's comments during a late-January radio interview, in support of a Virginia bill that would've made it easier for women to obtain an abortion during the last three months of pregnancy. "The baby is born. The mother meets with the doctor," Trump said at the rally, describing Northam's remarks. "They take care of the baby. They wrap the baby beautifully, and then the doctor and the mother determine whether or not they will execute the baby. I don't think so."
In his typical fashion, Trump was overstating what Northam had said; the governor never mentioned "executing" babies. Media outlets were quick to accuse the president of "offer[ing] incendiary falsehood on abortion" and to put an unbelievably pleasant spin on Northam's remarks. Representative Ilhan Omar (D., Minn.), meanwhile, called Trump "deranged" and suggested that his comment would cause violence.
But what did the Virginia governor actually say about care for newborn infants — and was Trump's representation really that off the mark?
Let's recall the context of Northam's radio interview. In late January, Democratic delegate Kathy Tran proposed a bill to expand abortion rights in Virginia during the last three months of pregnancy. Her legislation would have relaxed existing health exceptions, allowing abortion up until birth if the abortionist agreed that not receiving the procedure would harm a woman's mental health. During a hearing, Tran stated that the bill would permit a mother to obtain an abortion even during labor.
In an interview with WTOP the day after that hearing, Northam was asked to explain Tran's comment and his own support for the bill. Here's what he said:
When we talk about third-trimester abortions, these are done with the consent of obviously the mother, with the consent of the physician — more than one physician, by the way — and it's done in cases where there may be severe deformities. There may be a fetus that's non-viable.

If a mother is in labor, I can tell you exactly what would happen. The infant would be delivered. The infant would be kept comfortable. The infant would be resuscitated if that's what the mother and the family desired, and then a discussion would ensue between the physicians and the mother.
Northam didn't say anything about "executing" infants, but he's clearly condoning allowing at least some infants to die after birth if they were meant to have been aborted a few minutes earlier. His statement is also built on a false premise: that abortions late in pregnancy happen in cases of "severe deformities." For one thing, this phrase is often used by supporters of abortion rights as a euphemism for non-fatal conditions such as Down syndrome. For another, his claim is contradicted by data suggesting that most women who seek abortions after viability do so for reasons other than fetal-health complications (or maternal-health complications, for that matter).
Northam never backtracked from what he had said during the interview, despite facing intense criticism from conservatives — mitigated, of course, by mainstream sources who ran cover for him and distorted what he had said, much like outlets did again this past weekend. The governor's spokesperson released a statement at the time essentially doubling down on the initial remarks, insisting that the right to abortion includes, at least in some cases, the right to discuss with a doctor whether it is appropriate to deny medical care to a living newborn infant.
It's worth noting that CNN commentator Karen Finney, a board member of influential pro-abortion lobbying group NARAL, appeared on a "Reliable Sources" panel yesterday to attack Trump and essentially restated Northam's remarks, almost word for word, as her own position on the issue. Far from being mainstream, Northam's articulation of abortion rights and post-birth care represents the most far-left position any politician can take.
It's deeply disheartening that we even need to debate whether vulnerable newborn infants should be given legal rights and adequate medical care. But this is a debate that the pro-life movement can easily win; huge majorities of Americans support giving care to newborn infants, even those that survive abortion procedures. Democrats would be suffering even more for their extremism on this issue if it weren't for journalists who spread misinformation to provide cover for the dehumanization of unwanted fetuses and infants.