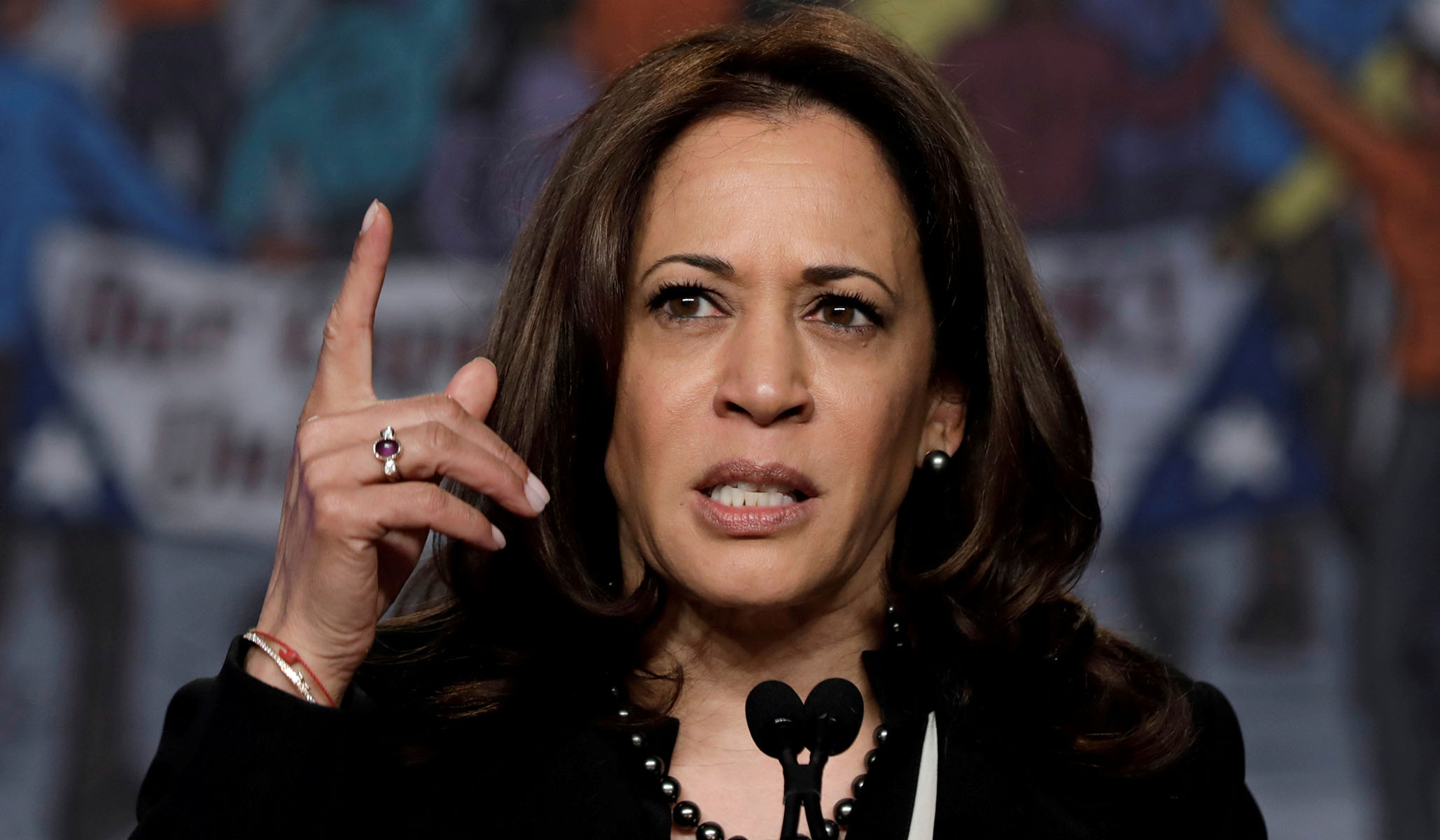 Kamala Harris is upping her gun-control game, apparently in a desire to keep up with Cory Booker. Specifically, she's threatening executive action if Congress fails to act in the first 100 days of her presidency, and she's gradually putting out details of what she thinks she can accomplish this way.
In April, Harris promised during a live CNN town hall that she would move quickly to close loopholes and tighten regulations on gun purchases, if elected president. "Upon being elected, I will give the United States Congress 100 days to get their act together and have the courage to pass reasonable gun safety laws and if they fail to do it, then I will take executive action," Harris told the audience. "And specifically, what I will do is put in place a requirement that for anyone who sells more than five guns a year, they are required to do background checks when they sell those guns."

According to Harris' campaign, that would result in near-universal background checks.
If this gives you a sense of déjà vu, it's because there were rumors Obama might do this back in 2016 — but the actual order he released was far more timid, more or less just restating the law. As I explained over at RealClearPolicy at the time, federal law requires anyone "engaged in the business" of selling firearms to get a license and conduct background checks, but it also defines wide exceptions to the rule. This leaves a lot of gray area but little room for sweeping executive action (emphasis mine):
The term "engaged in the business" means . . . as applied to a dealer in firearms, as defined in section 921(a)(11)(A), a person who devotes time, attention, and labor to dealing in firearms as a regular course of trade or business with the principal objective of livelihood and profit through the repetitive purchase and resale of firearms, but such term shall not include a person who makes occasional sales, exchanges, or purchases of firearms for the enhancement of a personal collection or for a hobby, or who sells all or part of his personal collection of firearms.
So any order would have to exempt everyone selling "all or part of his personal collection of firearms" — and beyond that, courts would have to decide if five a year is an acceptable upper limit on the definition of "occasional" sales. Even if you did enact a hard cap of five sales per year, sales under that cap would not be systematically recorded, making it difficult to tell when someone crossed the threshold. And even if the cap were enforced well, countless low-volume sellers would be completely unaffected, so "near universal" seems like quite the stretch.
Also:
According to a senior Harris campaign official, the Gun Control Act of 1968 gives the executive branch the power to prohibit the importation of guns not "suitable for or readily adaptable to sporting purposes." But the official said that the Bureau of Alcohol, Tobacco, Firearms and Explosives (ATF) has not conducted a comprehensive review of non-importable assault weapons in two decades.

Under Harris' proposal, the federal government would ban AR-15-style assault weapon imports because they are not "suitable for or readily adaptable to sporting purposes," including all 44 AR-type models listed in legislation that has been introduced by Harris' California colleague, Sen. Dianne Feinstein, to ban assault weapons.

Additionally, Harris would direct ATF to suspend all assault weapon imports until a comprehensive study is conducted regarding their admissibility under the "sporting purpose" test, which would include all 205 assault weapon models listed in Feinstein's legislation, the Assault Weapons Ban of 2019. Harris is one of the co-sponsors of that bill, which has gone nowhere in the Republican-controlled Senate.
That sounds like a recipe for a long court battle too, especially given rumors that the current Supreme Court is going to be less willing to let executive agencies stretch the meanings of the statutes they enforce. Semiautomatic "assault weapons" are functionally similar to semiautomatic hunting rifles and are absolutely suitable for "sporting purposes," including target shooting and even hunting.
I suspect the reporting might be wrong here — and heaven help us if it's not — but Politico further claims that Harris's executive orders would include "repealing a law that prevents victims from holding gun-makers and firearms dealers liable for their losses." Needless to say, one cannot "repeal[] a law" with an executive order. Harris's previous descriptions of this plank involve revoking the licenses of gun dealers who willfully break the law, and in extreme cases pursuing them criminally — i.e., strict enforcement of existing law against people who deliberately put guns in the hands of criminals, rather than "repealing" a commonsense law barring lawsuits based on far-fetched legal theories.