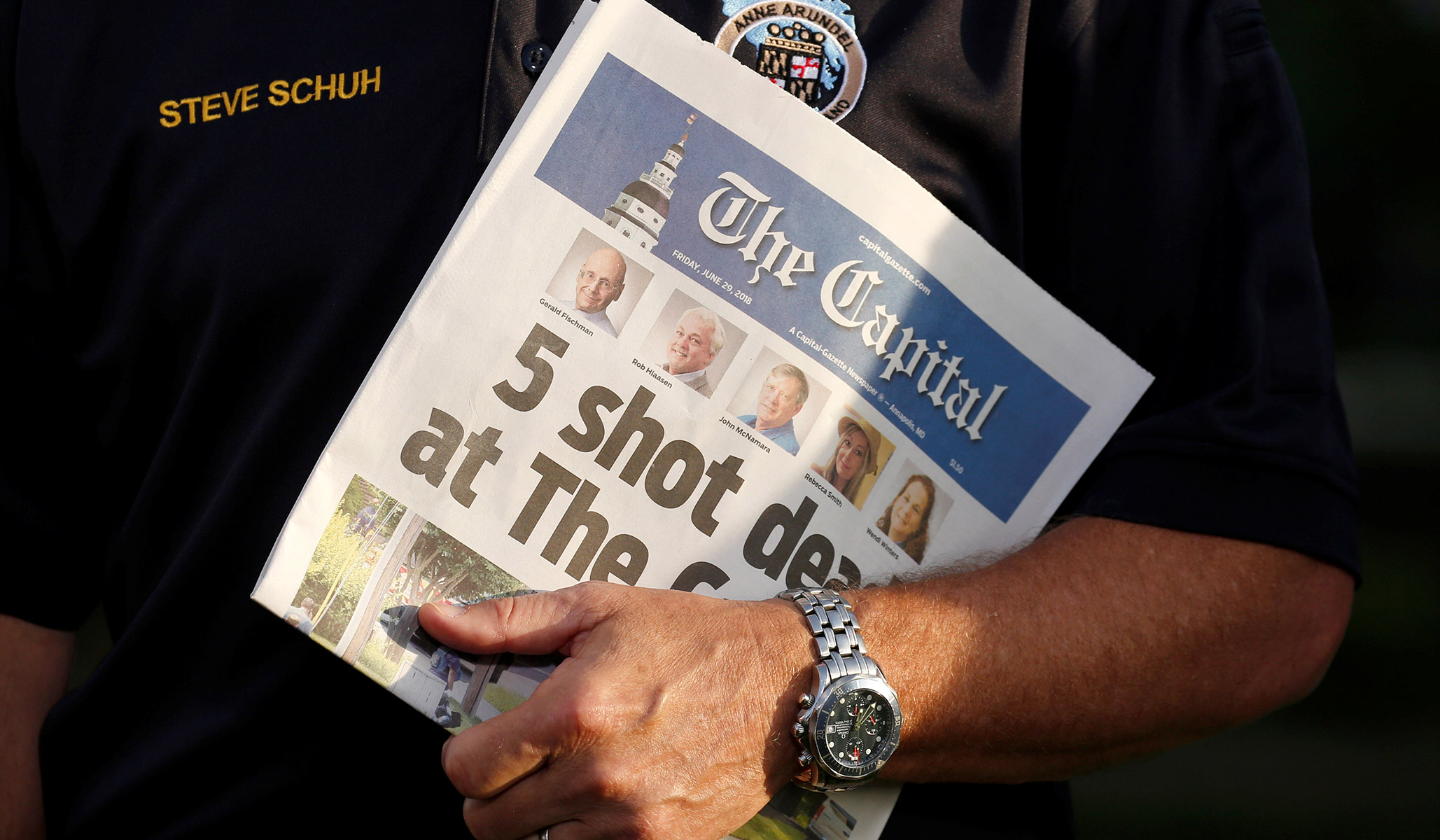 The gunman who killed five people in the newsroom of the Annapolis, Md. Capital Gazette Thursday used a "legally purchased" pump-action shotgun, acting Anne Arundel County police chief Timothy Altomare said in a Friday-morning press conference.
"We've confirmed, I think already, that it was a shotgun used in the incident. I would also confirm it was a pump-action shotgun. It was legally purchased a year or so ago," Altomare told reporters.
The alleged gunman, widely identified in news reports as 38-year-old Jarrod Ramos, unsuccessfully sued the Gazette in 2012 for defamation over a column detailing his guilty plea to criminal harassment charges. The writer and editor responsible for the column have since left the Gazette. Since Ramos plead guilty to harassment, a misdemeanor carrying a maximum sentence of 90 days, he maintained his right to purchase a gun under Maryland law.
"I'll say this, the fellow was there to kill as many people as he could kill," Altomare added when asked how many shots Ramos fired. Altomare, who refused to identify Ramos by name, also confirmed that smoke grenades, initially described by police as explosive devices, were found in the shooter's possession.
Anthony Messenger, a Gazette intern, described his experience hiding under a desk during the shooting in a Friday appearance on NBC's Today.
"I quickly realized this was a malicious situation," said Messenger, who tweeted a message calling for help when the shooting began just before 3 p.m. Thursday. "Unfortunately, we had to pass two bodies of our colleagues, which was something that nobody should ever have to stomach. It's just unfortunate that somebody would come into a place that only reports truthful stories that are fact-based and unleash hell on the office."
Ramos, a Maryland native who lived roughly 35 minutes outside of Annapolis, has been charged with five counts of first-degree murder. A judge ordered him held without bail during a Friday morning hearing.
NOW WATCH: '5 Dead in Shooting at Capital Gazette Newspaper in Maryland'
Send a tip to the news team at NR.