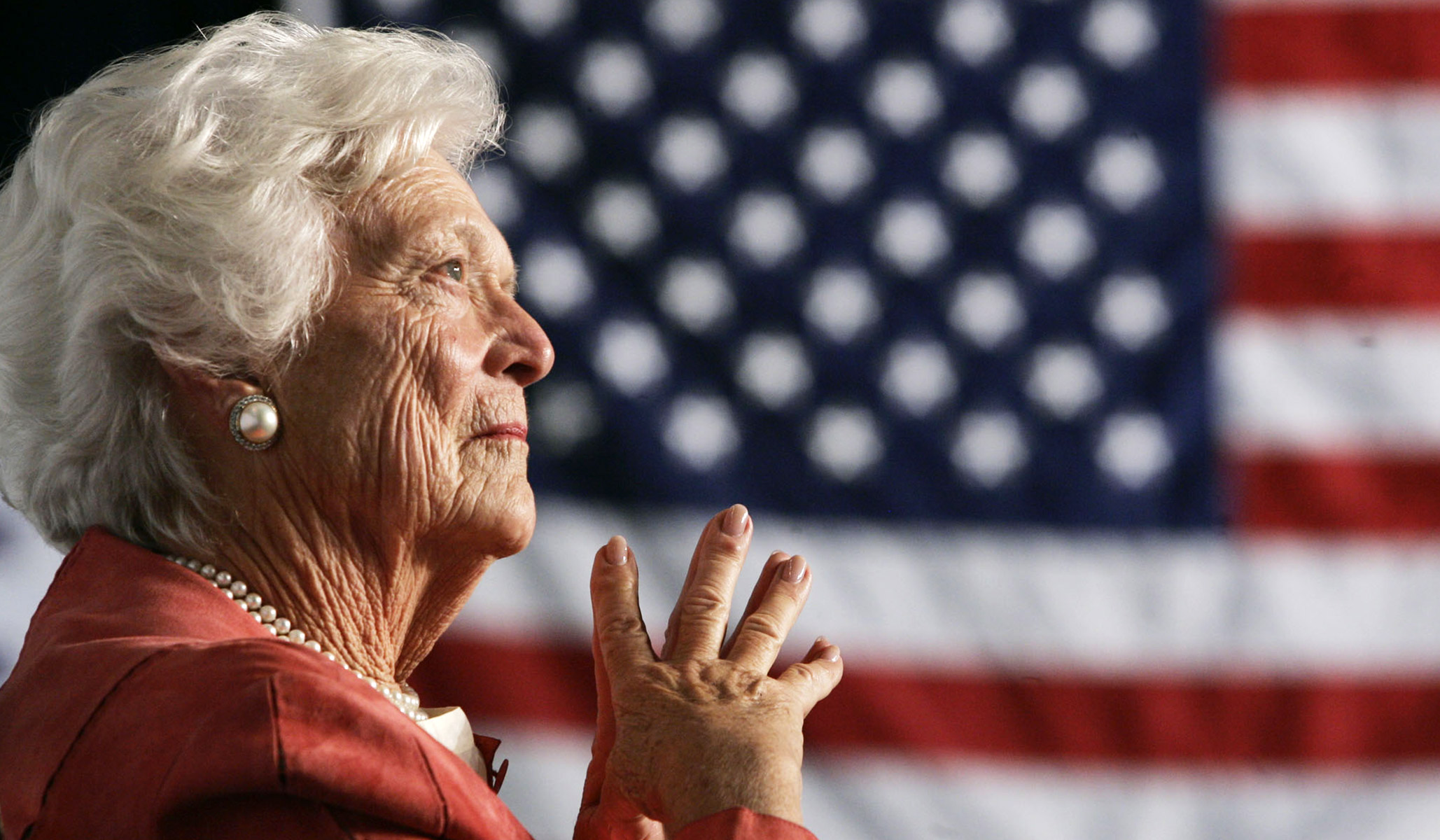 Barbara Bush, the former first lady and fixture of Republican politics, passed away Tuesday night at the age of 92.
Bush, who spent her career championing child literacy after taking up the cause as first lady to former president George H.W. Bush, died soon after her family announced they had transitioned to providing purely "comfort care" in the face of heart and lung failure.
"A former First Lady of the United States of America and relentless proponent of family literacy, Barbara Pierce Bush passed away Tuesday, April 17, 2018 at the age of 92," her husband's office said in a statement. "She is survived by her husband of 73 years, President George H. W. Bush; five children and their spouses; 17 grandchildren; seven great grandchildren; and her brother, Scott Pierce. She was preceded in death by her second child, Pauline Robinson 'Robin' Bush, and her siblings Martha Rafferty and James R. Pierce."
Barbara's son, former president George W. Bush, praised his mother for "bringing literacy to millions" in a statement.
"My dear mother has passed on at age 92. Laura, Barbara, Jenna, and I are sad, but our souls are settled because we know hers was. Barbara Bush was a fabulous First Lady and a woman unlike any other who brought levity, love, and literacy to millions. To us, she was so much more," he said. "Mom kept us on our toes and kept us laughing until the end. I'm a lucky man that Barbara Bush was my mother. Our family will miss her dearly, and we thank you all for your prayers and good wishes."
Barbara was born in New York City in 1925 and grew up in the nearby suburb of Rye. She met her husband when he was a student at Andover College and later dropped out of Smith College to get married in 1945. She had six children, one of whom died at just four-years-old, and the family moved frequently before settling in Washington when her husband became vice president in 1984.
President Donald Trump expressed condolences in a statement released on Twitter.
.@FLOTUS Melania and I join the Nation in celebrating the life of Barbara Bush: pic.twitter.com/4NzyjxqAFM

— Donald J. Trump (@realDonaldTrump) April 18, 2018
Send a tip to the news team at NR.