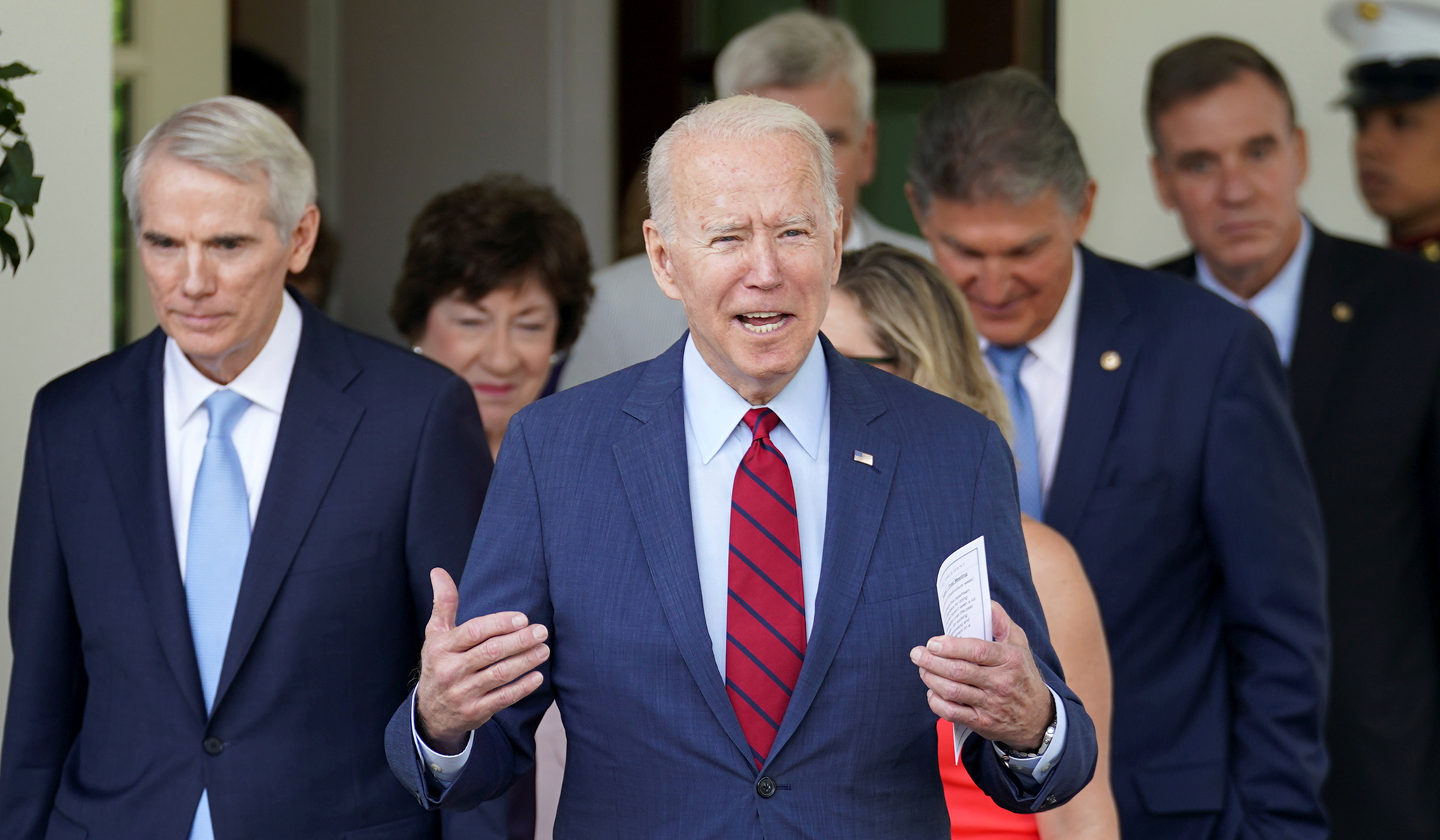 President Joe Biden announced an agreement on a bipartisan infrastructure package Thursday, giving his stamp of approval to a plan spearheaded by ten senators. The new consensus marks the end to many weeks of negotiations and partisan gridlock over the president's chief legislative priority.
"We have a deal," Biden said outside the White House shortly after the deal broke. "We have made serious compromises on both ends."
"They have my word, I'll stick with what they've proposed. And they've given me their word as well. Where I come from that's good enough for me."
The discussed deal, a significantly trimmed down version of Biden's original 6 trillion dollar proposal, is worth about $953 billion with $559 billion allocated for new spending in transportation expenditures like roads, waterways, and bridges, as well as electric utilities, broadband internet, and other projects.
Prior to the agreement, a major outstanding question was how both parties planned to finance the program, one of the most expensive in U.S. history. Republican Senator Susan Collins said, "We've agreed on the price tag, the scope and how to pay for it."
A coalition of 21 senators, including 11 Republicans and 10 Democrats, support the legislation, but it will need to garner 60 votes to override a filibuster and pass through the traditional legislative avenue.
Moderate Democratic Senator Joe Manchin implored more reluctant colleagues in his party to approve the bill in spite of its reduced scope and size. "I would say please don't let the perfect be the enemy of the good," he told reporters Thursday.
Senate Minority Leader Chuck Schumer and House Speaker Nancy Pelosi told Biden Wednesday that they are on board with the plan. However, they stipulated that the Democrats will simultaneously pursue a separate package for "human infrastructure" including provisions on elder and child care, climate change, education, etc. through the unconventional reconciliation process, through which a bill only requires a simple majority rather than 60 votes to advance.
If implemented, the "two-track system" Schumer and Pelosi are pushing, which Biden said he supports, will negate GOP efforts over the past couple of months to curtail excessive government spending for Democratic causes. If both prevail, it could signify that Republicans have lost their negotiating power, and that their objections to unprecedented fiscal expenditure will have been in vain.
"We won't get enough votes to pass either unless we have enough votes to pass both," Schumer said on the Senate floor Thursday. "When the Senate returns in July, it will be time to take the next step and hold the first votes on the bipartisan infrastructure bill on the floor of the Senate. Senators should also be prepared to consider a budget resolution that will clear the way for the budget reconciliation bill as soon as possible."
Send a tip to the news team at NR.