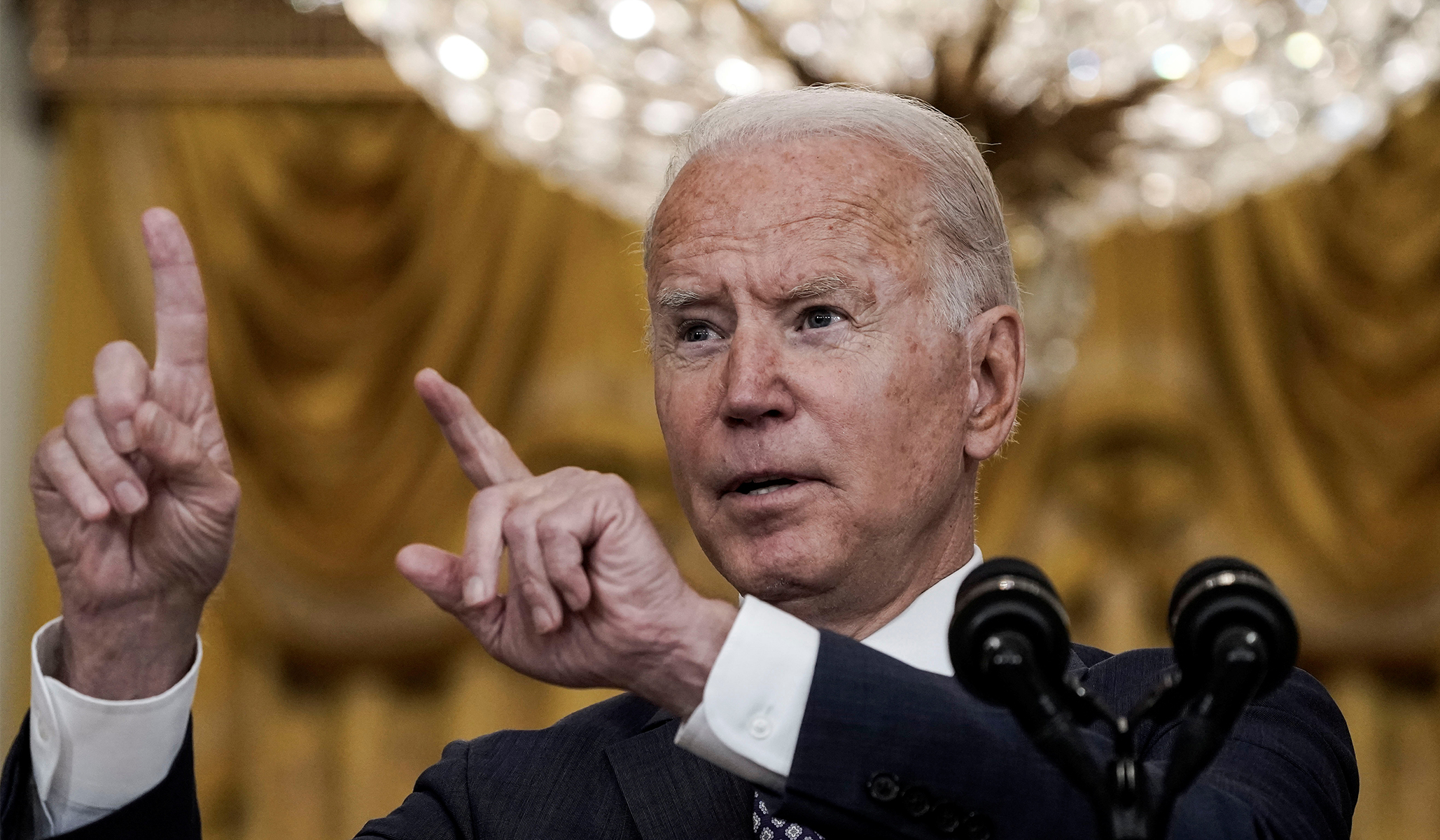 During a press conference Friday, President Joe Biden made a number of erroneous claims regarding the botched American-conducted withdrawal from Afghanistan that left thousands of citizens of Western nations as well as Afghan allies scrambling to evacuate and flee the Taliban's takeover.
Chiefly, Biden asserted that America's reputation on the world stage has not been damaged amid the foreign-policy snafu, despite outraged reactions from major political figures suggesting the contrary. He also falsely claimed that al-Qaeda, the terrorist organization that orchestrated the attacks on September 11, 2001, has totally disappeared from Afghanistan. And despite accounts proving otherwise, Biden rejected the notion that American nationals have been struggling to make it to the tarmac at the Kabul airport.
"I have seen no questioning of our credibility from our allies around the world," Biden asserted. "In fact I've seen the exact opposite."
The president's statement comes after a number of members of the British Parliament condemned the United States' haphazard departure from the country as "catastrophic" and "shameful," with members uniting to "dishonor" the foreign-policy fiasco, the Telegraph reported.
Sir Ed Davey, the leader of the Liberal Democrat party in Parliament, said, "The American decision to withdraw was not just a mistake — it was an avoidable mistake, from President Trump's flawed deal with the Taliban to President Biden's decision to proceed, and to proceed in such a disastrous way."
Addressing criticisms from opposing party members that he had not done enough to support western allies in Afghanistan as the U.S. prepared to pullout, U.K. prime minister Boris Johnson took a dig at Biden, claiming the West could not maintain a presence after U.S. air and ground forces abandoned the cause.
"The West could not continue this U.S.-led mission — a mission conceived and executed in support and defence of America — without American logistics, without U.S. air power and without American might," Johnson remarked.
Tom Tugendhat, the Tory chairman of the foreign-affairs committee, who went into battle alongside Afghan fighters as a British soldier, repudiated Biden's allegation that the Afghan army easily and willingly gave up the resistance.
"To see their commander in chief call into question the courage of men I fought with, to claim that they ran, is shameful," he said to the chamber, according to the Telegraph.
On Wednesday, Biden had a phone conversation with German chancellor Angela Merkel to discuss U.S. progress with rescuing the refugees, many of whom have been successfully escorted to the Kabul airport while others remain trapped in Afghanistan's interior.
While a readout of the call indicated a still-collaborative relationship between Merkel and Biden, an ally of Merkel slammed the conduct of the withdrawal and said the crisis would lead Germany and Europe to pursue a defense posture more independent from the United States.
"Nobody asked us whether it was a good idea to leave that country in such a quick way," Johann Wadephul, a deputy caucus leader for Merkel's Christian Democrats in the Bundestag, said in an interview with Bloomberg Television. "So, the very irritating situation we now have — the chaos we are facing in Kabul — is of course the result of this."
Norbert Roettgen, the chairman of the German parliament's foreign-affairs committee, similarly denounced the U.S. exit, and suggested that transatlantic cooperation could deteriorate as a result of it.
"Things haven't just gone wrong — it's a catastrophe," Roettgen told reporters on Wednesday. "It's a moral failure of the West — and the geopolitical consequences are still difficult to discern. It's a breaking point."
During the press briefing, the U.S. commander in chief made the misinformed declaration that al-Qaeda is "gone" from Afghanistan. Pundits and foreign-policy scholars quickly debunked the claim, pointing to the operations of the Haqqani Network, which is closely allied and intertwined with al-Qaeda, in Kabul currently.
Following Biden's address, Pentagon officials confirmed at a press briefing Friday that al-Qaeda maintains a "presence" in Afghanistan.
Biden also denied that Americans are having trouble accessing the Kabul airport, but evidence shows that many are still stuck in Afghanistan.
For instance, David Fox, an American man married to an Afghan woman, said in an interview with ABC News that his family has struggled to navigate the crowds outside Karzai International Airport, noting that the mayhem has been so overwhelming that they were unable to make contact with troops or diplomats in order to expedite their processing.
Fox said that although they considered it, his family couldn't attempt to leave through a British-controlled gate since the British were not admitting American citizens into their boarding zone. With no clear avenue for evacuation, Fox said he's hoping to secure seats for his family on one of the limited commercial flights departing from Kabul.
Defense Secretary Lloyd Austin also reportedly acknowledged that Americans are being harassed and even beaten by the Taliban.
Send a tip to the news team at NR.