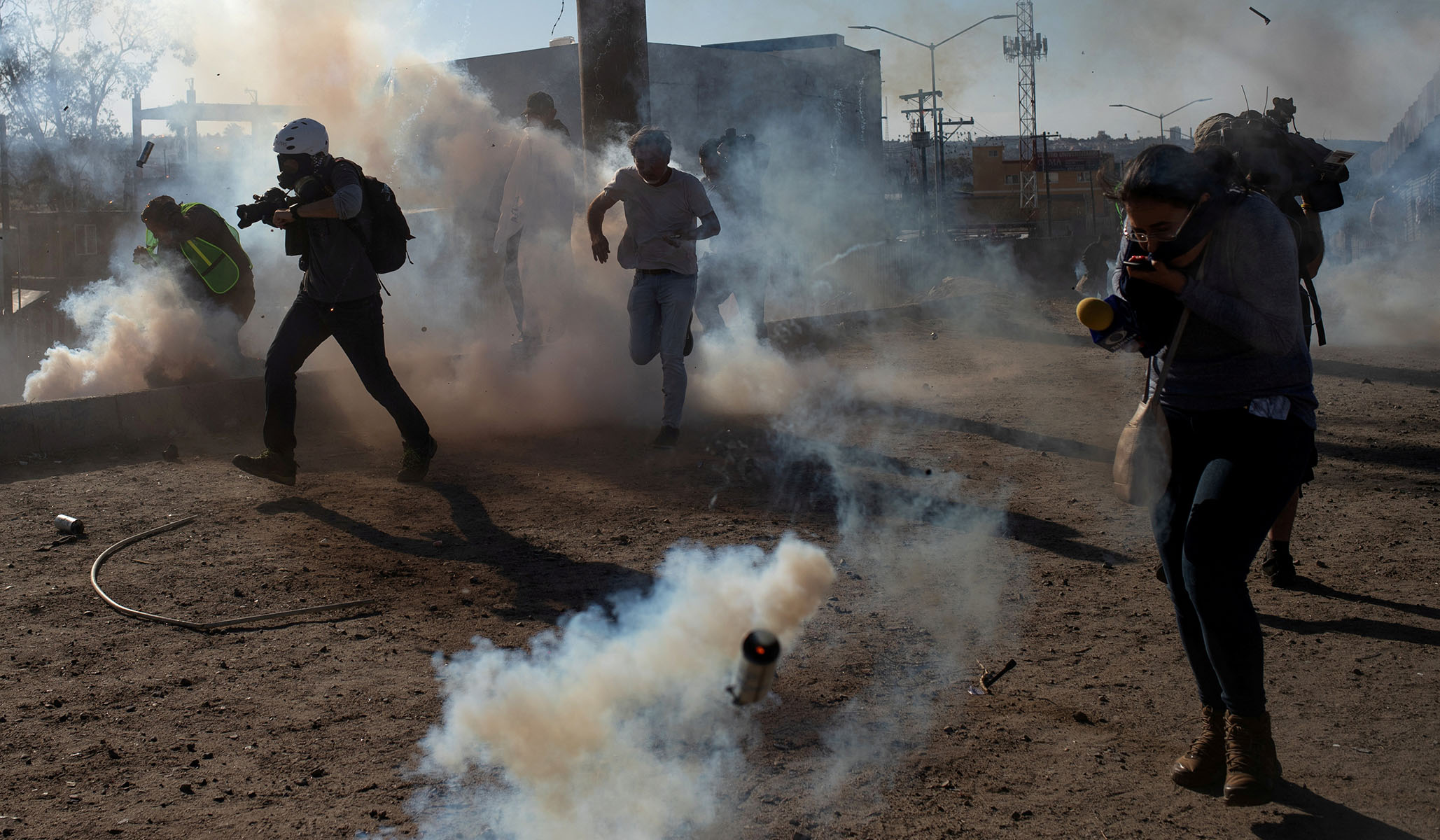 U.S. Customs and Border Protection agents fired tear gas canisters across the U.S.-Mexico border Sunday in order to repel a large group of central American migrants who split off from a peaceful protest and attempted to enter the country illegally.
The confrontation prompted a temporary shut down of the San Ysidro border crossing near Tijuana, which typically facilitates the crossing of some 100,000 visitors per day.
"This morning, CBP was forced to close the San Ysidro Port of Entry to ensure public safety in response to large numbers of migrants seeking to enter the U.S. illegally," Secretary of Homeland Security Kirstjen Nielsen said in a statement released Sunday. "After being prevented from entering the Port of Entry, some of these migrants attempted to breach legacy fence infrastructure along the border and sought to harm CBP personnel by throwing projectiles at them. As I have continually stated, DHS will not tolerate this type of lawlessness and will not hesitate to shut down ports of entry for security and public safety reasons."
According to the Mexican Interior Ministry, roughly 500 migrants tried to cross the border in a "violent manner" — a small fraction of the thousands who arrived in Tijuana roughly ten days ago after traveling in a caravan from central America.
The protest was initially intended to challenge the slow pace of asylum application processing.
Mexico's Interior Ministry claims it has deported 11,000 central American migrants since October 19, 1,906 of whom traveled north in the caravans.
President Trump appeared to place blame for the incident on the Mexican authorities for not stopping the caravan before it reached the border.
Would be very SMART if Mexico would stop the Caravans long before they get to our Southern Border, or if originating countries would not let them form (it is a way they get certain people out of their country and dump in U.S. No longer). Dems created this problem. No crossings!

— Donald J. Trump (@realDonaldTrump) November 25, 2018
Democratic Senator Bran Schatz of Hawaii criticized border patrol agents for deploying tear gas to repel the rush of migrants.
Tear gas across the border against unarmed families is a new low.

— Brian Schatz (@brianschatz) November 25, 2018
Representative-elect Alexandria Ocasio-Cortez (D., N.Y.) compared the migrants to Jewish refugees fleeing Nazi persecution.
Asking to be considered a refugee & applying for status isn't a crime.

It wasn't for Jewish families fleeing Germany.
It wasn't for targeted families fleeing Rwanda.
It wasn't for communities fleeing war-torn Syria.
And it isn't for those fleeing violence in Central America. https://t.co/qhv7Rr1itn

— Alexandria Ocasio-Cortez (@AOC) November 25, 2018
Send a tip to the news team at NR.