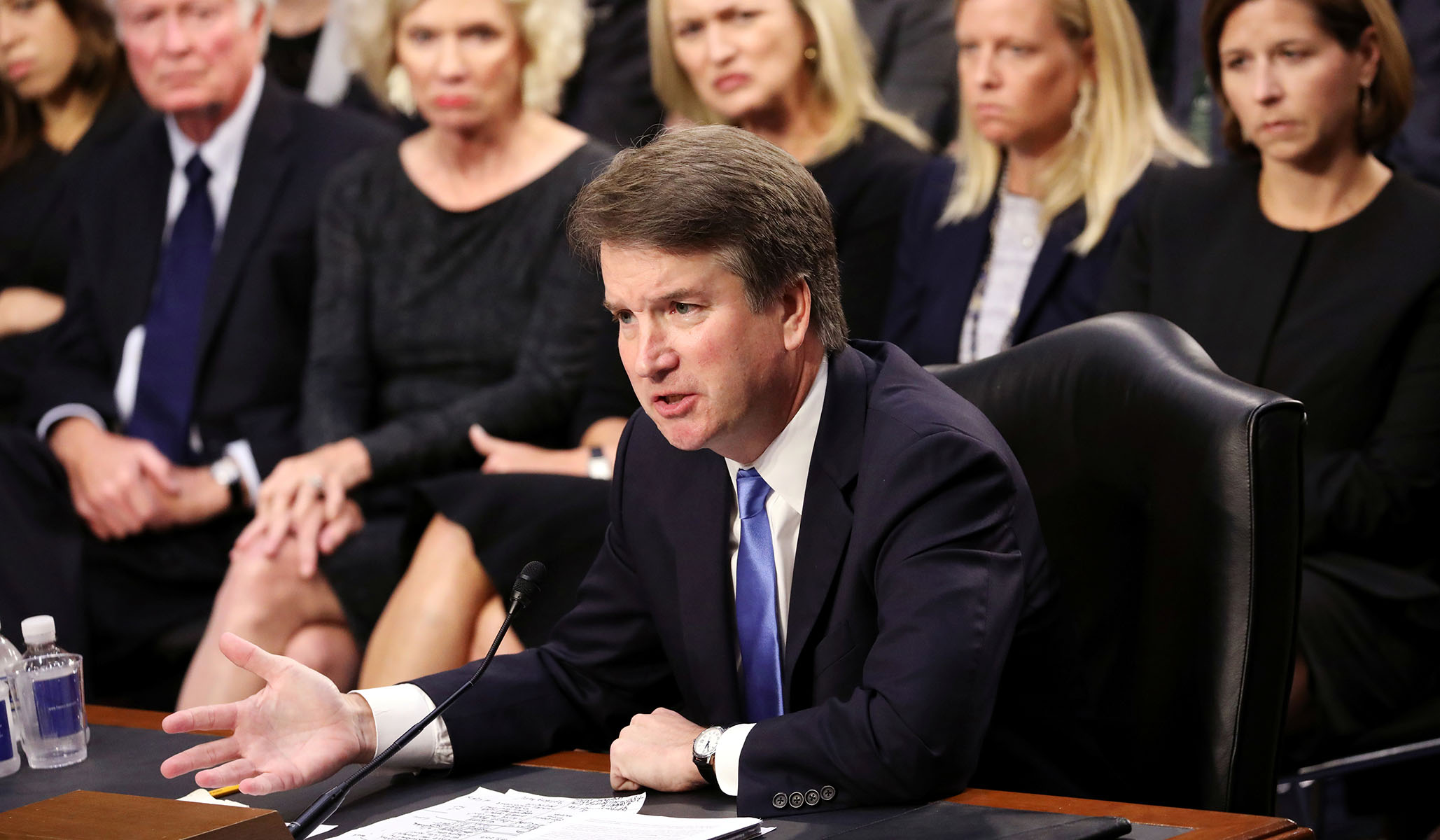 Supreme Court nominee Brett Kavanaugh has denied an allegation of sexual misconduct from his high-school days that Democrats reportedly submitted to the FBI.
The allegation in question comes from an unidentified woman who said Kavanaugh covered her mouth with his hand and tried to force himself on her at a party when they were both in high school in the early 1980s. The woman claimed a classmate and friend of Kavanaugh's turned up music to muffle her cries of protest, which the classmate denied to The New Yorker. She said Kavanaugh's recent nomination to the Supreme Court dredged up the painful memory of the encounter.
After news of the allegation broke, Kavanaugh released a statement completely denying it. "I categorically and unequivocally deny this allegation. I did not do this back in high school or at any time," he said.
Senator Dianne Feinstein sent a letter to the FBI that reportedly addressed the alleged incident, which occurred when Kavanaugh, 53, was attending Georgetown Preparatory School in Bethesda, Md.
"I have received information from an individual concerning the nomination of Brett Kavanaugh to the Supreme Court," read a statement by Feinstein, the ranking member of the Senate Judiciary Committee, the members of which interviewed Kavanaugh for four days last week. "That individual strongly requested confidentiality, declined to come forward or press the matter further, and I have honored that decision. I have, however, referred the matter to federal investigative authorities."
"Upon receipt of the information on the night of September 12, we included it as part of Judge Kavanaugh's background file, as per the standard process," a spokesperson for the FBI said.
A group of 65 women wrote a letter on Friday to the Senate Judiciary Committee vouching for Kavanaugh's character over decades of friendship with him.
"We are women who have known Brett Kavanaugh for more than 35 years and knew him while he attended high school between 1979 and 1983," the letter said. "For the entire time we have known Brett Kavanaugh, he has behaved honorably and treated women with respect. We strongly believe it is important to convey this information to the committee at this time."
The committee plans to vote on Kavanaugh's confirmation on September 20. A full Senate vote would likely follow before October, when the Supreme Court begins its 2018 session.
Send a tip to the news team at NR.